The holy trinity of high-quality VPN service comes down to 3 factors: Speed, Privacy, and Price. This article will tackle the first two, and we'll help you find the fastest VPN providers that don't keep any logs whatsoever.
These VPNs all are capable of 50mbps+ speeds, are non-logging and p2p-friendly. An several of them still managed to make our list of the 'Best Cheap VPNs' in the world, while still delivering above-average VPN speeds.
#1 — IPVanish (Editor's Choice)
Anyone familiar with IPVanish won't be surprised that they ranked #1 on our list. Why? They're consistently the fastest VPN we've tested. Period.
Best Offer: Get IPVanish for $6.49/month (35% savings)
And when IPVanish switched to their true non-logging policy in 2014, they became a dual-threat VPN company, offering unparalleled speed and privacy to their subscribers.
Read: Our 2016 IPVanish Review
Speed Test Results:
Here are screenshots of our IPVanish speedtesting on a 100mbps connection:
As you can see, we were able to get between 85-100% of our downstream speed, even on international servers.
This is an outstanding result, especially considering IPvanish uses 256-bit encryption, which is way stronger (but slightly slower) than the 128-bit encryption some VPNs use to squeak out acceptable speeds.
These speedtests were done on servers in: Canada, USA, and United Kingdom (respectively).
For even more IPVanish Speedtests, read our complete IPVanish Review.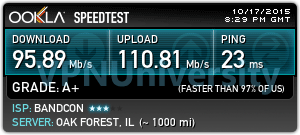 How does IPVanish have such a speed advantage?
IPVanish is owned by Highwinds Networking, one of the largest CDN providers in the world.
IPVanish is one of only 2 VPN companies that owns their own Tier-1 data network, which gives them a speed advantage across their own network, as well as internationally because of superior peering arrangements (how data is prioritized/routed between countries and carriers).
This is all done behind the scenes, and the experience for the end-user (that's you) is seamless, and lightning fast.
IPVanish Logging Policy
In IPVanish's own words, they are a 'Zero Log' VPN service. Here's an excerpt from their privacy policy:
IPVanish does not collect or log any traffic or use of its Virtual Private Network service
And their FAQ…
#2 – Private Internet Access
Private Internet Access made the list of our favorite low-cost VPN services, but that doesn't stop them from being high-performance.
PIA has consistently ranked highly across all our review categories, including Speed, Privacy, and Price.

Best Offer: Get PIA for only $3.33/month (with unlimited bandwidth for 5 devices)
The secret is volume. PIA has more subscribers (not a surprise) than almost any other VPN provider in the world. As a result, they can operate more efficiently (and deliver faster speeds at lower cost).
You should read: Our Private Internet Access review
In terms of privacy, PIA is in a league of their own. They were the first VPN to popularize the 'zero-log' policy, and they paved the way for dozens of copycats. They are a true original.
Speed Test Results
PIA did quite well in our speed tests.
Their speeds are not as consistently fast as IPVanish (it took a couple attempts to get speeds this high in testing). We also tested their service using 128-bit encryption (which is faster, but less secure than 256-bit Encryption which is standard on IPVanish).
It's also worth noting that PIA's real world performance (in our 4k streaming test) was not as good as IPVanish.
Nevertheless, their speeds are well above the industry average, and incredibly impressive considering PIA's price (from $3.33/month).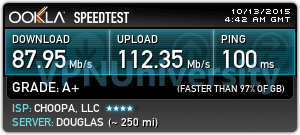 Does PIA keep logs?
Private Internet Access does not keep logs. With some VPNs, their logging policy isn't always clear (or at least not verified). PIA's non-logging claims have been tested in court by the FBI.
They are one of the only VPNs on earth who's logging claims are actually verified by evidence or court records.
And of course here's PIA's logging policy in their own words (from their privacy policy)
PrivateInternetAccess.com does not collect or log any traffic or use of its Virtual Private Network ("VPN") or Proxy
Allowed uses of PIA VPN
Private Internet Access allows nearly all common uses of their VPN network.
This includes:
Skype/VOIP
Streaming
Gaming
Access geo-blocked websites
Torrenting/Filesharing/p2p
#3 – Torguard
Torguard is one of the original 'zero-log' VPN providers (along with PIA and BTGuard). They are also one of the fastest VPNs we've ever tested, especially in real-world performance (which is more important than a speedtest score).
If you're into file-sharing, Torguard is an excellent choice and they offer both VPN service as well as a zero-log SOCKS5 torrent proxy service (with an easy-setup installer for your favorite torrent client).
Read: In-depth Torguard Review, Speedtests, and offers…
Speed Test Results
Torguard did great international speed tests, performing A+ ratings (and 90+ mbps scores) on the UK and Canada servers. They also got an impressive A- rating from an Australian server (over 12,000 miles away).
IPVanish is the only VPN to score better on USA-to-Australia VPN speedtests.
Torguard is able keep speeds high because:
They have fewer users per server
Speed-optimized protocols
Adjustable encryption strength
Torguard's Logging Policy
Torguard is a zero-log VPN service.
Here's the excerpt from their privacy policy:
"TorGuard.net does not store or log any traffic or usage from its Virtual Private Network (VPN) or Proxy"
They go on to clarify that they do track usage of their website (99.99% of websites do this, including VPNs, in order to improve their service and increase their number of sales).
But once you sign up for Torguard they don't monitor or log anything you do online, and your connections will be 100% encrypted (so even your ISP can't tell what you do online).
How to get fast speeds while using a VPN
Here are some quick tips to get faster speeds with your VPN. If you want a more detailed guide, read: How to make your VPN faster
The #1 factor of VPN speed (Bandwidth per User)
Not all VPNs are created equal, and some services are much MUCH faster than others. This is because the #1 factor determining overall speed for a VPN service is how crowded their servers are.
In other words: What is the amount of available bandwidth per active user?
Slow VPNs will tend to have very crowded servers (thousands of users sharing each 1Gbps connection). Fast VPNs will have only a few hundred sharing that same Gigabit connection.
But here's the hard truth — bandwidth is the #1 expense for VPNs, so the faster VPN services will almost always be $6/month or more. The notable exception to this rule is PIA who manages great speeds (but still slower than IPVanish) for $3.33/month!
Other factors affecting speed
There are several other factors which can have a big impact on your VPN speed (or slowness), including:
Server Distance (further is slower)
Encryption strength (stronger is slower)
VPN Protocol (OpenVPN UDP is ideal)
Server Distance
VPN speeds drop dramatically over long distances. Whenever possible, you should choose the closest possible server that still gives you access to whatever protocol or website you need. That's why we get 100mbps on speeds on USA servers and 10-15 Mbps from Australia.
Encryption Strength
256-bit encryption is more than 1 billion times stronger than 128-bit encryption (that's not a typo, it's actually more than 1038 x as strong!).
But that added security comes at a price. 256-bit encryption takes up more bandwidth to same the same amount of encrypted information, making it slower. It also requires more computational power (cpu cycles).
If you're using the VPN for a low-security purpose (streaming, torrenting, etc) just switch to 128-bit mode and your speeds may instantly improve 5-20%.
Learn: More about VPN encryption
VPN Protocol
Not all VPN protocols are created equal. OpenVPN is the most flexible protocol but it comes in two flavors; UDP or TCP.
TCP connections require the recipient to verify the receipt of every single data packet. This makes the connection more reliable but it also makes speeds much slower, especially over long distances.
Most users will be better off choosing OpenVPN UDP mode, which doesn't check delivery of every packet. As the end user, you won't notice any difference except faster speeds. If you do high-bandwidth VPN activities like:  streaming video, file-sharing, Skype, gaming, etc… then DEFINITELY use UDP mode.
Learn: Which VPN protocol should you choose? OpenVPN vs PPTP vs L2TP
VPN Logs: What you need to know
Here's a dirty little secret about VPN logging policies…
Many 'no log' VPN providers still keep connection logs, which can compromise your anonymity.
Not all zero-log VPN providers are created equal, and 'logless' has become the new buzzword of the VPN industry. But many providers use a technicality to describe themselves as 'zero log' when what they mean is they don't monitor the websites you visit or your actual online activity. But these same VPN providers still record personally identifiable information like your real IP address, time of VPN connection, and what VPN server you were using (and what IP you were assigned).
If privacy is important to you (and it should be), it's important that you choose a true zero-log VPN like the ones featured in this article. Don't be fooled by the imposters.
Summary and additional resources
So we've showed you the 3 fastest VPNs that don't keep any logs. Now what?
Easy. Just pick one and see if you like it.  And if you don't?
Take advantage of the 100% refund guarantee (every VPN featured in this article has a 7-day 100% guarantee).
Which VPN to choose:
If you want the VPN with the fastest possible speeds and the software with the most functionality, then IPVanish is clearly the best choice.
IPVanish supports all major VPN uses and is ideal for:
Streaming/ HD Video
Gaming/ Skype
Torrents / P2P
Best Offer: IPVanish is offering a 46% discount for 1 year plans (versus month-to-month).
What about Private Internet Access?
PIA is about as good as it gets for cheap VPNs, so if price is more important to you than absolute performance, then PIA is a great choice.
Their software is a little outdated, but it offers customizable encryption options (IPVanish doesn't offer this yet). PIA is also the most popular choice among p2p/torrent users because it includes a SOCKS5 proxy and 5 simultaneous devices per account!
Best Offer: Get PIA for $3.33/month (for 1 year)
And don't miss our full PIA review.
More Articles You'll Enjoy
We've got tons of reviews, guides, and tutorials on VPN University.
You'll like: