Private Internet Access (PIA) is an incredibly popular privacy tool for torrents and p2p downloaders. This guide will examine the strengths and weaknesses of choosing PIA for torrents.
We'll also give you step-by-step instructions on how to configure PIA and your torrent client for optimal privacy, and to minimize IP leaks.
No matter what type of device you use for torrenting (PC, Mac, Smartphone, Seedbox) one of these methods should work great for you.
Note: This guide assumes you already have a subscription to Private Internet Access. If you're still looking for a VPN service, check out our guide to torrent-friendly VPN providers.
Guide Sections:
Why use PIA for Torrents
VPN Only (Easiest Method)
Proxy Only
VPN + Proxy
Other important considerations
Why Private Internet Access is good for torrents
Real Privacy
To a newcomer, one VPN can look just as good as another, and virtually all of them claim to be the 'best', 'fastest' and 'most anonymous.' But the truth is many VPN providers offer privacy in name only, and can't really back it up.
For example, PureVPN (which claimed to be a no-logs VPN provider) was recently outed as less-than-truthful. And because of the lack of transparency of most VPN providers (you can't see their code or servers) you just have to trust that they take your privacy seriously.
But PIA one of the few VPN's to prove its privacy policy in court, and was unable to turn records over to the FBI because they didn't exist. PIA, it seems, lives up to the zero-log hype.
Torrent-Friendly Features
In addition to a valid zero-log policy, PIA is known specifically for their support of p2p/torrents and filesharing uses. They don't ban or block torrent downloads, they've added several useful features we love:
Port Forwarding: The VPN software for PC and Android allows port forwarding, which is extremely useful for getting the best speeds while torrenting. This is especially true if you're behind a restrictive network like at school.
Kill Switch: A VPN hides your IP address from torrent peers, but what if the VPN disconnects? By enabling kill-switch protection, PIA will kill your internet connection instantly if the VPN fails. This keeps your identity secure from torrent peers and monitors.
SOCKS5 Proxy: Most torrent clients (Vuze, uTorrent, Deluge, QBittorrent) have the ability to use a proxy connection for anonymity purposes. A Socks5 proxy is the optimal proxy-type for torrenting, and PIA includes free access to their Netherlands-based SOCKS5 proxy with every subscription.
Option #1 – Using PIA VPN for torrents
The most popular (and easiest) option is to simply use PIA's VPN software to protect your torrent privacy. This method has several advantages:
Advantages:
Easy: no manual setup in your torrent software
Strong encryption
Kill Switch: Prevent torrent IP leaks if the VPN disconnects
How to set it up:
You can use PIA's own VPN software on any Mac, Windows, or Android (4.0+) device. There are only a few options you need to worry about.
1. Choose the right encryption strength
We recommend using PIA's default encryption of 128-bit AES with 2048-bit RSA handshake encryption. This is an excellent blend of security and speed, and should help you achieve slightly faster speeds than using 256-bit encryption.
You can access the encryption settings by toggling the 'advanced settings' in the PIA software, then scrolling to the bottom under the heading 'Encryption'.

2. Enable the Kill-Switch
The main goal of using a VPN to torrent is to make sure peers and trackers can't see your real IP address. But if the VPN disconnects by accident, your computer will usually reconnect through ISP's normal internet connection. But not if you enable the kill switch.
A 'Kill-Switch' will shut down all internet connectivity if the VPN fails until you either reconnect to the VPN or reset your network adapter.
This is a simple, but effective solution to make sure that your real IP is never exposed while using the VPN.
You'll find the Kill-switch option in the 'advanced settings' menu of the software:

and while you're here, consider adding IPv6 and DNS leak protection as well. These are typically less important as most torrent users as monitored by solely by their IPv4 address (protected by the VPN). But better safe than sorry. Option to enable them are right next to the kill-switch option.
3. Choose the right server location (Switzerland or Netherlands)
Private Internet Access actually allows torrents in all server locations, but a little-known secret is that they actually reroute torrent traffic behind the scenes for many of those server locations. Those double-hops will just cause more latency and slower speeds, so it's obviously better to choose a torrent-friendly location in the first place.
Best options:
Netherlands (same location as PIA's Socks5 proxy)
Switzerland
4. Verify the VPN is working
It's important to make sure the IP address shown to peers in your torrent software is the VPN's and not your real one. The best way to do this is with an IP tracking torrent.
Check out our complete guide to checking your torrent IP address for full instructions.
Option #2 – PIA's SOCKS5 Proxy
Every PIA subscription includes unlimited bandwidth on their Netherlands-based SOCKS5 proxy server. What you may not know, is nearly all desktop torrent clients (and a Flud's android client) have SOCKS proxy support for anonymizing torrents.
Pros/Cons of the proxy instead of the VPN
Pros:
Faster (no encryption)
No IP leaks on disconnect
Torrent IP different than browser IP address
Cons:
No encryption means some ISP's will block/throttle downloads
Reduces # of available peers
Some torrent clients ignore proxy settings selectively
For a more complete discussion of these and other tradeoffs, make sure to read our full guide: Proxy vs. VPN vs. Blocklists (for torrents)
How to set it up:
These steps can be found in even more detail in our PIA proxy guide.
1. Get your Proxy login/password
For security reasons, PIA uses a different login/password for the proxy server (different than your VPN account). To get the login info, you need to log into your account panel on their website and 'generate' a SOCKS login.
2. Configure your torrent client
You'll need to make sure you're using one of the desktop torrent clients that fully supports SOCKS proxy peer connections. The list includes:
utorrent/bittorrent
Vuze
qBittorrent
Deluge
You can find complete setup instructions for ALL these torrent clients in our torrent proxy guide, but below we'll do the setup with uTorrent because uTorrent/BitTorrent is still the world's most popular option.
Step #1 – Go to Menu > Options > Preferences > Connection
And locate the proxy settings on that page.
Step #2 – Configure the proxy settings
Type: SOCKS5
Proxy Address: proxy-nl.privateinternetaccess.com
Port: 1080
Authentication: Yes
Username/Password: Generated in previous step
Use proxy for hostname lookup and peer connections: Yes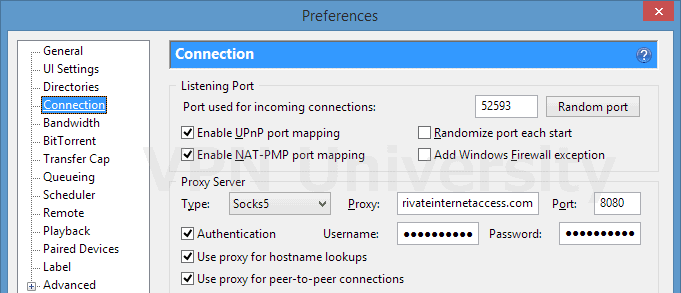 Step #3 – Configure proxy privacy settings
It's very important to make sure you enable the privacy features so your proxy doesn't leak identifying information. We also don't want the torrent client to ignore the proxy tunnel altogether. Recommended settings for uTorrent/Bittorrent are:
Disable local DNS lookups: Optional
Disable features that leak identifying information: Yes
Disable connections unsupported by proxy: Yes

4. Test your proxy connection
Make sure your proxy connects and doesn't generate an error. You can try a linux test torrent to make sure everything is working properly.
If you can't find any torrent peers on a well-seeded torrent, you may have an ISP that blocks port 1080. In that case, you'll have to use the VPN method instead.
Finally, you'll want to check your torrent IP address using a tracking torrent like this one.
Option #3 – Use PIA's VPN + Proxy together
For most people this method isn't necessary, and it doesn't really have any major privacy advantages. You may also get slightly slower speeds than using either the proxy or VPN alone.
So why bother?
Your torrent IP address will be different than your browser IP address!
We've already recommended using a Netherlands or Switzerland based IP for torrenting, but you may notice you start getting google results in Dutch and websites showing up in strange languages. With this method, you can use a nearby VPN server in your home country, but still get a Netherlands IP address for torrents using the proxy.
All you have to do is:
Follow the setup instructions for the proxy
Connect to a VPN server before opening your torrent client
That's it.
Here's a youtube video showing you the complete setup:
Wrapup and additional resources
Any of these methods should work great for downloading torrents using PIA. Most users will find the VPN-only method the easiest and most efficient, and it avoids many of the troubleshooting issues that can popup with the proxy option.
Just make sure to enable the Kill-switch and IPv6/DNS leak protection options for enhanced privacy.
And if you don't want to have to worry about turning your VPN on everytime you download torrents, think about getting a VPN router. I run a VPN on my home network 24/7 using the dual-router setup option, and it works great!
If you run into issues, feel free to leave a comment below. You can also checkout some of our other PIA-related guides for troubleshooting tips:
Happy torrenting!