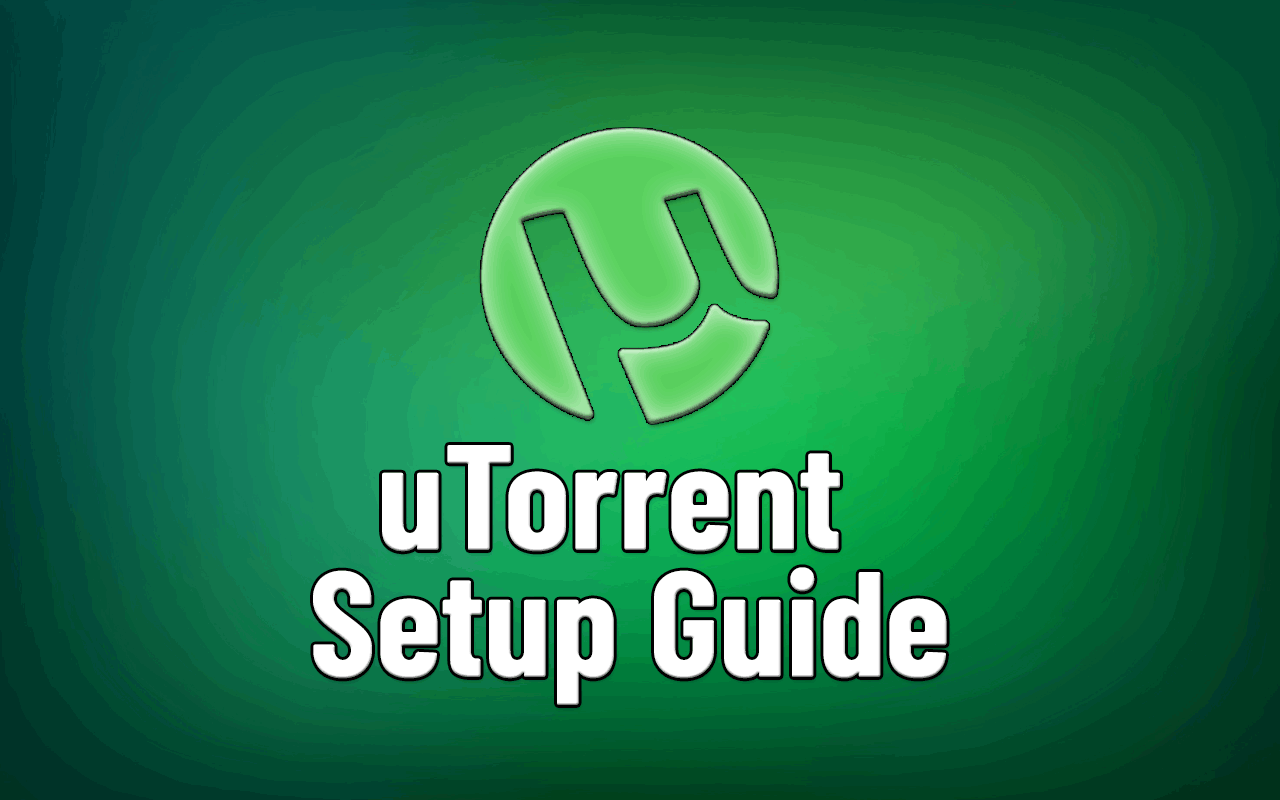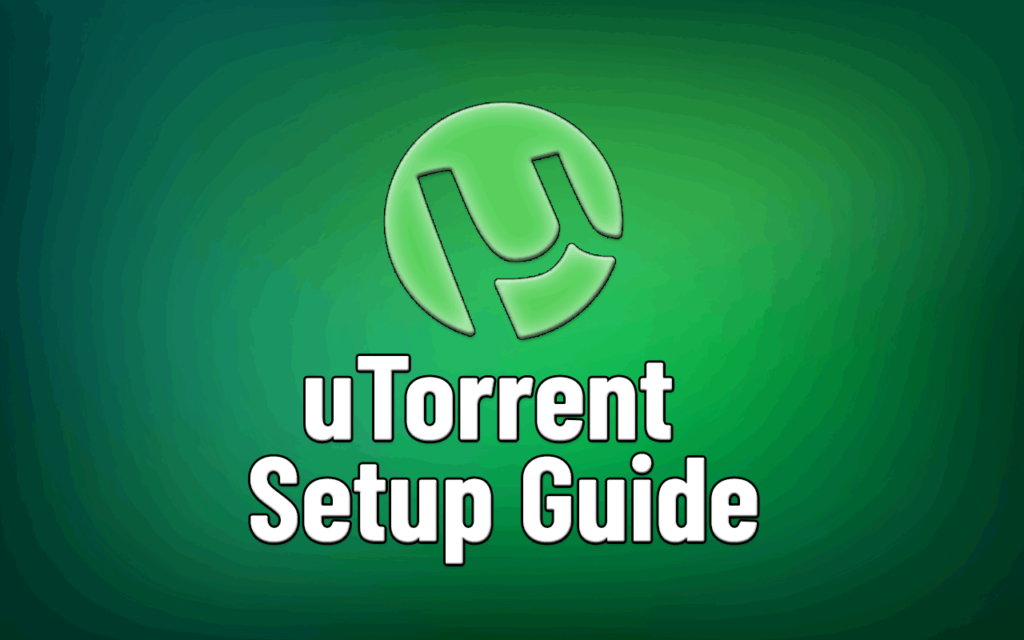 If your new to uTorrent or you haven't really explored the real power of uTorrent, this post is for you. I'm going to show you how to use uTorrent like a power-user, with faster speeds, fewer (zero) ads, and waaaaay better privacy.
What you'll learn:
How to solve port forwarding issues
How to maximize download speeds and peer availability
How to use encryption in uTorrent
How to use a VPN or Proxy to protect your identity while torrenting
How to get rid of the annoying ads (for free).
Note: This tutorial is for the desktop version of uTorrent, not the feature-limited web version.
What is uTorrent
μTorrent (commonly called uTorrent) is the most popular torrent client in the world (ex-China). It is ad-supported, though their is a 'pro' version that is ad-free.
uTorrent is owned by BitTorrent Inc. which also makes the BitTorrent torrent client (basically a purple skin of uTorrent).
Pronunciation: μ is actually the Greek letter M meant to mean micro when uTorrent was originally named. However even the founder admits he usually pronounces it 'You-Torrent'. I'm sure we have some purists among our readers, but it will always be u(you)Torrent to me.
UTorrent Features:
Port Forwarding
Blocklist support
uTP/μTP network optimization
Built-in protocol encryption
Full HTTP/SOCKS proxy support
Not supported:
Interface/VPN binding (Vuze, QBittorrent have this)
i2P/Tor integration
Initial Setup
The free version is ad-supported, but the default configuration will also try to install 3rd-party software on your computer (currently Avast antivirus and Opera browser). This is one reason I prefer open-source clients like QBitorrent. Make sure you opt-out of those installs during setup.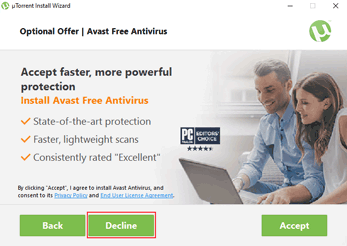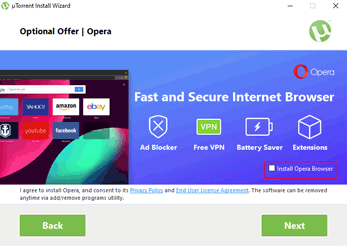 You'll then be taken to the actual configuration options:
Note: It's a good idea to add a Windows firewall exception (if you're using Windows) to avoid port forwarding or routing issues later.
You can the choose the file associations for uTorrent. If this is your main (or only) torrent client, I like to associate uTorrent with all .torrent files and magnet links.
That's it, uTorrent is installed and is ready to download torrents right out of the box. Of course, there are still a number of things you'll want to do first, for dramatically improved privacy, performance and usability.
I'll walk you through them in order of importance:
Use a VPN with uTorrent (hide your identity)
These days, the majority of frequent torrenters are using a Virtual Private Network (VPN) or proxy (discussed next) for enhanced privacy on uTorrent.
This is especially true if you're torrenting in the USA or Europe, where there have been major crackdowns on torrent sites, and individual file-sharers.
Benefits of a VPN:
Hide your real IP address from peers: file-sharing is tracked by your public IP address
Encrypt your traffic: Don't let your ISP see what you download
p2p-friendly location: Virtually torrent from safer country/jurisdiction
Increased speeds: Stop your ISP from throttling torrent downloads
How to setup a VPN w/ uTorrent
There is no special settings or configuration within uTorrent if you're using a VPN. Everything is handled by the VPN software, and creating a VPN connection is 1-click easy (after the one-time setup).
All the VPN services we recommend have similar functionality when it comes to uTorrent traffic. Here's a good starting point your VPN configuration.
Choose a fast Protocol
Use OpenVPN (UDP) or Wireguard as your VPN protocol. The latter will probably give you faster speeds. If your VPN provider has adjustable encryption strength, consider using 128-bit encryption instead of 256-bit (OpenVPN). This will improve speeds without meaningfully impacting security.
Turn on the Kill-switch
The goal of a VPN is to encrypt your torrent traffic and route it through an anonymous IP address. But what if the VPN disconnects suddenly?
That's what a kill-switch is for. When enabled in your VPN software, it will cut all internet traffic to your device (or selected apps) if the VPN fails. That way, you never leak torrent traffic unencrypted.
Nearly every top VPN provider has some version of kill-switch technology embedded in their software. The implementation might be slightly different (some close specified apps rather than cutting internet access) but the end-result is the same. Get better security by using a fail-safe.
Internet Kill-switch: cuts all internet access until the VPN reconnects
App Kill-Switch: Closes selected apps (or cuts internet to those apps)
Other considerations:
Port forwarding: a VPN makes portforwarding a non-issue. You'll never need to manually configure ports on your router as long as your device is running a VPN. Just make sure VPN pass-thru is enabled (usually on by default).
Server selection: If your VPN allows p2p on all servers, choose the closest/fastest location. Otherwise, make sure you use a p2p-enabled server or you could risk account cancellation. If you're in a jurisdiction that's unsafe for torrents, choose a safer location.
That's pretty much it. VPN software makes everything ridiculously easy. uTorrent works with any torrent-safe VPN. It's hard to screw up.
Best VPNs for uTorrent
While you can use any service that supports p2p downloads, there are a small handful that are far superior in terms of privacy, performance and utorrent-friendly features. And we always recommend that you choose a vpn that doesn't keep metadata or activity logs.
Here are the best uTorrent VPNs (all of which I use personally):
Don't waste too much energy comparing different VPN providers. All 3 of these are great choices, but Private Internet Access (read our review) and NordVPN (read our review) are best-in-class.
Even better, each has an awesome refund policy, so just try it risk-free for a month, then get a refund if you aren't 100% sure.
uTorrent Proxy Setup
For most users, a VPN is the easiest and most effective method for private torrenting. But using a proxy is another alternative, specifically a SOCKS5 proxy (which can handle torrent traffic, unlike a HTTP proxy).
The good news is you don't really have to choose between a VPN or proxy. Many of our top-ranked VPNs include a SOCKS5 proxy with every subscription.
VPNs that include a SOCKS proxy:
How to configure a proxy in uTorrent
The proxy settings are found at: Options > Preferences > Connection > proxy server
How to set up: The exact settings will depend on your provider. You can find the right configuration for your VPN in our torrent proxy setup guide.
Important options to select:
Peer Discovery
When downloading torrents, the quantity and quality of your peers makes a huge difference in download speed. And without enough peers or seeds, you might not even have a complete file available for download.
Originally, peers were just sourced from torrent tracker websites, but now there are decentralized peer-sharing protocols to make it much easier to grow your peer swarm.
There are two decentralized peers-discovery methods:
DHT (Distributed Hash Table) – basically a tracker-less peer tracker
Peer Exchange (PEX) – Refer-a-peer from your current peers
uTorrent supports both protocols, which you can (and should) enable in the preferences menu under Options > Preferences > BitTorrent

If you're on a large local network like a College or University, you could consider enabling Local Peer Discovery which will find peers on your intranet LAN.
This could be a security risk if you're connected to a VPN (exposing your local IP on the LAN) and without a VPN any malicious peer or network admin could read your traffic, so use with caution. These days it's probably safer to turn it off.
Bandwidth & Speed Optimization
This may surprise you, but the default uTorrent settings often aren't optimal. Rather, the default settings are better for someone with sub-broadband speeds. If your internet connection is 20Mbps or faster you should consider tweaking the defaults.
The culprit here is mostly the Micro Transport Protocol, known as μTP. This innocent-sounding term is actually a form of self-throttling, designed to prevent uTorrent from using too much bandwidith.
Why would anyone use μTP? Back in the days of slower internet and widespread throttling, a maxed-out uTorrent connection could monopolize all your bandwidth. This would cause your other internet-connected apps to run painfully slow, to the point where even web browsing was laggy.
But with a broadband connection, this is a non-issue for most users. So try disabling μTP and see if your download speeds get faster.
Disable μTP under Options > Preferences > BitTorrent > Enable Bandwidth Management

2. If you want to leave μTP enabled, you can disable the throttling (rate-limit) feature under Options > Preferences > Bandwidth > Global Rate Limit Options

uTorrent Encryption
Like most desktop torrent clients, uTorrent has built-in protocol encryption. This is a light-weight encryption cipher that is only useful for circumventing throttling on some networks.
What to know about uTorrent encryption:
It won't hide your IP address or improve your privacy
It's weak, breakable encryption and can't fool deep-packet-inspection like your ISP may use
You don't need it if you use a VPN
You can find the encryption settings under Options > Preferences > BitTorrent > Protocol encryption

Which setting to use? Most users (including you smart ones with a VPN) will want to set this to Enabled. This will give you maximum peer availability and will encrypt connections where possible.
If you think you're being throttled by your ISP (slow torrents without reason) and you don't use a VPN, then consider switching to Forced encryption mode.
Scheduler
If you want to tweak the amount of bandwidth uTorrent uses by time and day of the week, you're in luck. uTorrent has a built-in scheduler gives you complete control. This is especially useful during the work-from-home realities of 2020.
To use the scheduler: Go to Options > Preferences > Scheduler
You can then set the bandwidth mode for hour of the week. Each square is a one-hour time block.
Keep clicking a square in the grid to cycle through the four modes. You can also click and drag to change multiple squares quickly.
Here's a sample schedule for someone who works from home:
uTorrent Remote & WebUI
If you torrent around the clock (no judgement) then you love the remote control capability of uTorrent Remote.
This feature lets you control uTorrent from any internet connected devices, either via the mobile app (iOS & Android) or the remote website. You can start and stop torrents, or even add new torrents to download.
Editor's Note: It appears uTorrent Remote has been abandoned or is temporarily unavailable. It's still listed on utorrent's website, but the apps have been pulled from the app stores and the Web UI isn't working.
Streaming Videos in uTorrent
Like Vuze (a powerful but heavier torrent client), uTorrent can stream music and video torrents while they're still downloading. As long as your download speed is faster than the bitrate, you can stream the entire file almost immediately instead of waiting for the download to complete.
This is also useful to check the video or audio quality of a torrent, instead of relying on comments from some dodgy public tracker.
To set your default media player for streaming, go to:
Options > Preferences > Playback

You can then choose from the list of detected players, or browse for others you have installed. uTorrent does have it's own built-in player, but most users will be better off with a 3rd-party video player.
Suggested Players:
Windows Media Player (Windows)
VLC Player (Windows, Mac)
Turn Off Ads in uTorrent
One of the most annoying 'features' of uTorrent's free version is the quantity (and quality) of the banner ads. Some of these ads have even been reported to contain malicious scripts and malware.
UTorrent pro is ad-free, but it's actually possible to disable ads in uTorrent (free), by diving into the advanced settings menu.
Options > Preferences > Advanced
You'll then want to set each of these options to 'FALSE'
bt.enable_pulse
gui.show_notorrents_node
gui.show_plus_upsell
offers.content_offer_autoexec
offers.left_rail_offer_enabled
offers.sponsored_torrent_offer_enabled
Once you do that, click Apply and your interface will be completely transformed and beautifully ad-free.
How to use a Peerblock or iBlocklist
My personal view on blocklists is that they're completely useless for privacy purposes.
IP-based blocking tends to block way to many peers, and rarely stops the truly malicious addresses that are harvesting your torrent activity. That's why a torrent-friendly VPN is the smartest tool you can use.
But uTorrent does support IP blacklists if you're still inclined to use them.
How to set it up
iBlocklist has now paywalled their IP lists, so we're going to use a free tool that downloads and updates the latest blocklist for free. It's called IP Filter Updater, and it's open-source (and free).
1. Download and install IP Filter Updater
Go to the project homepage, download and install the latest release.
Then open it, and load the latest blocklist.
2. Enable IP-Filter in uTorrent
Go to Options > Preferences > Advanced
Then enter 'filter' in the search bar and look for the option named:
ipfilter.enable
Then set this value to True
3. Confirm the blocklist is working
Check the logger tab of uTorrent and confirm that the ipfilter.dat file was imported. If you don't see a 'Logger' tab, you can add it by right-clicking next to your existing tabs, then select Logger as an added tab.
Note: IPFilter updater only works if you install your torrent client to the default location. If you use a custom install path, you'll need to import an ipfilter.dat file manually.
Summary & Next Steps
If you made it this far, you should have a pretty good idea of how to use uTorrent's most powerful features. Most users won't need everything we've covered, but setting up a VPN and disabling ads is a good start. Disabling uTP is also an easy speed boost.
If you take anything away from this guide, it should be this:
Use a VPN (or proxy). The small cost is worth the added privacy
Get rid of ads. It's easy and free.
Explore alternative clients. QBittorrent is a great uTorrent alternative
Happy Torrenting!
P.S. If you don't already have a VPN, you should take advantage of one of these great deals below.