Proxy.sh is a non-logging VPN service based in Seychelles (a privacy haven). They offer both VPN & proxy service (bundled together in the same package). Their dedication to privacy is impressive, and proxy.sh offers several unique privacy features above and beyond most other VPN services.
Privacy features include:
No Logs. None. Zip. Zero.
Transparency Report (list of all legal requests they receive)
Untraceable hashed VPN account option (account not linked to an email address)
Encrypted chat/messaging apps
Private non-logging DNS servers
Tor over VPN/VPN over Tor capable
Open-source code for VPN client
And best of all, they're quite affordable: Proxy.sh is one of the few providers who can match Private Internet Access's extremely low $3.33/month pricing.
Website: www.proxy.sh
Company: Proxy.sh (Based in Seychelles)
Logging Policy: No Logs.
Server Locations: 200+ servers in 51 countries
Protocols: OpenVPN (best), PPTP, L2TP/IPSec
Mobile Apps: iPhone/iPad & Android

Regular Price: $10/month
Current Best Price: $3.33/month (claim this offer)
Proxy.sh Review Summary
Proxy.sh is a high-privacy VPN service based Seychelles (a known 'privacy haven'). Seychelles has extremely favorable privacy and data protection laws that protect both companies and their customers.
In their own words, Proxy.sh is one of the most 'Disruptive' VPN providers in the world, raising the bar when it comes to transparency and privacy. Their product is quite innovative and the offer a number of truly unique privacy features that you can't get from any other provider. The tradeoff is that this small company's software is a bit less polished than some of the competition (but possibly even more secure, as we'll discuss later).
Strengths
No Logs whatsoever: Proxy.sh is 'no logs' VPN service. They do not monitor or log your session data, web history, data transfer, or connection history. (This is a rarity in the VPN industry)
Transparency: Proxy.sh publishes a daily transparency report that discloses every warrant and DMCA request they receive, as well as the action taken.
Open Source Software: Proxy.sh is one of the only VPN providers do publish the source code for their proprietary VPN software. Not only does this allow the developer community to submit improvements, it also allows free and open review of their security features and ensure there are no hidden backdoors, malware, keyloggers, or rootkits being installed.
Low Price: With 1 year plans starting at $3.33/month, proxy.sh is one of the lowest-priced non-logging VPN's in the world.
Torrent-Friendly: Proxy.sh allows torrents/p2p/file-sharing and is an excellent choice for that purpose.
Weaknesses:
Proxy.sh is a small/newer company and their software is a bit unpolished. It works well and is stable, but the user interface (UI) is not always intuitive. You can always use a 3rd-party VPN client with your subscription (such as OpenVPN or Viscosity).
Pricing/Plans
Proxy.sh has 4 VPN plans in 3 subscription lengths, so making a choice can get a bit confusing. We'll try to break it down as simply as possible.
First off, the Quick Plan is just a temporary (72 hour) VPN subscription and should really only be used for testing proxy.sh before purchasing, or if you need a VPN subscription for a short period of time (you're traveling you're outside the country).
The rest of the plans (Basic, Solid, Pro) are each available in 3 subscription lengths:
1 month (no discount)
6 months (slight discount)
12 months (best discount vs. monthly)
The 'Basic' and 'Solid' Plans:
These plans are virtually identical. Each has access to all the core features of proxy.sh (Safejumper VPN client, SoftEther, Proxy servers, private DNS, and unlimited bandwidth on their 1Gbps network.
The only difference is that the 'Solid' plan has 50 server locations and the 'Basic' plan only comes with 5. Whether that's worth 2x the price will come down to a matter of personal preference.
The 'Pro' Plan
Here's where it gets interesting…
The Pro plan adds some advanced features not available in any of the other plans, but at $20/month it's a pretty premium price.
Here's what you get:
Access to private 50Gbps VPN nodes: Proxy.sh has exclusive 50Gbps server nodes that are reserved for only the pro plan subscribers. This means there's a ton of bandwidth available, so you should get much faster speeds if you have a high bandwidth connection (50 Mbps+)
Multi-Hop Technology: Multi-hop means your VPN entry server is in one location, and your exit node can be in a completely different location. In theory this should provide even greater anonymity as your connection is now being routed through 2+ non-logging VPN servers. Since this uses at least double the network bandwidth, it's reasonable that Proxy.sh should charge a much higher price.
You also get access to 100% of the features from the 'Solid' plan as well.
So which plan is the best?
Personally, I think the 'Basic' plan is by far the best deal, and Proxy.sh is one of the only VPN's to offer an annual unlimited subscription for $40/month or less. (Private Internet Access is the other). If you'll likely only be using servers in 1 of the 5 countries (USA, UK, France, Germany, Netherlands) then the Basic plan is a great value.
Personally I think the 'Solid Plan' is over-priced and you can get many of the same features from Private Internet Access, at only $3.33/month instead of $10.
The 'Pro' Plan is will be really attractive to power users because of the awesome 50Gbps private servers. You also get multi-hop technology (almost no other VPNs offer this). If power, speed, and extra security features are more important to you than price, then the Pro Plan is definitely worth considering.
Proxy.sh's Software (SafeJumper)
Proxy.sh has their own custom VPN client which they call 'Safejumper.' It's one of the only proprietary open-source VPN clients in the world, meaning their code is free and open to inspection (so you know there's no secret backdoors or malware built-in).
The main interface of the Safejumper looks like this:
While it's not the sleekest software, all the important features are there. You can see your old IP address as well as the new IP assigned by Proxy.sh when you connect to the VPN. It also displays your current protocol (UDP or TCP) and port choice.
You also get easy access to the full list of Proxy.sh's server locations by hitting the '+' icon next to the currently selected server (Switzerland in the image above).
Choosing a Server
Choosing your preferred server location is easy. Just click the '+' button to launch the server selection tool, then you'll get the full scrollable list of all proxy.sh servers. It also displays the current % load of each server (to help you choose the fastest/least crowded).
Safejumper has a handy system tray icon as well. It gives you right-click access to quickly connect to any server location, connect to the last server, or open the settings menu.
It also has an icon that chances color based on your connection status, so you always visually verify whether you're connected to the VPN, even when the  software is minimized.
Here's the system tray icon (not connected vs connected):
Advanced settings menu
The Safejumper settings menu gives you access to some more advanced configuration options. Most people will just set once and forget about them, you probably won't have to edit them very often.
Features:
Auto-launch/auto-connect/re-connect: These options let you choose whether to have safejumper load on startup (when your OS loads), auto-connect after loading, and whether to re-connect automatically if the connection drops.
Connect on unsecured wifi: will auto-connect any time you connect to a wifi network that isn't password protected (such as public airport/coffee shop networks).
Display individual node servers: lets you see every individual server in each server location. This will make the server selection view much more crowded.
Kill-Switch: This is a security feature that will automatically kill all internet access to your computer until the VPN connection is restored. We wrote a whole article on how and why to use a VPN kill-switch.
IPv6 Leak Protection: Make sure your device doesn't leak it's ipv6 address.
DNS Leak Protection: Always route DNS requests through proxy.sh's private DNS servers (read our DNS Leak Guide).
Advanced Features:
OpenVPN Port #: Lets you choose a local port# if you want to set up port forwarding for the VPN (most users don't need this).
DNS Servers: You can specify your own DNS servers if you want (it will default to proxy.sh's private DNS if you don't specify your own). Most users should just leave the default settings.
VPN Ports to open: Used for forwarding ports through the VPN server. This is an advanced feature and should only be used if you know what you're doing. Each port you open is a security risk and makes it easier for a hacker to reach your computer through the VPN tunnel.
Security & Encryption
Proxy.sh has excellent security and encryption strength. Here are the highlights of their best security features:
256-bit AES Encryption: This is the industry standard for OpenVPN encryption and Proxy.sh uses it on every server location.
4096-bit keys: This is the strength of the initial encryption for the handshake between your VPN client and the server. The industry standard is only 2048-bit. Proxy.sh's encryption is an incredible 22048 times as strong. I can't do that math in my head (and I bet you can't either). In other words, it's incredibly strong.
Private DNS: Proxy.sh uses their own non-logging DNS servers to make sure your website lookups never get routed through your ISP's DNS servers (your internet provider almost certainly does keep logs). Learn more about DNS leaks here.
Kill-Switch: This optional security feature lets you instantly kill your internet connection if the VPN fails (instead of just reconnecting to an unsecured connection).
In fact, the only feature Proxy.sh doesn't offer is adjustable control over the encryption strenght (in case you want more speed/less security) but very few VPNs offer that level of control. Who knows, proxy.sh may add it in the near future.
Privacy Features & Logging Policy
Proxy.sh provides excellent privacy and has a number of impressive privacy-related features.
Logging Policy
Proxy.sh is a true non-logging vpn which means that they don't monitor or log any VPN activity, session data, or metadata. This gives the user the greatest possible level of privacy and anonymity.
Here's some of the quotes direct from proxy.sh:
"Proxy.sh does not collect or log any traffic or use of its proxy technologies including virtual private networks" – proxy.sh privacy policy
And proxy.sh has publicly stated many times including here that they don't keep any logs, and most server processes run only in RAM so no user data is being written to a hard drive.
Privacy Token
Proxy.sh offers a free account service that allows you to to convert your VPN account into an anonymous hash token. Once you do this, you will not have a username/password or user account, just a non-identifiable token that is used to access the VPN network (via safejumper).
This upgrade is completely optional (and free) but the one downside that it provides so much privacy that you won't be able to receive tech support (you no longer have an account panel or associated email address).
Anonymous Payments
You can buy VPN service anonymously using cryptocurrenty. You get the choice of Bitcoin (the world's most popular cryptocurrency) or other Cryptocoins (like litecoin).
Transparency Report
Proxy.sh publishes a daily transparency report which lists every warrant and legal request they receive. The report also shows the action proxy.sh took in response (it's almost always just blocking a port # because they can't identify individual users). The vast majority of incidents in the report are DMCA notices generated by torrent downloads.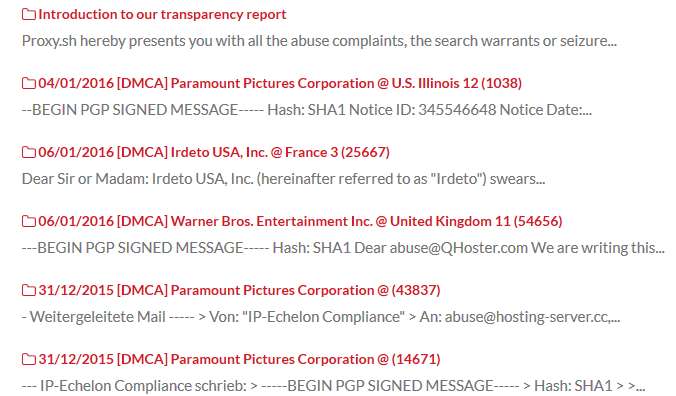 Proxy.sh also uses a warrant canary to verify that the transparency report is updated and accurate (to guarantee users that no information has been removed as a result of legal threats or a gag order).
Speed Test
Proxy.sh performed solidly in our speed tests. We tested on a wired 100mbps connection (optimal conditions) in order to get an idea of the maximum speeds a VPN is capable of. All of proxy.sh's servers use 256-bit AES encryption (with Safejumper) which is extremely strong encryption. The tradeoff of stronger encryption is usually a moderate slowing of speeds.
USA Speed Test
International Speed Tests
Speedtest Analysis:
Proxy.sh was quite fast on USA servers but the international servers were a mixed bag. If you have an average connection speed (Around 25mbps) you won't notice much difference, but if you have a 100mbps connection you might want to choose a faster VPN like Private Internet Access or IPVanish.
Conclusion
Proxy.sh is a solid option if you're looking for the highest level of privacy and anonymity. They're no-logs policy, combined with an Open-Source VPN app is great. They're also based in the privacy haven of Seychelles, so proxy.sh should be less vulnerable to pressure from the NSA and other spy organizations than a VPN based in the USA, UK, or Canada.
Proxy.sh is a great choice for:
Bittorrent users: They're true non-logging VPN and torrents are allowed on all servers. They don't forward DMCA requests, and they publish all takedown notices in their transparency report.
Value/Price conscious: With plans starting at $40/yr ($3.33/month) proxy.sh is affordably priced.
Privacy/security: With 256-bit AES encryption, 4096-bit handshake encryption, and no logs whatsoever, they're a solid option.
Our Verdict: Solid Privacy and Security