It's no secret we at VPNUniversity love ASUS routers. For this article, we hand-tested some of the best ASUS routers for any budget.
I personally own 4 of the best ASUS router models, including the powerful AX-86U and my trusty AC-68U which has been a reliable workhorse for 6+ years now.
In my opinion, ASUS routers are the perfect blend of capable hardware and feature-rich software, thanks to the ASUSWRT firmware which comes stock on most models.
ASUSWRT includes QOS optimization, USB tethering, parental controls and even a built-in OpenVPN client. So if you want to protect your entire network with a VPN, you don't need to flash 3rd-party firmware to do it (and risk bricking your $200 router).
Of course if you do like to tinker, multiple ASUS models are supported by 3rd-party firmware including: DD-WRT, FreshTomato and OpenWRT.
Regardless of your use-case, these are the best ASUS routers for VPN, torrenting or building your own home NAS server.
Why we love ASUS-WRT routers
ASUSWRT (the stock firmware for high-end ASUS routers) has an excellent blend of features and usability. ASUSWRT gives even low-tech users easy control of advanced router functionality.
Impressive ASUS-WRT features include:
Built-in VPN support (connect all devices to your favorite VPN service)
Build your own cloud drive/NAS (easy setup with any USB drive)
Download torrents without a computer using the router's own torrent client!
We'll have tutorials for all of these features in the future, but since this site is vpn-focused, we've already got step-by-step guide on how to use your ASUS-WRT router with any OpenVPN-enabled VPN provider.
Tips on choosing a router
You don't need the most expensive models – Asus offers high-end routers priced above $300, but these are overkill for most users, and over $200 you get less bang for your buck.
Choose a dual-core model – When using a router as a VPN client, NAS, or cloud server, the limiting factor for speed is usually the router's CPU. The more expensive models have faster multi-core CPU's. The cheapest models are single core. We recommend choosing a dual-core (or higher) model.
Personally, I think the best blend of price and power is the ASUS RT-AC68U which is the most affordable dual-core processor, and can easily handle 25+Mbps VPN speeds, or operating as an NAS cloud drive. Don't buy a Lamborghini when a BMW 3-series will do just fine.
Unless of course you have money to burn.
Without further ado, here's our comparison of the best ASUS routers for VPN…
The Best ASUS Routers in 2022
These are the best ASUS router models for CPU-intensive activities like VPN, BitTorrent, filesharing or streaming.
All of them have support multiple wifi bands, guest network, multi-core CPUs and the ASUSWRT firmware.
1. ASUS RT-AX86U (best overall)
Pros & Cons
Asus AX86U is the turbo-charged big brother our well-loved AC86U. It features a quad-core 1.8ghz CPU and 1GB of RAM.
That makes it approximately twice as powerful as the previous generation model (which was was our previous #1 pick before the AX series debuted).
This model is one of ASUS's all-time bestsellers, thanks to the build quality and bang-for-your-buck value. In fact, I doubt you could find more performance per dollar in ASUS' router lineup.
The only real knock against this router is it's not supported by an Tomato or DD-WRT (they don't support any Asus AX models yet).
So if you're planning to flash an open-source firmware, you should look elsewhere. However, I personally haven't ever felt the need, since the AX86U has full ASUSWRT-Merlin support.
In fact, I'd say this is hands-down the best ASUS router for Merlin. It's got loads of power and the firmware runs fast and stable.
2. ASUS RT-AC86U (best mid-range router)
The Asus AC86U was our previous #1 ASUS router but got demoted after the AX line launched with quad-core awesomeness. It's got a dual-core 1.8ghz CPU and 512MB of RAM, with plenty of power for all but the most demanding uses.
This model is one of ASUS's all-time bestsellers, thanks to the build quality and bang-for-your-buck value. In fact, I doubt you could find more performance per dollar in ASUS' router lineup.
In my testing, the the AC86U can get around 75Mbps using the VPN client with 128-bit OpenVPN. That's faster than the average speeds of most VPN services, which seems like the perfect amount of power.
3. ASUS RT-AC68U (best budget router)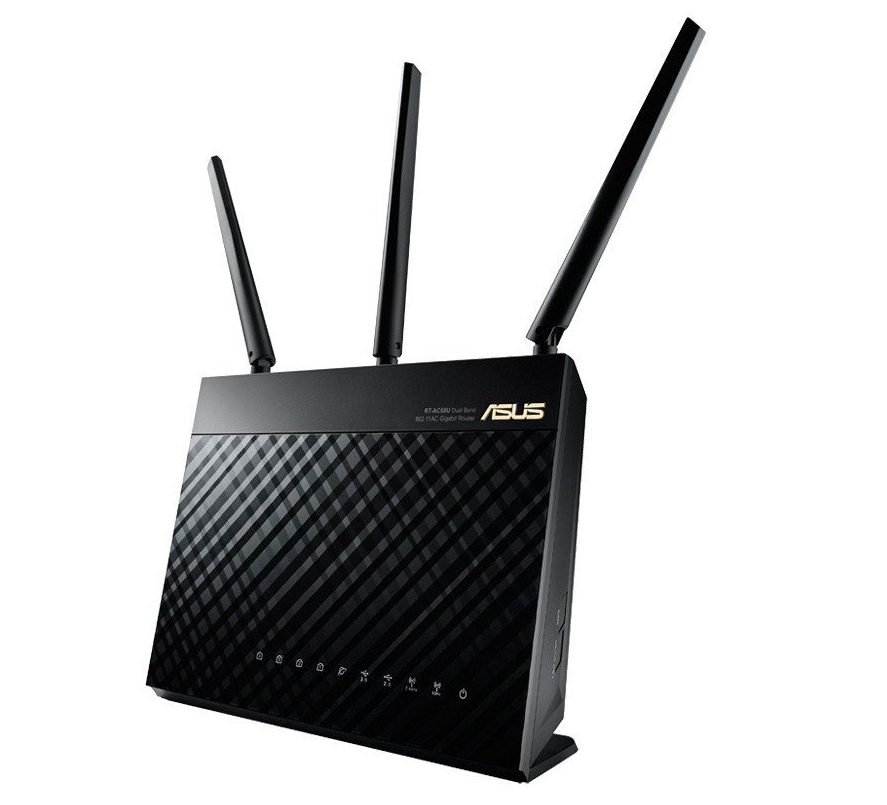 The RT-68U is an AC1900 router, meaning it's capable of 1900Mbps (theoretical) max wireless speeds. It is a dual-band router with both 5ghz and 2.4ghz bands. These can even be set up to to operate as separate wireless networks (a different SSID for each).
This essentially allows you to have 2 wireless networks in 1 router (and that's not even counting the guest-network functionality).
I personally love this router, and own 2 myself. They've served me flawlessly for more than 6 years. Speeds are still good, the CPU is running strong and I've flashed the firmware dozens of times without issue.
There's a reason ASUS still makes this model. It's just a solid piece of equipment that gets the job done. Sure, it's only a dual-core CPU but it's still fast enough to stream HD to multiple devices while running the VPN client.
3rd-party firmware support: The AC68U is supported by all of the major 3rd-party firmware, including DD-WRT, Tomato (Advanced Tomato, Shibby, FreshTomato) as well as ASUS-WRT Merlin.
RT-AC68U Specs:
800 Mhz dual-core CPU
Dual Band (2.4ghz + 5ghz devices)
4 x Gigabit LAN ports
ASUSWRT firmware
Built-in 'Trend-Micro' firewall/threat protection
VPN server & client compatibility (OpenVPN, PPTP & L2TP)
Why should you choose the AC68U? If your router budget is under $120, the AC68U is about as good as it gets. It's perfect for everyone except power-users. The CPU is fast enough for VPN usage and wifi coverage is excellent.
This our pick for the best blend of performance and value. It's dual-core CPU should be powerful enough for most users, and works flawlessly as a dedicated VPN router.
You should buy a higher-end model if: You primarily want to operate your router as an NAS/cloud drive, as a faster processor will give you better transfer speeds from the attached USB 3.0 drive. The higher end models also offer a bit more range (though the 68U should cover a 2000 square foot house just fine.
4. ASUS AX3000/AX58U – best value next-gen router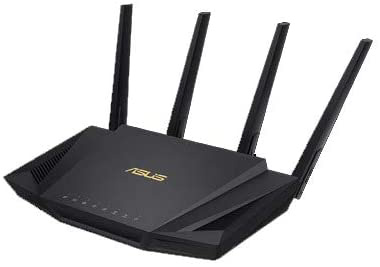 Asus's line of next-gen AX routers offer a huge performance bump over 'AC' router models, and pricing is actually quite reasonable.
The Asus RT-AX3000 is the best value of the new line, because it offers fantastic performance at an acceptable (sub-$200) price point. You get a capable triple-core CPU clocked at 1.5Ghz, 512MB of RAM and USB 3.2 ports. It's perfect for running home VPN server or NAS (without breaking the bank).
Also, the AX58U (and sibling AX56U) are both supported by the Merlin firmware, for upgraded functionality like split tunneling. There's no DD-WRT or Tomato support, but you're not going to need it.
5. ASUS RT-AX56U
On paper the RT-AX56U has a lot going for it. The hardware is very similar to its sibling AX58U but you actually get a quad-core 1.5Ghz instead of the less powerful triple-core model in the 58U.
What you give up is the 160mhz channel which is only available on the AX58U (and higher) models, so they get the edge in real-world 5Ghz wi-fi speeds.
Despite only two antennas, the range doesn't suffer much. ASUS claims this model can cover homes up to 3,000 ft2 but in real-world settings it's probably more suitable for 2,400 square feet and smaller.
Choose the AX56U if you…
If you want a powerful CPU (for streaming or VPN) but don't need the range or fancy features of pricier models, the AX56U is a perfect choice. It's great for homes up to around 2000 square feet and cheap enough that you can afford two of them for whole-house coverage in bigger spaces.
6. ASUS AC5300 ( Light some $$$$ on fire)
Is this a router or a space alien?
Actually, it's the RT-AC5300, Asus's top-of-the-line router that usually costs almost as much as an iPad. Now don't get me wrong, it's a beast with top-shelf speeds and range. But it also costs 2-3x as much as the versatile AC68U.
The AC5300 basically an AC88U on steroids, including: 8 antennas, dual WAN ports (combine two internet connections in one router) and a maximum wifi capacity of 5.3Gbps. Wowzers!
AC5300 specs:
The AC-5300 actually shares the same 1.4Ghz dual-core processor as the cheaper AC88U. While their firmware capabilities are basically identical, the AC-5300 does add a few upgrades:
8 antenna, tri-band wireless: With two 5ghz bands, 2.4ghz band, and a combined maximum speed of 5300 mbps.
MU-MIMO Ready: every compatible device gets its own connection, for maximum speeds without affecting other connected devices.
Dual WAN: This router has 2 WAN ports, meaning if you had two ISP internet connections, you could combine them into an 1 ultrafast connection.
Firmware support
The AC5300 has it's own custom DD-WRT build. It can also run the ASUS-WRT Merlin upgraded firmware.
Who should buy the ASUS AC5300?
If money grows on trees and you're willing to pay an extra $100 for a modest improvement over the already-awesome AC88U, then this router may be worth a look.
Keep in mind that at this price point, you could easily afford a high-end router from ASUS's new AX lineup.
Comparison Chart: N66U vs. AC68U vs. AC88U vs. AC5300
Below is a comparison chart showing the features and hardware for each of the routers in this article. The variation between models is primarily hardware, # of antennas, and CPU speed. They all run similar versions of the same ASUSWRT firmware.
| | RT-N66U | RT-AC68U | RT-AC88U | RT-AC5300 |
| --- | --- | --- | --- | --- |
| | | | | |
| CPU Speed (cores) | 600Mhz (1x) | 800 Mhz (2x) | 1.4Ghz (2x) | 1.4Ghz (2x) |
| LAN Ports | 4 | 4 | 8 | 4 |
| Max Wifi Speed | 900 Mbps | 1.9 Gbps | 3.2 Gbps | 5.3 Gbps |
| Wifi Bands | 1 x 2.4 Ghz | 2.4 Ghz, 5Ghz | 2.4 Ghz, 2 x 5Ghz | 2.4 Ghz, 3 x 5Ghz |
| Antennas | 3 | 3 | 4 | 8 |
| VPN Compatible | | | | |
| NAS/Cloud Drive | | | | |
| Download Master (Torrent Client) | | | | |
| Best Price | Buy | Buy | Buy | Buy |
What is ASUSWRT and what does it do?
ASUSWRT is currently the best stock router firmware available (our opinion), and comes pre-installed on all routers mentioned in this article.
ASUSWRT gives you access to advanced features like:
VPN Client & Server
USB Tethering (share your smartphone's internet connection)
AI-Cloud – Home filesharing server
AI-Mesh – join multiple ASUS routers in a mesh network
Guest Network – Keep wifi network just for guests
USB Application – Connect USB drives and built your own NAS
Here's some of the things you can do with an ASUS router, right out of the box…
Connect to a VPN (PPTP, L2TP, or OpenVPN)
ASUS-WRT has a built-in VPN client that supports modern protocols like L2TP and OpenVPN. If you have a VPN subscription, you can configure it directly on your router to protect all your devices (even if they don't support VPN connections themselves). This VPN connection runs 24/7 and can even be configured to auto-reconnect if it drops.
Installing a VPN on your router is perfect for streaming sticks such as Roku, Chromecast or AppleTV 4k. You can even take advantage of your VPN's smartDNS features to unblock Netflix, Voot, or popular cable channels like USA Network.
For even more functionality (like split routing or a kill-switch) you can easily upgrade to AsusWRT Merlin.
Our Guides:
DIY Cloud Server (with AiCloud)
You can literally flip a switch and turn your home network into a cloud server, by attaching any USB drive to your ASUSWRT router. There's even an ASUSWRT app for Android and iOS that lets you access your files from your mobile device.
Quit paying $100/year for dropbox (and worrying about their security breaches). Instead, build your own cloud server and have 100% private file storage accessible from anywhere.
Adaptive QOS (Quality of Service)
Adjust bandwidth between individual devices on the network to make sure one persons' streaming or downloading doesn't hog all your bandwidth.
DownloadMaster (Torrent client)
Downloadmaster is a built-in torrent client that can be installed on your ASUSWRT router in a single click. It can even intelligently resume downloads that you've started from your PC, after its been shut down.
And of course, you can download directly to your attached USB drive connected to your router.
Set it up: How to configure DownloadMaster on ASUS routers.
Guest Network
Don't worry about giving out your secret router password to guests or acquaintances. Every ASUS router lets you set up a private 'Guest' network with completely separate login credentials. You can even limit its bandwidth if you want.
This is absolutely perfect for people with frequent house-guests or if you run an AirBnB.
Conclusion & Recommendations
We've given you a solid overview of the most popular ASUS router models available, but the question remains…which router should you choose?
Performance: If performance is your #1 criteria, the RT-AX86U is your best bet. With an insanely fast quad-core CPU it's one of the most future-proof routers you can buy.
Value: If you want the best value while still getting next-gen AX speeds, I recommend the AX56U. The quad-core CPU delivers blazing OpenVPN or filesharing speeds without needing a second job to afford it.
Flashing: If you're a tinkerer and want to use 3rd-party router firmware like DD-WRT or OpenWRT, then go with the AC68U. It's only dual-core but it has the best firmware support of any ASUS model. The day-to-day performance is great and even VPN speeds are acceptable (around 25mbps on OpenVPN).
Remember, don't choose single-core if you want to run VPN
If you're buying a router primarily to connect your devices to a VPN service, don't choose ASUS's single-core models like the N66U and AC66U.
Their single-core CPU can't handle fast VPN speeds, and hits 100% utilization around 8-12 Mbps over VPN (depending on whether your VPN uses 128-bit or 256-bit encryption). This is ok for occasional use if you don't have a lot of devices, but you'll be much happier with a budget dual-core model like the RT-AC68U.
Final Thoughts
I highly recommend this ASUS line of routers, and have been blown away by their performance in my personal experience with the two that I own. I have yet to find a router line that is more powerful and more user-friendly than these.
If you'd like to support this site, you can shop ASUS routers on Amazon using the link below: