Believe it or not, some free VPNs do still work with Netflix, despite the streaming giant's best efforts. We painstakingly tested the performance of several popular free VPNs, to save you the trouble of experimenting on your own.
Netflix a global streaming service, available in most countries around the world. But that doesn't mean you Netflix in the same everywhere.
In fact, the library of available movies and shows can vary wildly depending on where you live. Shows available in one country may be missing in another.
That's why many savvy Netflixers use a VPN to unblock content from multiple regions.
Netflix & VPNs. What you need to know
Netflix's diverse regional content libraries are caused by complex content licensing arrangements that are negotiated on a per-country or per-region basis. It makes life harder for everyone (except maybe the film studios).
This means you might not be able to stream your favorite shows while travelling. Thankfully, VPN services rushed to fill the gap.
Not all VPNs are created equal
Not so fast! Netflix initially didn't seem to mind VPN usage, but their content partners likely pressured them to crack down on VPNs. Netflix now has a sophisticated VPN-detection technology, and also blacklists known VPN endpoints based on their IP address.
This has led to a game of whack-a-mole where a few high-quality VPN services are able to stay a step ahead (and maintain Netflix connectivity) while the 2nd-tier companies usually give up.
Free vs. Paid VPNs for Netflix
If your main goal is to access & stream Netflix from other regions, you should go with a paid service (I personally recommend Private Internet Access or NordVPN).
But here are the biggest differences between the two:
Netflix Compatibility – This is obviously #1, because it's the entire reason you want a VPN in the first place. The paid VPN services are able to invest more effort and cash into circumventing Netflix's VPN-blockade. That's why there are very few cheap or free VPNs that work.
Speed – You don't just want access, you want a high-quality streaming experience too. Paid VPNs have much faster speeds, often capable of 4k streaming (without buffering). Free VPNs tend to be slow (many throttle video too) so 720p is often the max resolution. There are also monthly data caps on several of the free services I tested.
Privacy/Trust – Servers and bandwidth cost money. If your VPN is free then they're getting paid another way, often by selling subscriber data or injecting ads. Some even resort to more malicious tactics.
Free VPNs that do work with Netflix
I tested more than 10 services that are actually free or offer a free subscription tier. There were more misses than hits, but below you'll find the best of the bunch.
1. HideMe VPN
Type: Free Tier | Restrictions: 10GB/month, limited speeds, 4 server locations
Hide.me really impressed me in our recent review. In fact, I kind of wrote them off a few years back when they had slower service and clunky software. But all that has changed.
Hide.me now has some legitimately excellent software, and they offer a truly free VPN plan as well. You don't even need to provide a payment method.
Hide.me Netflix Support
Hide.me has dedicated streaming servers, each optimized for a different streaming service and location. Simply select 'Netflix' and your preferred location and their software does the rest.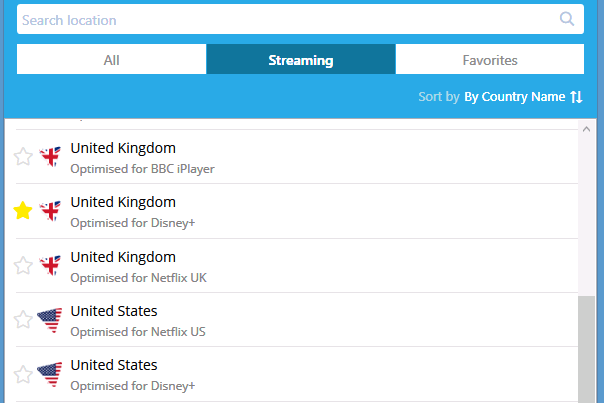 Available Netflix Regions:
United Kingdom
United States
2. Windscribe VPN
Windscribe is based in Canada, and like Hide.me they offer a free subscription tier as an on-ramp to their paid plans.
You can get 2GB/month with no account required, or 10GB of monthly data if you sign up with your email address. Paid plans have unlimited data transfer.
Their software has a built-in feature called 'Windflix' which uses special-purpose servers to unblock Netflix and other streaming services.
Available Netflix Regions:
United States
Canada
United Kingdom
Japan
3. OperaVPN
OperaVPN isn't technically a VPN at all. It's an encrypted proxy that you can enable in Opera web browser. It's 100% free for unlimited data, and in my testing did work with Netflix in some server locations.
Of course it's not as fast as a paid VPN service, so you may struggle to stream in 1080p. There are also some privacy concerns around data-mining.
Available Netflix Regions:
Risk-Free Trials
If you can't get the actually-free VPNs above to work (or you need more bandwidth) there's another option. Most of the premium Netflix-capable VPNs have very generous refund policies.
Like 30 days of unlimited streaming.
So if you're not quite ready to pay up for long-term VPN subscription, you can take advantage of these refund policies, and use them as a trial period.
To be clear: All of these VPNs require up-front payment, but you can claim a full refund before 30 days.
1. ExpressVPN (30-day refund policy)
ExpressVPN is one of the best-known VPN providers. They have a stellar reputation for fast speeds, good privacy, and excellent compatibility with streaming services.
But they're priced like a premium service too. Their best deal is $8.32/month for 1-year subscriptions. It's not a bargain by any means.
But you can try it risk-free for 30 days thanks to their stellar refund guarantee.
Supported Netflix Regions:
United States
United Kingdom
Canada
Japan
2. NordVPN (30-day refund policy)
NordVPN is an incredibly popular service (and for good reason). They've packed a ton of features into an affordable package, with 2-years subscriptions priced under $4/month.
And they've been on the front lines of the Netflix-VPN battle, one of the few providers who has managed to maintain near-continuous streaming access. This bodes well for the future, and I expect Nord will pull out all the stops to remain compatible.
The company is pretty secretive about how their SmartDNS unblocking technology works, but I have a hunch it might rely on their popular browser extension to provide an endless supply of residential IPs (this is just a guess).
Supported Netflix Regions:
United States
Canada
Germany
France
Italy
Spain
Brazil
India
Japan
3. Private Internet Access
Private Internet Access has permanent privacy cred (for beating the FBI in court twice), but they've also stepped up their streaming game recently. For years they opted out of the whack-a-mole contest with Netflix, but now they seem to be all in.
I've tested PIA repeatedly over the past year, and can confirm it now works flawlessly with Netflix.
PIA Netflix Regions:
United States
United Kingdom
Canada
India
Brazil
Pricing: If you decide to commit to a subscription with PIA, it's very affordable. Their two-year subscriptions currently cost around $2.33/month, which I consider and an incredible bargain.
How does a VPN Unblock Netflix?
All the best VPN companies have servers in dozens of countries around the world. This lets you 'virtually' locate your traffic anywhere there is a server. Most importantly, you'll have an IP address associated with that country.
And that used to be enough. IP-based geolocation was the norm, and pretty much every VPN service used to work with Netflix.
But not any more.
Netflix cracked down hard on VPNs, and only a few still work.
What's the secret sauce?
The handful of compatible VPNs aren't rushing to advertise their circumvention methods. But in general, it works something like this:
How VPNs unblock Netflix: When you start a Netflix stream, there's an authentication period where Netflix's servers check if you're using technology that don't want (like stream rippers, or a VPN). If you can pass this check, you're golden. Compliant VPNs pass this test by specially-routing traffic through non-blacklisted IPs, for this initial test.
Once you past the challenge, you can stream directly from your normal VPN-owned IP address (even if it's blacklisted).
Limitations of Free VPNs
Anytime you're getting something for nothing, there are usually some tradeoffs or negatives to consider. With some services it may be a minor inconvenience (slow speed) on others you may be literally giving away your privacy.
Common problems using Free VPNs for Netflix:
Slow Speeds: You will struggle to find a free service with speeds of 10Mbps or higher, meaning you probably won't be able to stream in 1080p (full HD) and certainly not 4k.
Buffering: Slow VPN connections also tend to be less stable, and may fluctuate or drop unexpectedly. This could cause frequent buffering in your video (which is annoying).
Data Caps: Windscribe and Hide.me both limit your data to 10GB max per month. This is worth about 15 hours of 720p video which might last you less than a week.
Limited Servers: You'll probably be able to access US-Netflix from free services, but you may not get other global content catalogs from countries like Canada, Japan, Brazil etc.
How to get more out of your VPN
You'll obviously want to maximize the amount of content you can stream (hopefully without buffering). Here are some tips to get the most from your free VPN.
Tips to squeeze more out of your connection:
Lower your video-quality: Go to your Netflix playback settings and change the video quality to 'Low'. Also turn off auto-play previews.
Use Ethernet: To maximize your speeds on a slow connection, a wired connection to your router will squeeze a bit more bandwidth than wifi.
Use multiple services: You don't have to choose just one. Sign up for both Windscribe and Hide.me to get 20GB free each month. If that's not enough you can upgrade or try your luck with Opera.