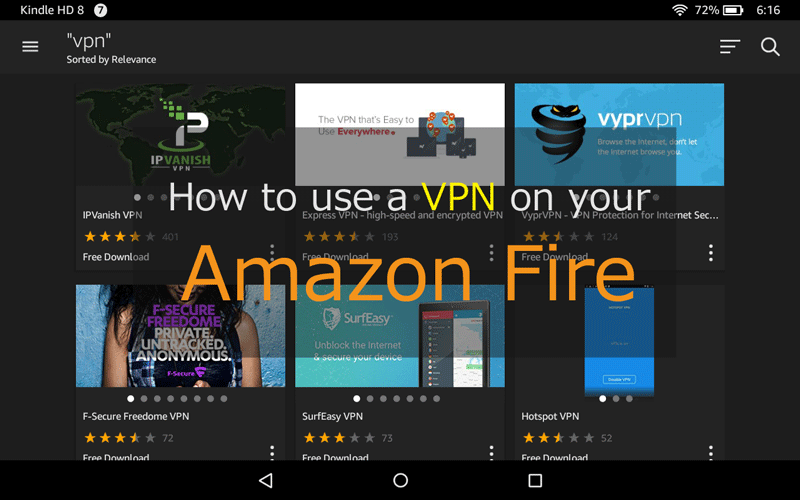 The Kindle Fire line of tablets is one of the best deals around for an affordable, high-quality Android tablet. I picked a Fire HD up during Prime Day for $69, and the think is honestly amazing for the price.
VPN usage is exploding worldwide, due to privacy concerns as well as location restrictions that block access to video content. The Kindle Fire tablet line is fully VPN-capable, but because of Amazon's limited appstore, you may need to take a few extra steps to get your favorite VPN service working on your kindle.
RELATED:  if you're looking to install a VPN on your Amazon FireTV or Firestick, read: How to install a VPN on your Fire TV (Complete Guide)
In this tutorial, we're going to show you everything you need to know about what a VPN is capable of (and it's limitations). We'll also teach you how to separate good VPNs from bad ones, what to expect in terms of performance, and how to install it on your Kindle Fire Tablet. This tutorial should work on any Kindle Fire device running android 5.0 or higher, including the: Kindle HD 8, the Fire 7, and the Kindle HD 10.
This guide will teach you:
Why you should use a VPN on your Kindle Fire device
Our favorite VPN's the work on Amazon Fire devices
The best VPNs in the Amazon appstore
How to sideload other VPN apps onto your Fire

Direct Download Method
Install the Google Play store on your Fire
Why use a VPN on your Fire?
Virtual Private Networks (VPN's) are quickly becoming the must-have security tool of the 21st century. They can dramatically increase your privacy while browsing the internet, help you access global streaming content, and secure your data from hackers on public networks. And they do all this for around 1/10th the cost of your monthly internet bill.
We wrote a guide on just some of the things a VPN can do, but here are the highlights…
Stop your internet provider from spying on your internet history
Your internet provider (broadband or mobile) has full access to your data stream and browsing history. They can even hijack your search history and intercept browser searches before they're sent to Google or Bing. Learn more about ISP spying in the post net-neutrality age.
By using a VPN (and proper DNS leak protection) you can protect your privacy while surfing the web. Keep your personal browsing history from being data-mined or sold, and keep your searches and downloads private.
Unblock Content and Download Files Safely
Do you love Netflix, Hulu, Spotify or HBOGo (c'mon Game of Thrones is awesome)? Did you know that when you travel outside your home country, many of these streaming services are blocked? Using a VPN with a USA server location can help you access all your favorite streaming services while travelling.
See: our Favorite VPN services that work to unblock Netflix. 
Torrents
P2P filesharing is still massively popular, and Bittorrent is the undisputed king of P2P services. But p2p protocols are actually very insecure a have privacy risks by their very nature. That's because in order to connect to a list of peers, you need to know their IP address (a virtual location on the internet that identifies a specific device of connection).
A VPN is the perfect privacy tool for torrenting, because it gives you a virtual IP address different than the one your internet provider assigned you. It'll also encrypt your data so your ISP won't slow your speeds (throttling) or monitor your downloads.
And yes, it's totally possible to download torrents on Kindle Fire (or FireTV) devices. You've just gotta sideload the torrent client because there aren't any in Amazon's appstore. We recommend Flud.
Stay secure on public networks
How often do you use your device on unsecured or public wifi networks like the library, work, coffee shop, or airport? Did you know that anyone connected to the same unencrypted network can monitor your traffic and sniff passwords and other sensitive data using free tools like Wireshark?
By using a VPN, you can encrypt and secure all data you transfer, keeping it safe even on insecure networks. Adding VPN usage to your daily routine could dramatically reduce the risk of identity theft.
The Best VPNs for your Kindle Fire or FireTV
Not all VPNs are created equal. Many are slow, insecure, or just simply overpriced. Other's (especially free ones) may log your usage, sell your data, or actively snoop on your traffic. In one popular example, Hola was turning 'Free' VPN subscribers into a for-profit botnet.
This is a list of VPNs that we've personally tested and are comfortable using. We've divided the list into two categories:
Best VPNs in the Fire Appstore

Best VPNs to Sideload on your Fire device

NordVPN
Private Internet Access
The Best VPN Apps in the Amazon App Store
The one downside of the Fire platform is that the Amazon appstore is notoriously limited compared to Google's Android play store. You can easily get around this restriction and sideload virtually any app you want, but it does take a bit little bit of technical know-how.
The number of privacy and security apps in Amazon's appstore are especially sparse, but there are still 3 high-quality VPN services that have built apps to work natively on Amazon devices. Even better, these apps will run flawlessly on your FireTV or Firestick as well.
Reasons to choose a Native Amazon App: The main advantages of choosing an official VPN app from the Amazon appstore are:
Convenience. There's no need to sideload or manually install an app (and no risk of installing malicious 3rd-party software).
Built specifically for Fire devices: The approved VPN apps in Amazon's app store all work natively on Fire devices including the 2nd gen Fire Stick. They can be controlled with the Fire remote (or the touch screen on Fire tablets) and don't require any other input devices. By contrast, some sideloaded apps may require a wireless mouse to access all functions and settings.
Here are the best of the best VPN apps in the appstore:
#1 – IPVanish
IPVanish recently released a Fire-specific version of their excellent Android app. We're going to take a little credit for this, as we made the suggestion to their team several times after seeing the massive popularity of the Fire Stick and FireTV as Kodi devices.
Their software is fast and stable and looks excellent on your Fire. You can easily sort and filter server locations (there's over 50 countries) and chooose your preferred VPN protocol, include stealth mode (obfuscated).
IPVanish is a true zero-log VPN service, and is quite popular for streaming (everything but Netflix), gaming, and Torrenting/P2P.
But what really stands out for IPVanish is their speed, which is legendary. They do an amazing job of keeping prices low, while outperforming competitors with faster, less-crowded servers. And, since they own much of their network infrastructure, they can move data globally much faster than competing VPNs.
Check out our IPVanish Speedtests, our in-depth review,  or just try their service 7-days risk free to see for yourself .
Best Offer: 12 months of IPVanish for $6.49/month
#2 – VyprVPN
VyprVPN (full review here) was the first VPN to launch in the Amazon appstore, and they're still one of the best. They really stand out from the crowd for two reasons:
The VyprVPN software is amazing, it's really head and shoulders above the rest in terms of features and user-friendliness.
VyprVPN works with Netflix. It's one of the last VPNs in the world that's still Netflix-compatible, and that list is even smaller for mobile VPN apps that work. If this is your main reason for using a VPN on your Fire, get Vypr.
VyprVPN Features:
VyprVPN has a ton of cool features that you won't find in other apps:
VyprDNS: An encrypted DNS system that stops your ISP from hijacking your browser history. It also helps you access geo-restricted websites.
Chameleon: (Pro Plan) This is VyprVPN's stealth protocol that can disguise itself as non-VPN traffic and help you get through restrictive networks or firewall.
Connect on Untrusted Wifi: Auto-detects when you're connected to public wifi networks and will Auto-connect so you don't have to even remember to turn it out.
And best of all, you can Try VyprVPN risk-free for 3 days!
Best Offer: Save 50% off your 1st month of VyprVPN
#3 – ExpressVPN
ExpressVPN is a high-powered (but high-priced) VPN service. They strive to be the best all-around VPN, working for nearly every major VPN use, including: Security, Streaming, Netflix, Kodi and Torrents/p2p. Their app is solid, fast, and intuitive. ExpressVPN has excellent server speeds and their customer service is way better than average.
The app runs flawlessly on the Kindle HD8 we tested it with.
The only real downside to ExpressVPN is the price. Monthly plans start at $12.95, while a 1 year subscription will drop that price to $8.32/month.
All things considered, we think IPVanish and VyprVPN are a better value, but if you've got money to burn ExpressVPN will serve you well.
Our Favorite non-Amazon VPNs to Sideload
There are literally hundreds of VPN services in the world, and probably about 30 of the 'real' ones have Android apps. We've picked our favorite from that select group. We make these recommendations based on their performance, price, and track record of security and privacy.
NordVPN
NordVPN burst onto the VPN scene with their zero-logs policy, Netflix compatibility, and awesome 2-year discount. Their Android app is easy to use and is a favorite for unblocking streaming services as well as torrenting.
The only drawback is servers get a little crowded but we've still had no trouble streaming at HD resolutions.
Nordvpn also includes multiple Socks5 proxy locations, which can be used to add an extra layer of privacy for Skype or Bittorrent apps like Flud.
Private Internet Access
Private Internet Access was an industry leader in the move to adopt true zero-log privacy policies for maximum anonymity. They're likely the most popular premium VPN service in the world (though they don't publish subscriber numbers).
In our opinion, PIA is a perfect blend of performance, features, privacy, and price. With 1 year subscriptions starting at $3.33/month, PIA is an amazing value.
Best Features:
Zero-Log: PIA is famous for the true no-logs policy. This is part of the reason their extremely popular for privacy-sensitive VPN uses like Kodi and Torrenting.
Adjustable Encryption: Very few Android VPNs let you change the encryption strength. PIA gives you complete control over the strength as well as algorithm used. The main advantage is that you can increase speed on congested networks by lowering encryption strength and still staying secure.
Per-App VPN Routing: Don't want your web-browsing to use the VPN? That's cool, you can pick and choose which apps will use PIA's VPN tunnel. This feature is commonly known as selective routing and it's awesome.
Side loading non-Amazon VPN apps
Amazon deliberately tries to lock users into their Amazon appstore and Kindle platforms. They're one of the only manufacturers that doesn't the Google play store in their Android devices.
That said, you can still manually install any Android app you want, including VPN applications.
Manual installation is easy and you have a few options:
Sideload, install the App directly
Sideload the Google play store, then automatically install any App
Method #1 – How to Manually sideload a VPN app
Follow these easy step to install your favorite VPN app in under 5 minutes. But first, make sure you have 2 things:
An active VPN subscription from a provider you trust
A download link for the VPN app you want to install (can usually get this from your VPN's website, or download the APK from APKMirror.
Step #1 – Turn on installation of 'Apps from Unknown Sources'
Android devices make you opt-in to manually installed apps. This is a security measure to protect people from just installing random, insecure or pirated apps. But you have to turn it on if you want to sideload an app.
Go to: Settings > Security > Apps from unknown sources
Then just toggle it on as shown below:
Step #2 – Download the APK
In your web browser, navigate to your VPN services webpage and find the link to their Android application. You may need to login to their website in order to access it. We also have direct links for a few of our recommended VPN providers:
If you can't find the APK on your provider's website, see if you can find it on the APK mirror website. They're one of the safest sources of Android APK's and all apps in their directory are verified direct clones of the ones in the Google play store. Other APK websites are much less trustworthy and may be flat out dangerous.
You'll get a warning that says APK files can be dangerous. Just accept it, and the download will start.
Step #3 – Installing the APK
In my testing, when I couldn't open the APK directly from the downloads folder on my Kindle Fire HD8. Instead, use ES File Explorer. It's a free File manager app in the Amazon app store.
Then just navigate to your download directory in ES File Explorer, click on the .apk file, and simply click the 'Install' button.
That's it. The VPN app should now appear on your Kindle Fire desktop ready to use, just like any other app!
Method #2 – Sideload Google Play Store on your Kindle
Your Fire doesn't come with the Google play store preinstalled and it's not available in the Amazon app store, but you can still install the Play store on your Fire device. Once you do that, you can easily install any app from the Play store on your Fire, the same way you would on any other device.
The process actually involves sideloading 4 google apps in a specific order. It takes just a few minutes and worked flawlessly in our testing.
Here's the step-by-step instructions on the XDA forum.
Then just open the play store an download whatever VPN you want!
More help Choosing a VPN for your Fire
If you don't have a VPN subscription yet and you're not quite sure where to start, here's a little guide to help you choose a VPN by your primary type of usage. After all, you're getting a VPN to serve a purpose, so you want the one best-suited for that purpose.
General Security/All-around
VyprVPN – is a fantastic all-around VPN service, and their software is excellent. It's also available in the Amazon app-store (so no sideloading).
Private Internet Access – is also an excellent value, but you'll need to be comfortable with the idea of manually installing the app.
Video Streaming/ Unblocking
If you want to access global streaming sites, you'll need a VPN that is specifically compatible with those sites. A few streaming services like Netflix, Hulu, and BBC iPlayer have worked deliberately to exclude popular VPNs. Fortunately, there are a few that still work great.
VyprVPN – works awesome with every streaming service we tested including netflix.
NordVPN – NordVPN works flawlessly with streaming services on their PC/Mac app. It's a bit spottier on Android and sometimes will generate a proxy/vpn error on Netflix. It's still worth a look because of their low price, zero-log policy, and 30-day refund guarantee.
FAQ
Here are some of the most Frequently Asked Questions about using a VPN on your Kindle tablet. This section also includes solutions to troubleshooting issues (click to expand).
Summary: VPNs and your Amazon Fire
VPNs work flawlessly on Amazons Fire platform android devices, which is a big relief to fans of their affordable devices. There are an increasing number of VPN apps available in the Amazon app store (though not all are created equal). You should be especially wary of 'free' VPN services, which usually try to monetize you or your browsing history.
If you don't like or use one of the 3 recommended VPN apps in the Official appstore, you can always sideload your own. This is usually well worth the effort, especially if you already have a subscription to a VPN service that Amazon doesn't directly support.
Hopefully you found this guide helpful. If you've got any more questions, hit us up in the comments!
Update History:
9/10/2019 – Added FAQ and additional supported VPNs in the official Fire app store.