Cyberghost and Private Internet Access are two highly-rated VPN providers and among the most popular such services in the world.
Their feature set is somewhat similar, which should be no surprise considering their both owned by the same parent company, Kape Technologies.
Despite their similarities, each of these VPNs has unique strengths and weaknesses that make one more suitable than the other depending on your intended usage and privacy needs.
Security
Cyberghost and Private Internet Access both do security and privacy right. Each of these services nails the basics for security and follows industry best-practices regarding protocol choice and encryption ciphers.
For example, both use AES-256 with OpenVPN as the default protocol. This is a NIST-certified standard and regarded as highly-secure by cryptographic researchers and privacy enthusiasts alike.
Protocols and Encryption
Both services favor proven, modern protocols like OpenVPN and Wireguard (the new favorite). Likewise, they have abandoned now-dated protocols such as PPTP which are considered vulnerable.
Here's how they stack up head-to-head
| Protocol | Cyberghost | PIA |
| --- | --- | --- |
| OpenVPN | All platforms | All Platforms |
| Wireguard | Windows, Mac, Android | All Platforms |
| IPSec | No | iOS |
| IKEv2 | Windows, Mac, iOS | No |
| SOCKSv5 | No | Yes |
| ShadowSOCKS | No | Yes |
The protocol selection is pretty similar across their desktop and mobile apps, with a few exceptions.
Cyberghost uses IKEv2 as a third protocol option, whereas PIA prefers IPSec. Functionally, these protocols are pretty similar though IKEv2 is a newer protocol that has a slight performance edge.
Proxy Support
Private Internet Access is the only service that bundles proxy service with your VPN package. It includes two types of proxies:
SOCKS5 – A general-use proxy that can carry any type of traffic. It has no built-in encryption but will obfuscate your IP address. It's often used for torrenting or web browsing.
ShadowSOCKS – Encrypted multi-layer proxy that is used as an extra obfuscation layer to bypass firewalls. Useful for VPN-blocking networks or countries (e.g. China).
Who has better security: Cyberghost vs. PIA?
Both these VPNs follow industry best-practices for encryption protocols and cipher strength. We give Private Internet Access the slight edge because they offer VPN obfuscation whereas Cyberghost does not.
Privacy & Logs
Both of these VPNs are 'Zero-Log' services.
A VPN is supposed to be a privacy tool, but some VPNs keep logs of your connection history (or worse). Fortunately, there's a new breed of VPN service. One that takes privacy seriously. These companies minimize (or eliminate) all unnecessary tracking and metadata to maximize their customers' privacy.
Both Cyberghost and Private Internet Access are true non-logging VPNs.
They do not log:
VPN activity or traffic content
Session metadata

IP Address
Connection timestamps
Data transfer
However without oversight, you're right took take such marketing claims with a grain of salt. However both PIA and Cyberghost have gone the extra mile:
Both VPNs have been independently audited by a Deloitte (a Big Four) company to verify that their logging policy is accurate and reflects their real security architecture.
Verdict: Tie. Both Cyberghost and PIA have verified zero-log privacy and are industry leaders in that regard.
Streaming & Unblocking
Because VPNs have a global server network, they can be used to unblock geo-restricted services like iPlayer, Voot, or regional Netflix catalogs. In fact, streaming is probably the most common use-case for both of these services in recent years.
But not all VPNs do streaming well. It takes persistence, a large server network, and technical wizardry to consistently bypass VPN-blocking technology employed by Netflix, Disney+ and other top services.
Quick Take: Both these services and good choices for streaming. Each can reliably unblock popular services like Netflix, iPlayer and Disney+. However, Cyberghost has a bigger catalog of compatible services and has special-use servers for each streaming region.
Streaming with Cyberghost
At last count, Cyberghost works with more than 50+ streaming services. And that's not all, they can actually access multiple regions of global services such as Netflix and Prime Video. This lets you access a unique catalog of shows from the same service depending on which server you're connected to.
See it: Cyberghost's full list of compatible streaming services (in our review)
My favorite streaming feature from Cyberghost is their special-use servers. Each service (or service region) has its own dedicated server that you can find by filtering the server list in your Cyberghost software.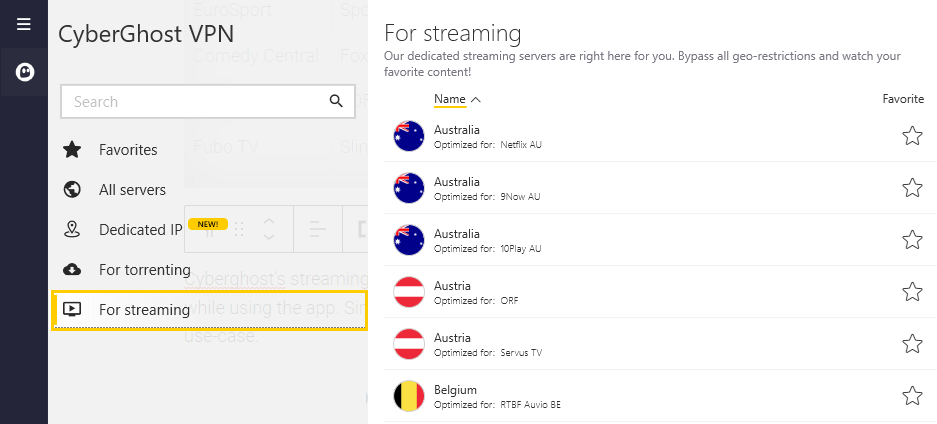 This eliminates the guesswork when choosing a server. In our testing, we were able to unblock the intended service or region on the first try. This is a rarity in the VPN world and worth noting.
Device Compatibility
Cyberghost's VPN app is available for several streaming-focused devices, including all Firestick and FireTV's (2nd-gen and later). The stock Android app also works with compatible AndroidTVs and Chromecast + GoogleTV devices.
This makes it to use Cyberghost with your full home theatre setup rather than just streaming on a mobile device or PC.
Finally, Cyberghost includes SmartDNS service which can unblock streaming sites even on devices that can't run a VPN directly (most SmartTV's). Simply change your device's DNS servers to the corresponding SmartDNS and you're good to go.

Streaming with Private Internet Access
Like Cyberghost, PIA does work with a number of streaming services, including all the big ones you'd expect. However while it does have streaming-optimized servers, there are fewer of them.
As a result, PIA works with fewer regional services than Cyberghost and cannot access as many regional catalogs from services like Netflix.
Moreover, I found PIA to be a bit more hit-and-miss when trying to access specific services because they do not have service-specific servers, just general streaming servers in each region.
What streaming regions does PIA support?
Currently PIA has streaming-optimized servers in 8 regions: Australia, Denmark, Finland, Italy, Japan, Sweden, UK & USA. They also claim to work with Netflix in a few other regions like Germany.
Which streaming services does PIA support?
Here's the complete list of supported streaming apps, via PIA's own helpdesk:
Streaming Service
Country
Netflix US, Hulu, Amazon Prime US, Crunchyroll US, Eurosport, HBO Max, YouTube TV US, Disney+ US
U.S (US East Streaming Optimized and US West Streaming Optimized)
CBC
Canada
Disney+ Hotstar
India
Netflix Italy, Disney+ IT and RaiPlay
Italy (IT Streaming Optimized)
FranceTV , Canal+
France
ITV, Netflix UK and BBC iPlayer
UK London Streaming
Netflix Japan
Amazon Prime JP
JP Tokyo
JP Streaming Optimized
Netflix Denmark, Amazon Prime DK, HBO Nordic and DRTV (dr.dk)
Denmark (DK Streaming Optimized)
Netflix Germany
Germany
Netflix SE, C More, tv4play, YouTube SE, hbonordic SE
Sweden (SE Streaming Optimized)
YLE, Ruutu, C More, MTV Finland, HBO Nordics
Finland
9Now, 10Play
AU Australia Streaming Optimized Server
Device Compatibility
Like Cyberghost, PIA has a dedicated VPN app available or Firestick/FireTV and AndroidTV devices.
PIA also comes bundled with SmartDNS service that can be accessed from your account panel. It lets you unblock services on dozens of other streaming devices like Roku, AppleTV, Playstation, XBox or SmartTVs.
It works well but doesn't have quite the regional variety that Cyberghost's SmartDNS does.
Currently their SmartDNS works with 5 regions: Germany, UK, Netherlands, USA, Japan (which is still quite good).
Which VPN is better for streaming, Private Internet Access or Cyberghost?
Both VPNs work well for streaming, but I was especially impressed by Cyberghost's massive list of optimized servers for specific streaming services. You'll be able to reliably unblock more streaming services and reasons when you use Cyberghost.
So Cyberghost gets the win in my book.
Torrenting
BitTorrent seems to be dying a slow death, but it's still a popular VPN use-case (and we highly recommend you use a VPN when torrenting).
P2P fans will be perfectly at home on either of these services as they both offer zero-log privacy (a must-have) and decent speeds.
However Private Internet Access is clearly the better choice here because it offers some torrent-specific features that Cyberghost doesn't.
Why Private Internet Access is better for torrents:
SOCKS Proxy – An extra layer of privacy that can be configured directly in your torrent client (here's an example with qBittorrent).
Port Forwarding – Can improve peer availability and torrent speed. PIA lets you enable Port Forwarding with a simple setting in their software. Cyberghost doesn't offer this.
Split Tunneling – PIA offer's Split-Tunneling on their desktop and Android app. You can route just your torrent client through the VPN tunnel if you want.
Torrent anywhere – Use any server you want, PIA doesn't care. Cyberghost restricts torrenting to specific designated servers.
In fact, there's nothing that Cyberghost does better than Private Internet Access when it comes to torrenting. So if you plan to torrent frequently, the choice here is pretty clear.
Best for Torrents? Private Internet Access is the better choice for torrenting because they allow torrents on all servers and have several torrent-friendly features that Cyberghost doesn't offer.
Software, Apps & Features
Both these VPNs have their own proprietary VPN app available (free) for multiple platforms and OS's.
This software provides the user interface that you'll use day-to-day to create VPN connections and connect to various server locations around the world.
These apps provide easy 1-click access to choose the optimal server for your location or use-case. They also add functionality beyond simple VPN tunneling (streaming, stealth firewall circumvention and so on).
You'll find that both companies have software that feels familiar and is similar in many respects. They also have some key differences that we'll highlight below.
But the main differences are these:
Cyberghost's software is streaming-driven and built around special-purpose servers for specific streaming services.
Private Internet Access's software is location driven with fewer special-use servers
Private Internet Access has more configurability, Cyberghost's software is a bit simpler
Private Internet Access has split tunneling. Cyberghost only offers this on Android
PIA has double-hop servers and stealth obfuscation. Cyberghost doesn't.
Desktop Apps
Both VPNs have a dedicated app for Mac and Windows-based devices. Functionality is nearly identical across plaftorms, though Cyberghost's choice of VPN protocols is different on Mac.
Both PIA and Cyberghost apps doc to taskbar where they can be expanded for server selection or to access the settings. Here's how they look side-by-side (collapsed by not minimized)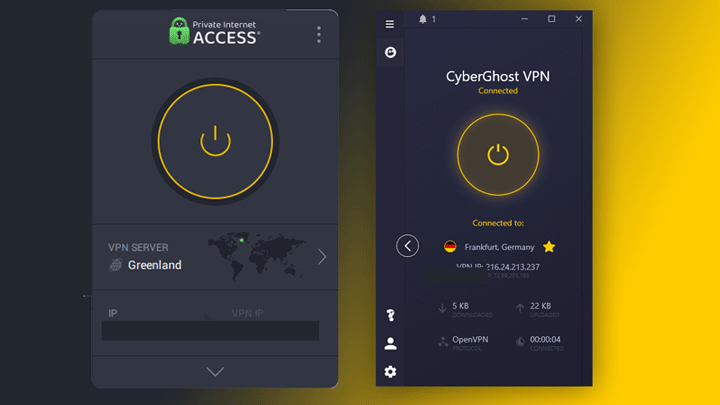 Mobile Apps
Both providers have mobile apps available from the official app stores for both iOS and Android devices. They also have a FireTV app that can be loaded on compatible firstick, FireTV and Kindle Fire devices.
Functionality is quite similar to the desktop apps with a few exceptions:
Cyberghost adds Split Tunneling on Android (not desktop or iOS)
Cyberghost offers IKEv2 on iOS and Wireguard on Android
Other desktop features are present, such as PIA's ShadowSOCKS obfuscation, port forwarding and streaming-optimized server for both services.
Features
Where the software comparison gets interesting is not in the apps themselves, but the unique features each service has built into their software. There are some significant differences here will help determine which VPN is better suited to your needs.
Connection customization
Both VPNs let you manually select which VPN protocol you want to use from the app settings (options vary by OS).
However Private Internet Access goes even further, letting you select which DNS resolver to use. You can use their own private DNS, your device's default DNS, or specify custom 3rd-party DNS servers.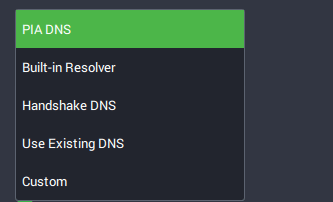 Dedicate IP

Both VPNs offer Dedicated IP service (a static IP address just for you), however neither includes it in the default subscription. Instead it's a paid upgrade for both. You can choose the specific country you want your IP to be located in.
Dedicated IPs are useful for streaming, to avoid Google Captcha's and otherwise avoid the 'bad neighbor' syndrome of sharing an IP address with 100's of other users.
Malware Prevention
Both VPNs have anti-malware and anti-tracking technology available in their software. This is a low-tech DNS filterning solution that works decently for both services but isn't foolproof. PIA calls this PIA Mace whereas Cyberghost just names it the Block Content option in your privacy settings.
Multi-Hop
Private Internet Access lets you route your VPN connection through an intermediary server (either SOCKS5 or ShadowSOCKS) in order to circumvent vpn-blocking firewalls.
Cyberhost does not offer a similar feature.
Port Forwarding
This is a rare VPN feature that allows you to choose which local port the VPN tunnel will operate on. It can be used for torrenting or even to get free (but slow) in-flight Wifi.
Currently, Private Internet Access has port forwarding whereas Cyberghost does not.
Smart Connect / Automation
Both these VPNs offer auto-connect rules, though this feature is named differently for each.
You can specify certain circumstances where you want the app to auto-connect to a VPN server, such as when you're connected to a specific wifi network. Or if you're on public/untrusted wifi.
Split Tunneling
Split-tunneling is an advanced feature that lets you tunnel specific apps or services through the VPN, rather than securing your entire internet device. It is a complicated feature to implement and should only be used with high-quality VPN services (like these).
Both these services offer some form of split-tunneling, though Private Internet Access's split tunneling is better.
PIA has true split-tunneling on Mac, Windows and Android apps. You can choose which specific apps to route through the tunnel.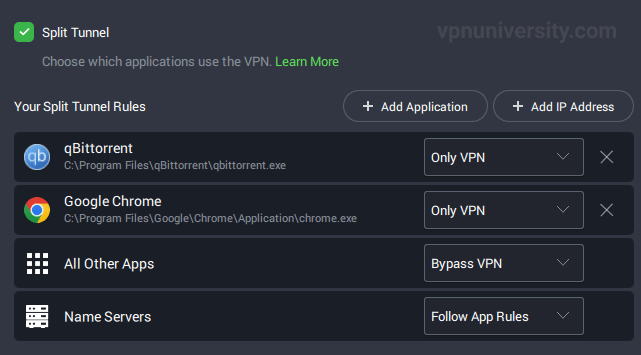 Cyberghost offers a basic split-tunnel feature on Android (similar to PIA) but their desktop implementation is much less functional. Instead of tunneling speciifc apps, you can choose specific website
Who has the better software: PIA or Cyberghost?
If you don't count the special-use servers, Private Internet Access has the better software.
I prefer PIA's compact UI and menu structure to Cyberghost's. You also get a number of extra features like Port Forwarding, Obfuscation and Split-Tunneling.
Speed Comparison
VPN Speed is important to consider when choosing a VPN service, but only to a point.
Here's why VPN speed isn't too important
Your VPN can never be faster than your existing connection
You won't notice speeds over 25Mbps (except for specific uses like torrenting).
Generally speaking 25Mbps is the point of diminishing returns for VPN speed. It's fast enough for 4k video streaming, which is the most bandwidth-intensive usage for most real-world VPN usage. Here are the factors that affect VPN speed.
About this Test: The baseline speed (without VPN) was 187Mbps over 5Ghz Wi-fi.
| Server | Cyberghost | PIA |
| --- | --- | --- |
| US East (OpenVPN) | 119.6 mb/s | 124.9 mb/s |
| US East (Wireguard) | 105.1 mb/s | 131.9 mb/s |
| UK (OpenVPN) | 52.2 mb/s | 85.3 mb/s |
| UK (Wireguard) | 73.8 mb/s | 91.8 mb/s |
| Australia (OpenVPN) | 16.0 mb/s | 28.4 mb/s |
| Australia (Wireguard) | 21.7 mb/s | 27.1 mb/s |
Which VPN is faster?
In our testing, PIA was clearly faster than Cyberghost on most server locations, regardless of protocol.
That said, the speeds were pretty comparable and either is going to be fast enough for gaming or streaming in 4k.
Overall: Which VPN is better?
These VPNs are quite close in terms of features and performance, so either VPN will probably work well for you.
However, our pick is Private Internet Access which has a slight edge in both features and software quality. Plus, they've been a trusted brand for more than a decade and one that I have personally subscribed to for 10+ years.
For you, the right choice will come down to how you intend to use the VPN. Let's break down which VPN is better for different used cases.
Cyberghost is better for:
Cyberghost is the better choice for streaming, especially if you want to maximize the number of regions you can access for Netflix, Disney+ and Prime Video.
Cyberghost is about equal to PIA for general security and secure browsing.
Private Internet Access is better for:
As far as usage goes, Private Internet Access is better for torrenting, filesharing and Kodi. It's also better at circumventing firewalls thanks to the optional stealth protocol.
And if performance matters to you, Private Internet Access was consistently faster than Cyberghost in our testing (though NordVPN is faster than both).
Related Comparisons: