Torguard is a USA-based VPN company that specializes in non-logging VPN and proxy service designed to meet the needs of BitTorrent and p2p enthusiasts. They offer VPN and torrent proxy service either separately or in a discounted bundle. They also offer encrypted webmail/email with offshore hosting.
Torguard also provides bonus features for torrent users like:
Custom proxy installer – autoconfigures your favorite torrent client for Torguard's proxy service
Kill-switch functionality – option to instantly disable your internet access if the VPN connection drops (to prevent ip leaks)
p2p optimized servers – high bandwidth servers in torrent-friendly countries
Website: www.torguard.net
Company: Torguard (Based in U.S.A.)
Server Locations: 1200+ servers in 42+ countries
Protocols: OpenVPN (best), PPTP, L2TP/IPSec, SSTP (stealth mode)
Torguard App for: Windows, Mac, Android
Refund Policy: 100% refund within 7 days
Regular Price: $9.99/month
Current Best Price: $4.99/month (claim this offer)
Save 50% when you buy one year of Torguard. Get 12 months of Torguard for $59.99, vs the normal price of $119.88 with month-to-month.
Review Sections:
Summary
VPN Software and Features
Mobile Apps
Security and Encryption
Privacy and Logging Policy
Pricing
Conclusion
Torguard Review Summary
Torguard is a popular VPN service based in Panama. Panama is considered a privacy haven, which means VPN services based there aren't required to keep any server logs regarding their customers' VPN usage. (Torguard keeps no logs). It also means that Torguard may be more resistant to pressures from governments or agencies like the NSA to provide access to their network through a backdoor.
Strengths
No-Logs Policy: This is the most anonymous (best) logging policy a VPN provider can offer. It essentially means that they do not record or log any data about your VPN activity or connection history.
Very 'Torrent-Friendly': Torguard has many features designed to meet the needs of torrent/p2p users. This includes an anonymous torrent proxy service, proxy auto-configuration software, kill switch, and p2p (torrent) optimized servers for maximum speeds.
Speed: Torguard is very fast. There were one of the only VPNs that was able to pass our 4k video streaming test on USA and European servers. There are also tricks to make your VPN even faster.
Weaknesses
Software/Features: Torguard's desktop VPN client is pretty bare-bones. It has all the essential features (plus a couple others like a kill-switch script) but it's definitely not the most attractive of full-featured software.
Support: Torguard's tech support has gotten better (they've added live-chat support) but the support ticket responses can be slow if you do happen to run into an issue.
Software
Torguard provides their own custom VPN software for all 4 major OS platforms (Windows, Mac, iOS, Android).
They also provide some cool extras:
A free license for Viscosity pro (Professional 3rd-party VPN software)
Proxy auto-installer (for their torrent proxy service.)
The iOS/Android apps are virtually identical, as are the Windows/Mac clients in terms of functionality. This review specifically tested the Windows/Android clients (as they are the most popular).
Torguard Windows App
Torguard's desktop app is lightweight but fast and reliable.
Although Torguard provides access to 3 VPN protocols (PPTP, L2TP, and OpenVPN), the software only uses the OpenVPN protocol. OpenVPN provides the greatest blend of speed, flexibility, and security.
The interface is simple, and you can connect to a server in as little as one click.
Available options from the main screen:
Choice of server location
Protocol (UDP: faster or TCP: maximum reliability)
Option to autoconnect on launch
additional settings menu
'Connect'
Server Selection View
The server selection dialogue gives you access to every one of Torguard's server locations. Just click your preferred server, then click 'Connect'. There are also icons to denote special server types.
Torguard has 3 server types:
Standard (a normal VPN server)
Torrent (Location/protocol optimized for torrents/p2p)
Stealth (Special encryption/port settings to get through firewalls and prevent your network administrator or ISP from seeing that you're using a VPN in the first place.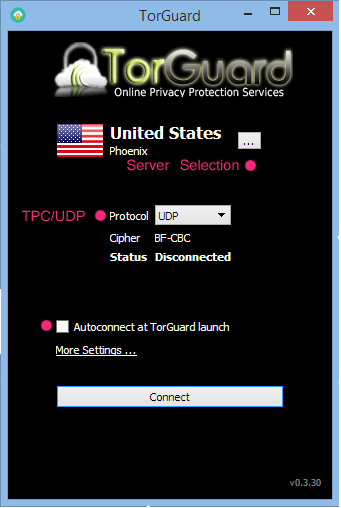 Advanced Options
Torguard has some pretty cool security features hiding in the settings menu:
An app-level kill switch
IP and DNS leak protection
System-level kill switch
VPN over proxy routing (including stealth options)
App-level kill switch
This tool lets you select which apps or processes should be instantly terminated (closed) if the VPN disconnects. This protects your true IP address from ever leaking out to these specific applications. The most common application types would be a web browser or torrent software.
Network Settings
Torguard's network settings page gives you the ability to toggle IP leak protection on/off for 3 different protocols (DNS Lookups, IPV6, and WebRTC).
You can also activate the System level Kill-Switch which can instantly kill internet access to any/all of your installed network adapters to make sure data is never sent outside the secure VPN tunnel.
Tip: The system-level kill switch is so effective that some users have trouble restoring internet access. The easiest way to access the internet is to either:
Reconnect to a VPN server
Run windows network troubleshooter to reset DCHP
DNS Leak protection makes sure that your DNS lookups are always routed through the VPN tunnel to a secure DNS server so your IP address isn't accidentally exposed when requesting a web address.
Proxy Settings
Torguard gives you the option to tunnel through a proxy server before reaching the VPN server, for an added layer of anonymity. Opting for both a VPN and proxy will limit your speeds to the slowest of the two tunnels.
You can either select one of torguard's own 'stealth' proxy servers, or you can use a web proxy of your choice.
Software summary
We found the Torguard client stable in testing and had no unexpected issues. Speeds were quite good as you'll see a bit later in the speed test.
Viscosity VPN Software
In addition to their own custom software, Torguard includes complimentary Viscosity VPN software license with every VPN plan ($9 value). Though the features of each are pretty similar, you get a few extra features with Viscosity.
Access to all 3 VPN protocols (PPTP, L2TP, and OpenVPN)
Bandwidth monitor
Able to combine multiple VPN services in one software
Custom VPN scripts for Viscosity (advanced users)
Trusted 3rd-party software, community vetted for security.
We expect most users will choose Torguard's own client out of convenience but it's nice to have the Viscosity option. Also, it's convenient that want access to other VPN protocols (besides OpenVPN) without having to manually configure the connections individually.
Mobile VPN Apps
Torguard has their own mobile app for both Android and iPhone/iPad.
Their mobile apps provide access to all of Torguard's server locations via the OpenVPN protocol.
You also get most most of the same settings as security options as their traditional desktop client, with the added benefit of a bandwidth monitor for tracking your upstream/downstream data usage.
The mobile app offers the same 256-bit AES encryption strength as their desktop VPN software and speeds were solid.
Torguard Speed Test
Torguard performed extremely well in our speed tests. There was a huge improvement in overall speeds since the last time I had done extensive speed testing. This suggests that Torguard is focused on continually improving the speeds and overall network quality.
For our speed tests, we do both traditional speed tests (such as speedtest.net) as well as real-world speed testing (by streaming Hi-resolution video at max bandwidth)
Note: These tests were conducted on a 100mbps connection near New York, NY USA
USA Speed Tests
International Speed Tests
Real-World test results
We our real world testing by streaming this 4k video at increasingly high resolutions on different server locations, and record the highest resolution we were able to stream continuously.
Torguard ranks #2 among all VPN providers for our 4k video test.
Max resolution by server location (4k is the highest)
USA – 4k
Canada – 4k
United Kingdom – 4k
Australia – 1080p (just on the edge for 4k. Slight buffering.)
Bottom Line: Torguard's servers are quite fast and clearly aren't overcrowded like many of the low-priced VPN options out there. Only Private Internet Access is able to match Torguard's performance at a lower price point.
Torguard should be an excellent choice for users with high-speed connections who want a non-logging VPN service for bandwidth-intensive activities like downloading torrents, or streaming unblocked HD video.
Security and Encryption
Torguard uses the Blowfish CBC 256-bit encryption algorithm (OpenVPN protocol) for the VPN tunnel and 1024 or 2048-bit RSA keys for the exchange.
Torguard has publicly stated they chose Blowfish encryption vs the stronger AES-CBC encryption algorithm because it delivered faster speeds for their users.
Blowfish encryption is still quite strong, but we'd prefer to see the users have the option of stronger encryption protocols (and RSA keys) if they want. The decision of security vs speed should be left up to the end user, not chosen for you by your VPN service.
Private Internet Access is an excellent example of a VPN service that gives their users full control over their encryption choice. Hopefully Torguard will follow suit in the future.
Torguard's Torrent Proxy Service
In addition to offering VPN service, Torguard offers their own anonymous proxy service. This can be purchased separately, or bundled with VPN service for a substantial combined discount.
This proxy uses the SOCKS5 protocol and is specifically designed for the needs of Bittorrent users. (They market it specifically as a torrent proxy service).
Using a proxy for torrents (as opposed to a VPN) does have it's own advantages:
It's usually cheaper
It's faster (but no encryption)
It allows your torrent client to have a different IP address than your web browser.
The SOCKS5 protocol is an excellent all-purpose proxy transport protocol, and is much more secure than the HTTP protocol commonly seen in 'free' web proxies.
Proxy Auto-installer
Some users will prefer to manually configure their torrent software with their own custom proxy settings.
But if you don't know which settings to choose, or don't want to spend the tinkering, Torguard designed some custom software that will install their proxy with the optimal security settings in the 4 most popular torrent clients (uTorrent, BitTorrent, Vuze, and Deluge).
Proxy subscribers get:
Proxy servers in 8 countries
200+ shared IP addresses (shared = anonymous)
No-logs
Auto-installer
Unlimited bandwidth/transfer
Privacy and Logging Policy
Torguard is marketed as a non-logging VPN provider. Their privacy policy is relatively short compared to those of other VPN providers, but in it they state:
"TorGuard.net does not store or log any traffic or usage from its Virtual Private Network (VPN) or Proxy…Personal information will not be sold or otherwise transferred…without your prior consent, except that we will disclose the information we collect to third parties when, in our good faith judgment, we are obligated to do so under applicable laws."
The statement about VPN logging policies is a single sentence, but they do not go in-depth about the possible types of logs, and it's unclear how they define 'traffic or usage.' Whether this includes connection logging (incoming/outgoing IP address and timestamp) is unclear.
Other privacy considerations
Torguard is currently headquartered in the U.S. (previously they were based in Panama). They those the U.S. as a base because of the lack of data retention laws for VPN service providers, allowing them to build a true non-logging VPN service.
Torguard is of course still subject to the laws of the United States and potentially the pressures of the NSA (though the same could be said about 99% of providers). The service is designed 'from the ground up' to protect users' privacy, but don't mistake privacy for a free pass to do whatever you want on a VPN.
Privacy Summary: Torguard scores highly with their No-Logs policy, though U.S. based providers will likely face more pressure from the NSA then those from other countries.
Pricing and Plans
Torguard offers 4 subscription lengths for each of their services. The longer your subscription, the greater the discount vs. paying month to month. A good strategy is to try a VPN provider for 1 month, and then buy an annual plan if you want to stick with it. You can usually save 40-60% per year that way.
Here's Torguard's pricing breakdown:
Torguard VPN
1 month – $9.99/m
3 months – $6.66/m
6 months – $4.99/m
1 Year – $4.99/m
Torrent Proxy
1 month – $5.95/m
3 months – $4.99/m
6 months –  $4.99/m
1 Year – $3.91/m
Conclusion
Torguard impressed us with their fast speeds and reliable connection status. They are clearly catering to the P2p/Torrent crowd and many of their features are specifically designed for those needs.
Their no-logs policy is a plus, though their encryption strength is just average. This shouldn't matter for most users (and Torguard made the choice specifically to boost speeds), but I just want to point it out.
Their software isn't flashy, but it has some added security features that make it above average, plus you get the Viscosity pro license if you prefer to use 3rd party software.
Torguard will be popular frequent Torrent downloaders, as well as users looking for a faster VPN service.
Torguard is a good choice for:
Frequent BitTorrent users
People with a high speed connection (25Mbps+)
Users behind a network or country firewall (like China)
Our Verdict: a 'top choice' for Torrent Downloaders