This IPVanish review was last updated October 26, 2016:
This review provides an in-depth look at IPVanish, and their VPN service, including: Software, Security, Privacy, and Speed.
IPVanish is a U.S. based VPN provider that specializes in speed. They are the only VPN provider in the world with their own Tier-1 data network. They also have an industry leading 'No Logs' policy, which means that unlike most vpn providers, IPVanish keeps no record whatsoever of your VPN connection history. You can learn more about VPN logging policies here.
October 2016 Update: IPVanish now includes Socks5 Proxy service with every VPN package, joining Private Internet Access and NordVPN who also include Socks5 at no additional charge.
Website: www.ipvanish.com
Company: IPVanish (Based in the USA)
Server Locations: 230+ servers in 61+ countries
Protocols: OpenVPN (best), PPTP, L2TP/IPSec, Socks5 Proxy
IPVanish App for: Windows, Mac, Android, iPhone, iPad

Regular Price: $10/month
Current Best Price: $6.49/month (claim this offer)
Review Sections:
IPVanish Video Review
IPVanish Review Summary
IPVanish is headquartered in the USA, which means they are not subject to any data retention laws. As a result, they have chosen to keep no logs whatsoever regarding customer VPN usage (maximum privacy for you). The concern about US based VPN services is that the NSA could have a secret backdoor into their network, but in reality this only affects international criminals (meaning terrorists, not copyright pirates)
Strengths
Speed: IPVanish controls their own Tier-1 data network. This means they have more bandwidth and faster speeds than their competition.
No Logs Policy: IPVanish is one of only a few VPNs to keep no logs whatsoever. This makes it virtually impossible to trace a VPN user based on their IP address history. We strongly recommend non-logging VPN's for bittorent users.
Customer Support: They have 24/7 live chat as well as a ticket-based support system
Reputation: IPVanish is owned by Highwinds Network Group, a major data network provider based in the USA. This is a major networking company with over 13 years of IT experience, not some VPN startup run out of a basement (and there are tons of those).
Software and Security: IPVanish has custom VPN applications for all 4 major platforms (Windows, Mac, Android, iOS) and they are quite well funded and staffed, which means they're software is excellent and new features are continuously added. Furthermore, their live network security is excellent.
Socks5 Proxy: IPVanish now includes Socks5 proxy service on a zero-log Netherlands proxy server. It's ideal for torrenting, Skype, or anonymous web-browsing (with an extension like FoxyProxy).
Weaknesses
Now that IPVanish has added a Kill-Switch to all desktop software clients as well as a Socks5 proxy server (included in your subscription), they really don't have any major weaknesses. Sure, we'd love to see smartDNS or a similar service included, but that's a dream scenario and alot to expect from a VPN priced under $10/month.
They've also made a massive software upgrade, going to the 3rd-gen V3 software on all major platforms, which was a cosmetic as well as functional UI upgrade.
We would like to see adjustable encryption strength (currently openVPN is 256-bit only), but word is that may be addressed in a future software release.
IPVanish Software
We tested the Windows version of their excellent VPN software. The Mac version is virtually identical with one extra feature: a kill-switch option which is currently in development for the windows client.
The software is free with your VPN subscription and can easily be download right here.
The main software dashboard
The 'Dashboard' is the startup screen when the software launches. It displays your current IP address and allows you to quickly choose a VPN protocol, server location, and click 'Connect'.
From the main dashboard you can easily choose any of IPVanish's server locations. You also get access to all 4 VPN protocols (OpenVPN TCP, OpenVPN UDP, PPTP and LT2P). When in doubt, just go with OpenVPN or learn when to pick each VPN protocol.
Settings Menu (Important security tip below)
From the dashboard view you can access the settings tab at the top of the main view. This gives you access to some startup and connection options such as:
Auto-reconnect
Which port # to use (if you aren't sure leave it as 443)
Startup options: (you can auto-launch and/or auto-connect on system startup)
Action on closing window (we recommend you switch from the default option)
Important Security Tip: By default, we found the software was set to: 'Quit Application' when you close the software window. This may sound fine to you, but if you have an active VPN connection, it will be closed without warning. We recommend you switch to one of the other options. (my personal preference is 'Hide to System Tray').
The rest of the options are personal preference, though alot of people like to have their VPN application auto-connect when their computer starts. You can even choose your preferred server location to auto-connect to.
Server Selection View
You can choose from 3 server selection modes:
'Smart' Use: UK, USA, Canada, or Fastest Server mode.
List: Choose from a list of all servers (Sortable by ping, location, last used)
Map View: A zoomable, draggable map lets you easily pinpoint your desired location.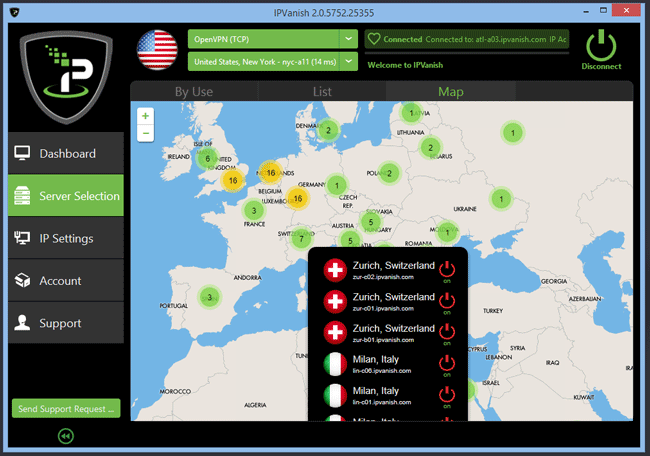 Try IPVanish Risk-Free for 7 Days
Socks5 Proxy Server
In Fall of 2016, IPVanish announced that they would now include Socks5 proxy service with every VPN subscription. This is a huge bonus for current and future subscribers, as many VPNs charge as much as $5/month for Socks proxy access, whereas IPVanish is simply adding it to their VPN service without raising prices.
A Socks proxy is a universal, highly flexible proxy protocol that can carry almost any type of data, and route it through a 3rd-party server (without encryption).
IPVanish's Socks5 server is an ultra-fast cluster located in the Netherlands, suggesting that the service is targeted towards Bittorrent/P2P users. Most major torrent clients have a proxy configuration option, allowing you to change your torrent IP address without having to connect to a VPN.
We have Socks5 proxy guides for these torrent clients:
In our early testing, the SOCKS5 server was extremely fast, outperforming competitor's proxy services (including Torguard and NordVPN)  in our Torrent download test.
IPVanish Mobile VPN
IPVanish includes coverage for any smartphone. They have their own custom IPVanish VPN app for iOS devices (iPhone/iPad) and Android (4.0 and higher). The apps are pretty similar in functionality. You get access to every single IPVanish server location through the OpenVPN protocol. They even have a cool bandwidth monitor built into their mobile apps.
You can also configure a VPN connection manually on your mobile device, using the PPTP or L2TP protocol, but the app is much more convenient.
I also like that the app shows the current 'Server Load' for every server, so you can easily choose your fastest option.
In the mobile app settings, you can choose from either OpenVPN UDP or OpenVPN TCP protocol. Most users will want to stay in UDP mode, which is much faster for uses like video streaming. That's because the TCP protocol requires the destination server to confirm the receipt of every data packet (even non-essential ones) which can really slow speeds down.
As of Version 3 (August 2016), the IPVanish mobile apps now include the Scramble feature, which is essentially IPVanish's version of a 'Stealth VPN' Protocol. We discuss the scramble feature in greater depth under 'Security and Encryption' below.

Security and Encryption
Security Summary:
256-bit tunnel encryption strength (OpenVPN and L2TP)
2048-bit keys (when connecting to the server)
Free NAT Firewall Included  (most VPNs charge extra)
Encryption
IPVanish uses a 256-bit AES encryption algorithm for their VPN tunnel. This encryption strength is extremely strong. It is still considered unbreakable by brute-force attack, and is the same algorithm used for U.S. military communication. In other words, you're data is highly secure.
Many VPN providers give you the option of 128-bit or 256-bit OpenVPN encryption, but currently IPVanish only gives you the stronger option. The only reason to choose lighter encryption is for faster speeds, but since IPVanish can outperform other VPN services on speedtests, even with slower encryption perhaps they don't see the need to give you an option for weaker encryption.
Learn More: Read our VPN Encryption Guide.
Scramble (Stealth Protocol)
IPVanish has developed a proprietary 'Stealth Mode' protocol called 'Scramble' which is available on all major VPN platforms since the release of V3 in 2016. The Scramble feature disguises all VPN traffic as regular SSL/HTTPS traffic which makes it extremely difficult to block. This feature is useful if you live in a country where VPN use is monitored or blocked (Iran, China, UAE).
It's also helpful for getting through firewalls at work or school that may block VPN traffic.
Just turn 'Scramble' on in your IPVanish software settings, and the software does the rest. You may need to restart the software if you're already connected to a server to maximize the effectiveness of the scramble feature.
NAT Firewall
An NAT firewall filters all incoming traffic, to ensure that the data packets you receive are only the ones you requested. This makes sure that a hacker or other malicious attack cannot reach your computer via your IPVanish-assigned IP address.
Many VPNs charge up to $5/month extra for this security feature, but IPVanish includes it in all plans at no additional charge.
Kill-Switch
You know get a kill-switch in both Windows and Mac/OSX versions of the IPVanish software. This was first introduced in 2016 with V3 of the software.
One of the complaints about IPVanish was that they only included a kill-switch in the Mac version, while PC users had to look for workarounds. IPvanish listened to user feedback and quickly upgraded the priority of the kill-switch feature for their development team. We're thrilled to see it rolled out to all desktop platforms (being PC users here at VPNU).
For those that aren't familiar with the term: A VPN Kill-Switch makes your real IP address doesn't leak publicly if the VPN accidentally disconnects. 
No VPN is immune from occasional dropped connections, so this feature is a nice 'just-in-case' security precaution. It works by monitoring your internet connection for interface changes, and if it detects that the VPN interface is no longer active, it instantly kills all internet access to your computer can't reconnect outside the VPN tunnel.
Related: Our ultimate guide to VPN Kill-Switch technology.
Privacy and Logging Policy (
A

)

IPVanish is a 'Non-Logging' VPN Provider.

They don't keep any time of VPN activity or metadata logs. This makes IPVanish a TRUE non-logging VPN, as opposed to some providers who claim to be zero-log, but still keep metadata records.

You can learn more about VPN logging policies, but rest assured that IPVanish has one of the most user-friendly logging policies of any VPN.

A zero-log policy protects both the VPN provider as well as the user. Since they don't log any session activity, connection history, or even what IP address you were assigned, it's impossible for them to betray their users' trust. Even if facing a court order, IPVanish couldn't share a users VPN activity since no logs are kept.

Not all VPNs are able to offer this level of privacy, because many countries have mandatory data-retention laws requiring VPNs to keep records of their subscribers. IPVanish is based in the USA, where data-retention laws do not apply to VPN services.

While they don't keep VPN logs, they do log transaction/payment interactions on their website. This allows them to improve the website quality (optimize the content and interface for a better user experience). It is also essential to prevent credit card fraud (All credit card transactions require a valid billing address).

They also log the IP address you use when purchasing the service (though you can always use a public computer or wifi network to sign up if extra secrecy is important to you).

IPVanish also accepts anonymous Bitcoin payments, which only require an email address for account activation (no other personal information required).
IPVanish Speed Test
IPVanish is consistently ranked one of the fastest VPNs in the world. This isn't just luck, IPVanish has an unfair advantage. Their parent company is one of the largest CDN data network providers in the entire world, meaning they have the servers, the bandwidth, and the peering relationships to outperform just about anyone.
Related: Which Zero-log VPN has the fastest speeds?
We tested IPVanish on a 100/100 (Mbps up/down) connection from the east coast in the USA. Here are our IPVanish speed test results:
North America USA/Canada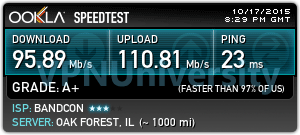 As you can see, inside the USA, IPVanish offers absolutely insane speeds. We got over 90% of our max download speeds, even using 256-bit OpenVPN encryption which is typically slower than the weaker 128-bit encryption used by many VPN providers. On uploads we actually exceeded our theoretical 100mbps max, likely because upstream bandwidth isn't as scarce as downstream.
Most VPNs are typically in the 30-60% range on USA speedtests. IPVanish is easily an A+ compared to the competition.
Europe
As you can see, there was a bit of a drop in speed when connecting to European servers. This is due in part to increased distance as well as congestion in data cables running under the Atlantic ocean. That said, anything over 50 Mbps from a European server using 256-bit encryption is an excellent result.
Considering Netflix only requires around 5-7 Mbps bandwidth to stream HD movies, IPVanish is overkill. These speedtests were done on a wired connection (ethernet) so you may find speeds are a bit slower via wireless routers, but still more than adequate for most users.
Australia / Asia Speedtests
IPVanish is the fastest VPN for Australians that we've tested. So far it is the only VPN we've found capable of streaming 4k video from an Australian server location without rebuffering. Our 4k streaming test is a much closer approximation of real-world bandwidth than most speedtests. Torguard finished 2nd in our 4k streaming test.
Due to the massive distance your data must travel between a USA > Australia server, speed loss will usually be massive. Also Australia's undersea data cables are very congested, so you can't get good speeds unless you have excellent peering relationships. Fortunately, IPVanish does have these relationships. Where most VPNs will deliver 5-10mbps from Australia, IPVanish was able to break 40 mbps in our testing!
Customer Support / Tech Support
IPVanish offers 4 different forms of tech support to subscribers:
Live chat support
Email/Ticket system
Public Q&A
Support/Setup Guides
We were overall impressed with the level of support from IPVanish. Live Chat and Email support are pretty standard among higher-end VPN providers. IPVanish support was more responsive than other providers we've tested, and we usually receive responses via email within 24-hours and sometimes even faster.
The new Q&A system is extremely helpful as well. It's like an interactive FAQ where anyone can post a public tech support question, and IPVanish will publish the solution on their support portal so that any users with the same question/issue can easily find a solution without needing to contact support.
They also have dedicated IPVanish installation/setup guides, showing you how to install IPVanish on all major platforms, or configure their service with the Open Source OpenVPN connect client. There are also DDWRT/Tomato setup guides if you want to run IPVanish on your router. Of course we prefer AsusWRT routers and already have a guide showing your how to install IPVanish on your ASUS router.
IPVanish doesn't offer phone support, but only a handful of consumer VPNs in the world are willing to offer that level of service (Hidemyass being the most famous example).
Pricing & Payment Options
IPVanish's pricing is very straightforward (which we really like). They don't have a ton of complicated plan options. Ever plan offers the exact same features and access to every IPVanish server location.
The only difference is the subscription length. You can buy 1 month, 3 months, or 1 year subscriptions of IPvanish.

The plans are as follows:
1 Month – $10/m
3 Months – $8.99/m
1 Year – $6.49/m (The best deal, you save 46% vs monthly).
IPVanish Value: Good
IPVanish's pricing puts them solidly in the middle of the pack of the top 10 VPNs in the world. They're certainly not priced like a budget VPN (nor should they be) but they're still substantially cheaper than some other standout VPNs (like ExpressVPN and VyprVPN).
The two biggest advantages of IPVanish vs the competition are:
Network Speed
# of global server locations
Keeping speeds fast and adding servers costs a lot of money, so it's expected that IPVanish will be a bit pricier than discount options like Private Internet Access. If speed is important to you, IPVanish is an excellent value.
Payment Options
IPVanish accepts the most popular payment methods:
Credit Cards
Paypal
Bitcoin (for anonymous payments)
Best and Worst uses for IPVanish
Most people looking for a VPN service are trying to solve a specific problem (can't access Netflix) or want to use it for a specific purpose (security while traveling). We evaluated IPVanish to find out what uses it is best for, and which uses you might want to look elsewhere.
Video Streaming / Unblocking
One the one hand, IPVanish is an ideal service for streaming. They're faster than the competition, and they have servers in over 60 countries around the world. This means you can stream in 1080p (or better) resolution from any compatible streaming service. IPVanish works with Pandora, Spotify, HBOGo, BBC iPlayer, and others.
Unfortunately, there are two extremely popular services that you cannot access with IPVanish: Netflix and Hulu.
Does IPVanish work with Netflix? What about Hulu?
Netflix (and Hulu) have taken a very proactive stance against VPNs. They actively block VPN services and very few providers have discovered a workaround (or are willing to implement it and risk losing the support of their payment processors). IPVanish is not compatible with Netflix and will generate a Netflix proxy error.
If you're inside the US, you can still access Netflix while connected to a USA VPN, but you won't be able to access it from servers outside the country. We recommend NordVPN if your top priority is accessing USA Netflix from abroad.
Travel / General Security
IPVanish is a perfect choice for general security or protecting your identity/security while travelling. They have apps for all major platforms, and 5 simultaneous connections, means you can easily protect all your devices.
The 'Scramble' obfuscation feature is incredibly valuable if you're in a location that blocks VPN access (China). It even helps you access streaming sites on restrictive networks like Boingo or GoGo in-flight wireless.
And of course their 100+ server locations means you'll always be able to find a fast server nearby.
Torrents/p2p/Filesharing
IPVanish is now one of the 2 or 3 most torrent-friendly VPN services in the entire world. They have a true 'no logs' privacy policy (which is ideal for filesharers) and their speeds are better than most other competitors.
IPVanish now includes kill-switch security and a Netherlands Socks5 proxy access with all VPN subscriptions. This puts them on par with other popular torrent VPN services like Private Internet Access and NordVPN. When you consider IPVanish's speed advantage over both competitors, it's a pretty easy choice if you can afford the subscription.
Conclusion
IPVanish has extremely fast speeds thanks to their Tier-1 data network. They also have ton of server location (100+ worldwide) and a 'No Logs' policy, which provides greater anonymity and privacy than most VPNs.
Their software is available on all major platforms and while attractive and well designed, doesn't add a ton of new features vs basic VPN clients.
They are competitively priced, torrent-friendly, and definitely on the short list for anybody who wants the fastest possible VPN speeds.
IPVanish is a good choice for:
Speed Freaks
Video Streaming/Unblocking
Gaming
Torrents/P2P
Our Verdict: Highly Recommended (95%)
Visit IPVanish