After you add an OpenVPN capable router to your home network you'll wonder how you ever managed to live without one all this time. VPN-capable routers have fast processors and special firmware (the router's operating system) that allow them to directly connect to a VPN and protect your entire network.
A VPN router allows you do connect an unlimited number of devices to an encrypted VPN tunnel, even devices that don't have built-in VPN support like your Xbox, PS4, AppleTV, Roku, or Fire TV.
In this guide, you'll learn:
The requirements for a good VPN router (Speed + Firmware)
Our top recommended VPN routers
The 3 best VPN-capable firmware options
Pre-flashed routers vs. Flash your own
How-to guides (Flash your own router, configure OpenVPN etc.)
What makes a good VPN router?
For a router to be a viable choice as an OpenVPN-capable router, it needs two things:
A dual-core processor (ideally 500mhz or faster)
Firmware that supports VPN connections
Router CPU and processing power
VPN encryption uses complex math to encrypt every byte of data you send. These calculations are quite easy for the powerful quad-core (or better) processors built into modern laptop and desktop computers, but the CPU's in most routers aren't powerful enough to perform these calculations quickly, and will result in very slow VPN speeds.
Most of our recommended VPN routers have dual-core processors clocked at 600mhz or faster (as opposed to cheap routers with slow single-core processors). This way, your VPN speeds won't be limited by the router CPU, and most are capable of speeds 20mbps and higher, even when using extremely strong 256-bit AES encryption.
Router Firmware: Tomato, DD-WRT, and ASUSWRT
The router firmware is like the router's operating system. It's the router management interface that you log in to, and it allows you to configure your network and change various router settings.
Most router firmware doesn't support VPN connections.
Fortunately, even if your router's stock firmware doesn't support VPN connections, most high end routers allow you to install custom 3rd-party firmware (not created by your router manufacturer) that include VPN support. This process is known as flashing and can dramatically increase your router's capabilities, but also typically void your warranty.
The three most popular VPN-capable firmware options are:
DD-WRT
TomatoUSB
AsusWRT (no flashing required)
Flashing custom firmware yourself can be complicated and you also have a small risk of 'bricking' your device if something goes wrong. We'll have step-by-step flashing guides soon for both Tomato and DD-WRT firmware, but many users prefer to buy a pre-flashed router that already has your preferred firmware installed.
Flashrouters is currently the leading source of pre-flashed VPN routers. The only downside is you typically pay a $100-150 premium vs. flashing your router yourself.
ASUS routers & ASUSWRT (The best option for most users)

ASUS is one of the only manufacturers to package VPN-capable stock firmware with their high-end routers. ASUS's firmware is called ASUSWRT and ships with most of their routers priced at $90 and higher. Here's the full list of ASUSWRT features.
ASUSWRT has tons of high-end features including:
PPTP/L2TP/OpenVPN support for VPN connections
Download Master: computer-less torrent downloader
Create your own cloud drive/cloud server
Apple 'Time Machine' automated backups
RELATED: How to setup OpenVPN on your ASUSWRT router (tutorial)
Many of the routers recommended in our 'Best VPN Router' list are ASUS routers; partially because they have so many high-end models, but also because their firmware is easy to use and is VPN-capable right out of the box.
Most users don't want to have to flash custom software onto their new expensive routers. With ASUSWRT, you don't have to.
And if you later decide you want even more features, you can install the ASUSWRT-Merlin firmware build, which adds nearly all the same features as DD-WRT, including complex VPN configurations and custom encryption options.
ASUS RT-AC68U (Editor's Choice: Best Overall)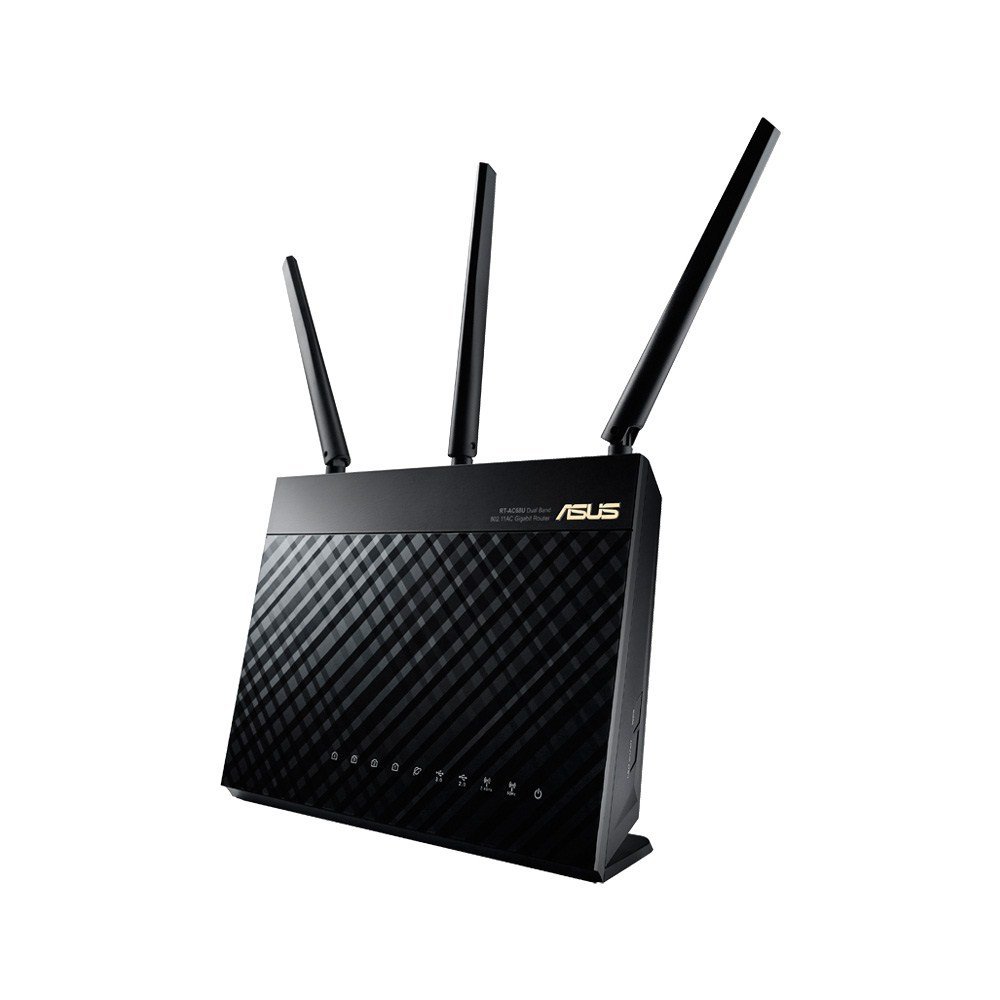 The ASUS AC-68U is one of the highest rated of ASUS's high-end routers (4.3/5 stars on Amazon) and in our opinion is the best combination of features, performance, and price of all the routers on this list.
The AC68U comes with ASUSWRT firmware installed, so you've got PPTP, L2TP, and OpenVPN compatibility right out of the box. Couple that with 1900mbps data speeds (when using 2.4ghz and 5ghz band simultaneously) and a dual-core 800Mhz broadcom processor, you've got yourself a powerhouse of a router.
The AC68U is a perfect balance. It's got plenty of power under the hood, without being total overkill. It's great for gaming, streaming, use as a media server, or general VPN encryption.
Specs:
Firmware: ASUSWRT (installed)
Compatible 3rd-party firmware: DD-WRT, Tomato, ASUSWRT-Merlin
CPU: dual-core broadcom clocked at 800Mhz
USB: 2 ports, USB 3.0 (1), and USB 2.0 (1)
Antenas: 3
Ethernet: 4 port
ASUS RT-N66U (Editor's Choice: Best Budget VPN Router)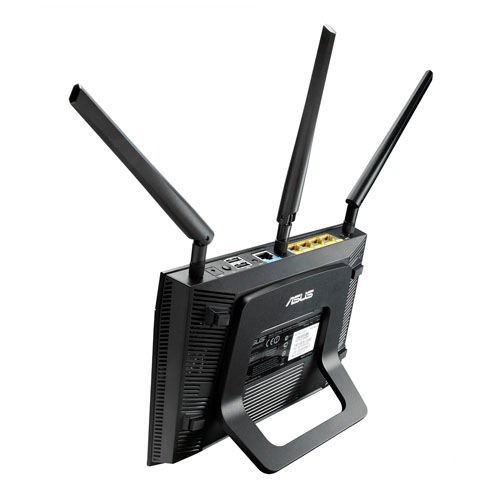 Even thought his router was first released in 2012, the RT-N66U (affectionately called the 'Dark Knight') is still one of the most popular VPN-capable routers on amazon. It runs the exact same ASUSWRT firmware as our #1 router (the AC68U).
The primary differences are:
It has a single-core 600mhz processor (AC68U is dual-800mhz)
It doesn't support AC wireless bands, so it won't be quite as fast on your newest device.
In real-world conditions, however, you'll really only notice a difference between 'N' and 'AC' routers on your internal network (transferring files to an NAS drive) as opposed to actual upload/download speeds from the internet.
Usually available for under $100 on Amazon, the RT-N66U is a heck of a good value, and probably the best choice if you're on a tight budget and can't afford to spend $150+ on a router.
If you have alot of AC-compatible devices, you may want to try the newer AC66U which is virtually identical to the N66U, but it supports AC wireless bands and transfer speeds.
Netgear 'Nighthawk' R7000 (Best DD-WRT Router)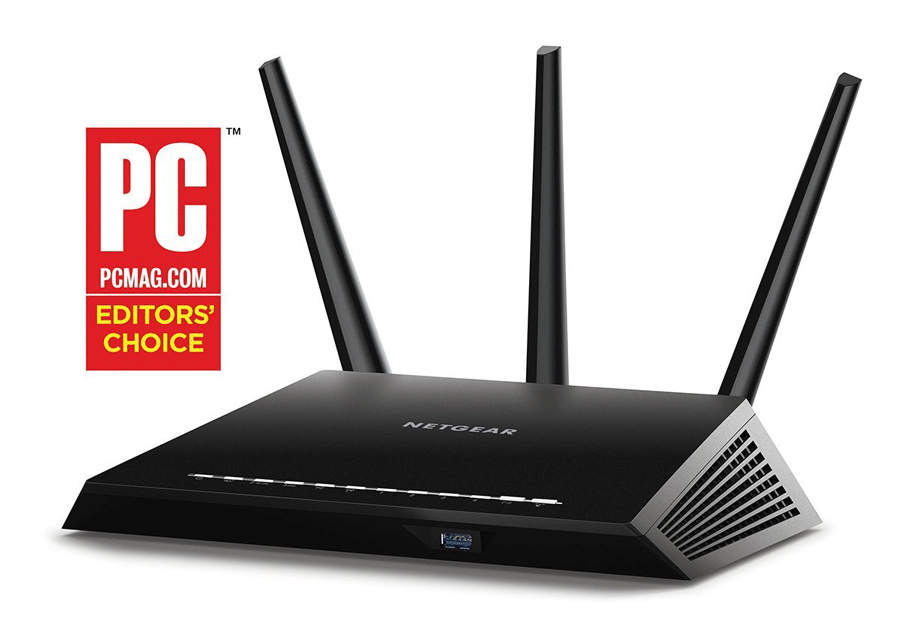 The Netgear R7000/AC1900 'Nighthawk' is the #1 ranked router on smallnetbuilder's router rankings. It was also an 'Editors' Choice' pick on PCMag.com It's not VPN-compatible out of the box, so it's only a good choice if you're willing to flash DD-WRT (or Tomato) firmware yourself. But if you're comfortable with the flashing process, it's hard to find more performance for your money.
The Nighthawk has a dual-core 1ghz processor with dual-band AC wifi speeds. It also has 3 detachable antennas, 'Beamforming' technology, 5 ethernet ports, and dual USB ports (one is USB 3.0).
Flashing Guides for R7000 Nighthawk
A few more router options (Honorable Mentions)
One of the 3 routers featured above will probably be a perfect fit for most users, but if you're on a tighter budget (or an unlimited one) here are a few more worthy contenders.
Asus N-16
---
TP-Link AC1900 AKA: 'Archer C9'
---
Router Tutorial, Guides, and Links
From VPNUniversity.com
Guides
Asus RT-N66U
Asus RT-AC68U
Asus RT-N16
TP-Link AC1900 (Archer C9)