This is our NordVPN Review (2017 edition) which will give you a detailed look at NordVPN and all they have to offer.
NordVPN wants you to feel safe. In fact, every feature this Panama-based VPN provider adds seems to have one thing in common– PRIVACY.
Unlike some VPNs, NordVPN didn't pivot toward privacy when consumer preferences changed the marketplace.
NordVPN was built from the ground up to provide maximum privacy and security to their users. Why do you think it's located in Panama, a notorious privacy haven largely free from the reach (or overreach) of extra-national spy agencies.
Innovative Features
NordVPN is a true non-logging VPN, but that's just the starting point. They also have dedicated VPN-over-Tor servers (for maximum anonymity) as well as a double-VPN option that encrypts your data twice.
They also include SOCKS5 proxy service FREE (with your VPN subscription), in over 30 server locations. It can even be used for torrenting with clients like uTorrent, tTorrent, or Flud.
And for all you video streamers, NordVPN debuted SmartPlay, a technology that seamlessly unblocks all your favorite streaming services, including:
Netflix
Hulu
BBC iPlayer
and more…
Website: www.nordvpn.com
Company: NordVPN (based in Panama)
Server Locations:  300+ servers in 50 countries
Protocols: OpenVPN (best), PPTP, L2TP/IPSec (compare)
NordVPN App for: Windows, Mac, Android, iOS
Logging Policy: No logs whatsoever (learn about VPN logs)
Regular Price: $8/month
Current Best Price: $5.75/month (claim this offer)
You can view NordVPN's full server list (grouped by country and server type) here.
North America
Canada (20+ servers)
USA (300+ servers)
Mexico (2 servers)
Central & South America
Africa & Middle East
South Africa
Egypt
Israel
Turkey
Asia
Hong Kong
India
Japan
Malaysia
Singapore
South Korea
Taiwan
Vietnam
Oceana
Europe
Austria
Belgium
Bulgaria
Czech Republic
Denmark
Estonia
Finland
France
Germany
Greece
Hungary
Iceland
Ireland
Italy
Latvia
Lithuania
Luxembourg
Moldova
Netherlands
Norway
Poland
Portugal
Romania
Russia
Slovakia
Spain
Sweden
Switzerland
United Kingdom
Ukraine
NordVPN Review: Contents
Overview
VPN Software (Mac & Windows)
Mobile Apps (iOS/Android)
Extra Features (Proxy, special-use servers)
Smartplay
P2P/Torrent Policy
Security & Encryption
Privacy / Logging policy
Conclusion
NordVPN Software (Desktop VPN Client)
NordVPN has their own custom VPN software for both windows and Mac. Proprietary VPN software like this makes using a VPN much simpler for casual/non-technical users and creating a VPN connection takes only a single click.
We tested NordVPN's software on a Windows machine but the Mac client is virtually identical.
Software UI
Once you login to their software (you choose your username/password when you sign up) you will be greeted by their main software screen. It's simple but attractive. There are two primary views for selecting a server:
Country View: Choose a country and NordVPN will connect you to the fastest server in that location
Server View: Choose a special-purpose server (Anti-DDOS, HD video streaming, Tor-over-VPN) or choose a specific server # within a country. This view also shows you the exact server load and ping time of every server.
I found myself using the 'Server' view most often, and I like seeing how crowded each server is before connecting. The only negative here is that servers aren't organized by state or city, only by number. So even though there are 300+ servers in the USA, you can't easily choose a specific city.
Software Screenshots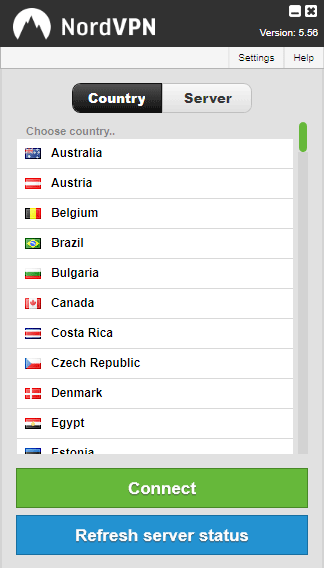 NordVPN Software Settings
You can easily access the NordVPN settings menu by clicking the 'Settings' button in the menu bar near the top-right corner of their software.
Here you'll find various startup, security, privacy, and protocol options. You also get access to NordVPN's application kill-switch.
Let's look at the available options…
Startup Options
You can tell NordVPN to start automatically when your computer boots up. You can also have it start minimized (in the system tray) or load the full application.
DNS Options
DNS Leak Protection: Enable this option to make sure NordVPN forces your computer to use their private DNS servers (recommended). This is a simple and effective way to prevent DNS leaks, which could allow your ISP to monitor your web history even when using a VPN.
Specify Custom DNS Servers: If you want to use a 3rd-party DNS service (like DNScrypt, OpenDNS, ComodoDNS) you can input their IP address here. By default these will be NordVPN DNS servers unless you choose another.
SmartPlayTM
SmartPlay is proprietary NordVPN technology that intelligently unblocks geo-restricted streaming services like Netflix, Hulu and iPlayer, no matter what server location you're connected to. Hint: It's awesome.
We'll look at SmartPlay in-depth later in this review.
Connection / Protocol Options
You can choose to auto-connect to your favorite server every time NordVPN software starts (useful if you almost always choose the same server location).
NordVPN's software exclusively uses the OpenVPN protcol (our recommended VPN protocol) but you do get the choice of TCP or UDP. In general, UDP will be the fastest option and is ideal for streaming, web-browsing, or file-sharing.
NordVPN Kill-Switch
NordVPN's software includes a built-in Application-level kill switch. The purpose of a kill-switch is to prevent IP or security leaks in the unlikely event of an accidental VPN disconnection.
An app-level kill-switch is different from a traditional 'internet kill switch' in that an app kill switch lets you choose specific programs or processes that will be instantly killed when the VPN disconnects. A traditional kill-switch completely disables internet connectivity instead of killing specific programs.
Some users prefer one type over the other, but we like the flexibility of the app-level kill switch, allowing you to shut down only apps where security or IP leaks might cause an issue.
How to use NordVPN's kill switch
NordVPN lets you add any executable process/app to the 'kill list'. You can either choose from currently running processes/apps (click the 'Running Processes' button) or any file on your harddrive by clicking 'Browse'.
The 'Running Processes' button will show you every single App and .exe file that is currently running, and is the easiest way to quickly add multiple programs.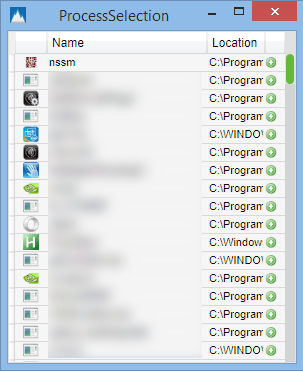 We chose to add Chrome (web browser) and uTorrent (torrent client) to the list. These apps will be instantly closed if the VPN disconnects.
Mobile App (iOS/Android)
NordVPN is compatible with both iOS and Android, and they've built their own custom app for each. The functionality of their mobile apps are nearly identical to the desktop application, and includes all the same features like: Tor-over-VPN, double encryption, SmartPlay, etc…
For this review we tested the NordVPN android App, but the iOS version is nearly identical in functionality.
Currently, NordVPN's app has a 4/5 star rating the play store, and was ranked as one of our favorite Android VPN applications.
App Screenshots
Mobile Features
NordVPN's mobile apps run on the OpenVPN protocol (same as the desktop software). You can full use access to every server location, and the mobile software even includes a bonus feature: the 'Favorite Servers' List.
You can select individual servers to add to your 'favorites' list, just by clicking the 'heart' icon next to the server.
The server view also shows the % server load, so you can choose the fastest location.
SmartPlay is built into the mobile app as well and works flawlessly, allowing you to stream video from your favorite sites in full HD with zero geo-restrictions.
SmartPlay
SmartPlayTM is an incredibly powerful, yet simple tool that allows you to easily access streaming video and audio content anywhere in the world.
Normally, if you want to access a service like Netflix or BBC iPlayer, you'd have to choose a VPN server in that region, and hope it's IP address hasn't been blacklisted by the service you want to access.
SmartPlayTM fixes all this. No more server switching or guessing.
Read: our SmartPlay  review and 72% off DEAL
When you activate SmartPlayTM from the NordVPN settings menu, it acts like a SmartDNS service behind the scenes. You can connect to any VPN server location you want (preferably a nearby, fast server) and SmartPlayTM will do all the heavy lifting.
If you visit the website of one of SmartPlay'sTM 50+ supported streaming providers (HBOGO, Showtime, iPlayer, Netflix, Hulu, Pandora, Spotify, etc…) SmartPlayTM will automatically recognize your intentions. It will then reroute necessary requests through a 3rd-party server optimized to unblock the service/website you're accessing.
All of this is seamless, invisible, and accomplished without any loss of speed. You can access BBC iplayer from servers in Canada or watch USA Netflix from Brazil. It just plain works.
If your primary reason for buying a VPN is access video content around the world, NordVPN should be near the top of your list.
Other NordVPN Features
NordVPN has built-in some unique privacy features, including special-purpose VPN servers for added security. Let's take a closer look at everything they have to offer:
Special Use Servers
SOCKS5 and HTTPS Proxy
Special Purpose Servers
In addition to all-purpose servers in 49+ countries, NordVPN has special dedicated servers that you may want to use based on your intended use for the VPN on any given day.
Anti-DDOS (Denial of Service)
These servers are ideal for gaming, and will prevent DDOS attacks that affect gamers, including ping flooding.
Dedicated IP Servers
Would you rather have your own dedicated IP address as opposed to sharing an IP with 10+ other users? Choose one of NordVPN's two dedicated IP VPN servers.
Double VPN
Want even stronger encryption and anonymity? NordVPN has dedicated 'DoubleVPN' servers that will route your traffic through 2 independent VPN nodes and encrypt the traffic twice. It even mixes UDP and TCP packets for greater anonymity. Be warned, double hop encryption will result in much slower speeds.
Tor over VPN (Actually VPN over Tor)
Though they call it Tor-over-VPN (which any VPN can do) NordVPN actually offers the much rarer VPN-over-Tor mode which routes your VPN traffic through the tor network for maximum anonymity. This involves routing every encrypted packet through multiple Tor encryption layers as well, making it virtually untraceable.
VPN-over-Tor is only as fast as the Tor network (which ain't fast) so it's really only suitable for the most high-security tasks.
Ultra-Fast TV
These are speed optimized servers designed for the high-bandwidth needs of video streaming services like Netflix, Hulu, iPlayer, HBOGO, etc. They are optimized for maximum bandwidth, and also use special technology to make sure your streaming services are accessible no matter where you're located.  Learn more…
SOCKS5 and HTTPS Proxy
Included with NordVPN subscription is access to SOCKS5 and HTTPS (encrypted) proxy servers in over 30 countries worldwide. This is a huge bonus as most companies charge separately for SOCKS5 proxy service.
RELATED: The best SOCKS5 proxy services and how to use them.
The HTTPS proxy can easily be added to your favorite web browser (Chrome, Firefox, Safari, Opera) for a second IP switch and added security.
SOCKS5 proxies on the other hand are extremely useful all-purpose proxies that can be used for Skype, web-scraping, or torrenting.
We even have guides showing you how to use NordVPN's SOCKS5 proxy for:
NordVPN Speed Test (and 4k streaming test)
We performed our standard speedtest on NordVPN, using a 100/100 (mbps) connection. Speeds were excellent on nearby servers, but dropped off on far-away servers. This is likely due in part to the strong 256-bit encryption NordVPN uses.
The European servers also had a higher server-load on average than the North American servers.
USA / Canada / Australia
UK / France / Netherlands
4k Streaming test
Flash-based speedtests aren't always accurate, so we also test VPNs by streaming a 4k youtube video from various server locations around the world. We list the maximum resolution we were able to stream without rebuffering in each location:
USA: 4k
UK: 4k
Australia: 480p
NordVPN Speed Analysis
NordVPN performed about average in our speedtesting. Local servers were very fast, but international servers were a mixed bag. Overall, NordVPN tends to have relatively crowded servers (50%+ load), but they are adding new servers constantly.
We were able to stream 4k video from both USA and European servers without issue, which is a huge plus. Most users won't be streaming video in resolution above 1080p anyway (which needs about 25% of the bandwidth of 4k).
Bottom Line: NordVPN's speeds should be able to keep up with all but the most bandwidth-hungry users.
NordVPN Torrents & P2P
NordVPN is an excellent choice for Bittorrent users, and they Do allow torrents on their network (in 7 country locations).
NordVPN does not keep VPN logs, so they are well-suited for Torrenting. Their included SOCKS5 proxy is nice bonus, and it works flawlessly with uTorrent, Vuze, QBittorrent, Deluge, and more…  NordVPN has tutorials showing you exactly how to use their SOCKS5 proxy for torrents.
NordVPN allows torrenting in 7 countries:
Romania
Russia
Sweden
Latvia
Luxembourg
Netherlands
Canada
Encryption & Security
NordVPN has average security compared to other VPN providers. It isn't weak or flawed, but they've clearly opted to optimize for speed in the speed/encryption-strength tradeoff.
Encryption
NordVPN uses 256-bit AES Encryption for their VPN tunnel. This is extremely strong (used by the US military) and considered unbreakable.
For the VPN handshake (the very start of the connection where encryption keys are exchanged to ensure Perfect Forward Security), NordVPN uses 2048-bit RSA keys. 2048-bit keys are average for the VPN industry, considered secure at least until next decade, but we'd prefer to see 4096-bit keys like Private Internet Access and VPNac have adopted.
NordVPN still uses SHA1 for data authentication (verifying the source/authenticity of your transmitted data). Most VPNs have upgraded to SHA-2, which is much more secure.
Overall we'd give NordVPN a B for encryption.
Other Security Features
NordVPN does have IP-leak protection built into their software, including optional DNS leak protection, and disconnect protection (via their application kill-switch).
NordVPN also seems to have built-in WebRTC leak protection (which is rare among VPNs) which protects you from the nasty STUN-server browser IP leak vulnerability. Kudos.
Currently NordVPN doesn't support IPv6 which means you don't have to worry about IPv6 leaks. To be safe, you can always manually disable IPv6 on your PC or router.
DNS Leaks
We tested NordVPN for DNS leaks (w/ leak protection enabled in software settings) using DNSLeaktest.com.
Our ISP's VPN servers didn't show up in the DNS server list, so NordVPN passed our test with no issues. By default they route your requests through GoogleDNS but you can choose a more private 3rd-party DNS service.
Privacy / Logging Policy
NordVPN advertises a strict no-logs policy. They are able to avoid logging user activity because NordVPN is based in Panama, a privacy haven that doesn't have data-retention laws for VPN services.
NordVPN clarifies their Logging Policy in their privacy policy— stating:
Further, we have a strict no-logs policy when it comes to seeing user activity online: being based in Panama, which is internet friendly country and does not require data storage or reporting, we are empowered to deny any third party requests. Period.
Here's a screenshot of the relevant section:
They also state in their privacy policy that your VPN activity will not be…
…. monitored, recorded, logged, stored or passed to any third party.
Clearly NordVPN takes customer privacy seriously and we appreciate their willingness to spell it out in policy.
Pricing & Refund Policy
NordVPN offers 1 VPN plan in multiple subscription lengths, which makes choosing a plan quite straightforward. In general, we recommend choosing the longest subscription length you're comfortable with to get the greatest discount relative to month-to-month.
With NordVPN this isn't a risky proposition because of their industry-leading 30-day refund policy.
Pricing
You can purchase NordVPN in a 1-month, 6-month, or 1-year plan. The annual plan offers the best discount & a savings of 28% versus monthly.
Refund Policy
NordVPN offers a conditional 30-day 100% refund policy.
Their only restrictions are:
The account must be in good standing (no refunds if they cancelled your account for violating the TOS)
No refunds for Bitcoin or through the Apple appstore.
That's it. We love long refund policies like this. It really inspires trust, and allows you to try out a VPN service more or less risk-free for an entire month.
NordVPN Review: Summary & Conclusion
NordVPN is a privacy-focused VPN provider with good software and a few truly standout features (Smartplay & special-use servers).
Their service is reasonably prices (around the industry average) and may seem like a bargain for expats or other video streamers who primarily want to access Video-on-Demand services like Netflix, Hulu, BBC iPlayer and HBOGO.
SmartPlayTM really does seem like a game-changing streaming technology (the best parts of VPN & smartdns service combined). We also appreciate the special-use servers like VPN-over-Tor and Anti-DDOS though most casual users will probably stick with the TV & streaming-optimized servers.
The 30-day refund policy is awesome. Take advantage.