Private Internet Access
from $2.69/month
Private Internet Access (often called simply 'PIA') is a non-logging VPN provider based in the United States. Recently, they were acquired by Private Internet (formerly called Kape) which owns competing VPN brands: Zenmate and Cyberghost.
PIA was one of the earliest consumer VPN brands, and they've built a loyal following thanks to their solid VPN performance and dedication to privacy.
PIA is a net-neutral provider, allowing free access to all platforms and protocols including torrents, p2p, streaming apps & Kodi.
Plans & Pricing
Private Internet Access's pricing is quite affordable, even cheap. They've been able to keep costs low thanks to enormous scale (lots of customers) and word-of-mouth referrals.
Their month-to-month plans cost $9.95 which is about average for the industry, but longer-term subscriptions are available for a substantial discount. 1-year plans for for $3.33/month and their current 2-year offer (available for a limited time) is a mere $2.69/month!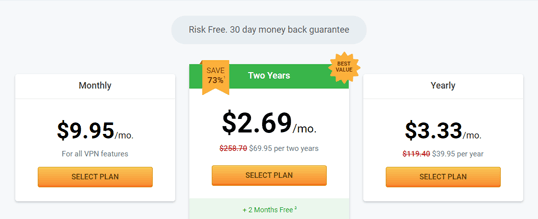 Subscriptions & Pricing:
1 month: $9.95/mo
1 year: $3.33/mo
2 years: $2.69/mo (special offer)
Other than the subscription length, there is no actual difference in features between plans. Every subscription tier gets the same software, speeds, vpn protocols and unlimited bandwidth.
Privacy
Privacy is what PIA is best known for, and they've kept their reputation for anonymity despite the change in ownership. And it runs deeper than just their logging policy. PIA's software includes core privacy features including:
No logs. ever.
Malware protection
Anti-tracking technology
Ad-blocking
Kill-switch (to prevent leaking your identity)
Logging
Private Internet Access has advertised themselves as a 'non-logging VPN' for years. But plenty of other providers make similar claims.
Fortunately, PIA backs their claims up with more than just fancy language. Their logging policy has been tested in court, twice.
In each instance they couldn't be forced to turn over logfiles (because they didn't exist).
Privacy Policy: Their privacy policy is very comprehensive, but it primarily deals with visitors to their website as well as the handling of your billing information. The section regarding VPN usage is a single sentence:
The above-mentioned Personal Data is not, at any point, associated with any kind of activity done by the user inside the Private Internet Access VPN which is NOT recorded, logged or stored at all.

– PIA Privacy Policy, 2020
PIA MACE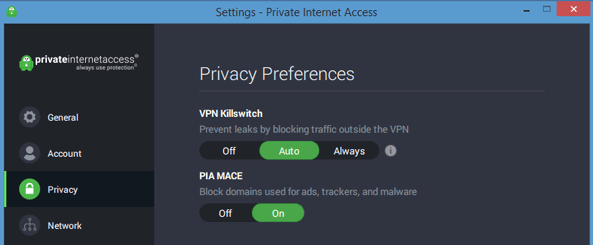 MACE is the name for PIA's built-in privacy technology. It is designed with three goals:
Block tracking scripts
Block Ads
Block access to malicious websites
You turn it on under Menu > Settings > Privacy > PIA Mace
How PIA MACE works
According to their documentation, Mace analyzes the source code of each website you visit. They extract any HTTP calls to third-party tracking scrips or ad servers. They then match the scripts against a public, curated blocklist (http://pgl.yoyo.org/adservers/).
Any matching scrips or domains are routed to a non-reachable IP address rather than the intended domain. This effectively blocks third-party tracking scripts like Facebook pixels, browser fingerprinting, and even Supercookies.
How well does it work?
In my testing, MACE was pretty effective at blocking scripts and ads. Most tracking scripts were caught, especially advertising-related scripts like remarketing pixels.
Ad-blocking was largely effective, and most image-based ads were removed. Some text-based sidebar links didn't get caught, likely because they weren't served from a 3rd-party domain.
ShadowSOCKS Proxy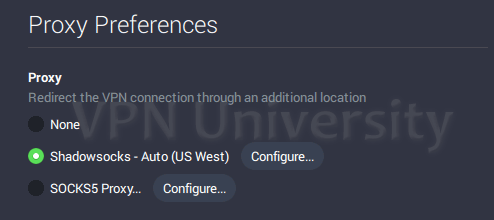 All PIA subscriptions now include an obfuscated protocol known as ShadowSOCKS.
What ShadowSOCKS does: When enabled in the software settings, ShadowSOCKS acts as a wrapper around your VPN traffic. It disguises your VPN data as regular web traffic, hiding packet metadata that identifies VPN traffic.
ShadowSOCKS can be effective at circumventing even the most advanced firewalls, and is a popular choice for evading the Great Firewall of China.
Browser Extension
There's also a browser extension for Chrome and Firefox which adds even more functionality.
WebRTC Leaks: Block a browser vulnerability that can expose your real IP address, even when connected to a VPN. There are other ways to fix WebRTC also.
HTTP Referrer: By default, when you click a link the site you visit can see the address of the page that referred you. This extension blocks it.
Location Access: Tired of websites trying to geo-locate you by your IP address or GPS chip? Disable location access with the extension.

Security & Encryption
Secure encryption is the core of what a VPN does. Even though most providers use the same open-source protocols and encryption libraries, it's critical to implement them correctly.
Private Internet Access has a secure server architecture and uses industry-standard Ciphers and encryption algorithms.
VPN Protocols
Private Internet Access supports multiple encryption protocols. The best protocol choice won't be the same for everyone, and may change based on your use-case or device type.
OpenVPN: Most-common encryption protocol, multi-platform support. Up to 256-bit AES encryption (adjustable in-software).
Wireguard®: Wireguard is a new protocol and has surged in adoption, thanks to its lightweight yet secure encryption algorithm. Head-to-head it usually yields faster speeds than OpenVPN.
L2TP: This is a very secure but older protocol. It's no longer an option in PIA's software, but you can still create manual L2TP connections on your PC or Smartphone. Windows and Android both have native L2TP support.
PPTP: This is an outdated protocol, but still supported by most OS's. It uses lightweight encryption and may be useful for low-security use cases. It can be configured manually.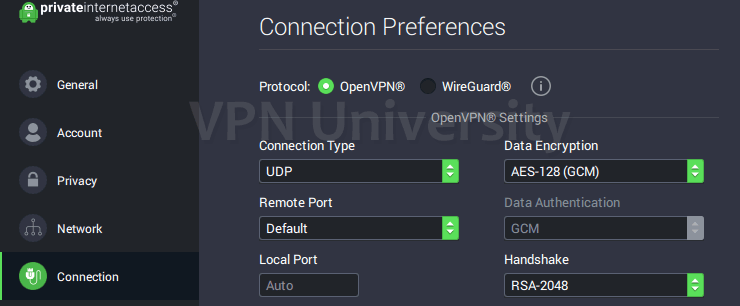 Encryption & Data Security
PIA uses either 128-bit or 256-bit encryption depending on the tunneling protocol and the settings you choose. Unlike most providers which set encryption strength automatically, PIA gives users full control over encryption strength.
AES-128 bit: Best for faster speeds and lower-security uses (streaming, torrents, gaming)
AES-256 bit: Best for high-security uses (countries where speech isn't free or absolute privacy is critical.
You can also select the security level for the Handshake encryption (the very start of the VPN connection where you exchange encryption keys with the VPN server). Not only do you get up to 4096-bit RSA (industry max-security standard) you can also choose an elliptic curve cipher.
For most users, the distinction isn't important and you can just go with PIA's default recommendation, which is 128-bit AES encryption and a 2048-bit RSA handshake.
Kill Switch
A Kill-Switch is a VPN security feature that blocks access to the internet when the VPN tunnel isn't active. PIA's kill-switch has three modes: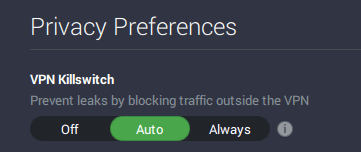 Off: Not active
Auto: Blocks apps from using network interfaces other than the VPN while PIA is active and connected
Always: Blocks all internet traffic to network interfaces other than the VPN, even when the VPN disconnects. This is the default kill-switch behavior used by most VPN software. It is intended to stop critical data or your IP address from leaking if the VPN fails.
You'll probably want to set the kill-switch to 'Always' if you use it at all. I couldn't find many use-cases for 'Auto' mode.
Performance
Speed has always been one of PIA's strong suits, and even though the pack a lot of users on each server, performance is still good. While they aren't the fastest provider overall, most server locations are still capable of speeds in excess of 100Mbps.
In real-world usage, most people don't use more than 20mbps of bandwidth anyway, even when streaming HD video. So I doubt you'd notice any difference compared to a slightly faster service like ExpressVPN.
And PIA solidly outperforms similarly priced competitors like ibVPN and NordVPN. Speeds were comparable to PIA's sister brand, Cyberghost (owned by the same parent company).
Netflix, Hulu & Streaming
One popular reason to use a VPN is to access geo-restricted video sites or content libraries. Netflix is one good example, and their content library is different in every country.
Does Private Internet Access work with Netflix?
Yes, it works. I tested using the Wireguard protocol in both USA and Canada server locations, and Netflix worked flawlessly. Each server location allowed access to a different content library.
This is big news, and a new feature that appears to have been quietly added after the Kape acquisition. It shouldn't really be a surprise, though, as Cyberghost (a Kape company) has been Netflix-compatible for years.
In my tests, PIA also worked with:
Spotify
Pandora
HBO Max
Hulu
I didn't get a chance to test other services or Netflix server locations outside North America, but if you've accessed other content libraries successfully, let us know in the comments!
Torrents & P2P
Private Internet Access is one of the most torrent-friendly VPN services, and they have no server restrictions on torrents whatsoever. You can connect to any server location and PIA does not block or throttle your p2p traffic.
I've heard rumors that PIA securely routes p2p traffic to torrent-friendly countries regardless of what server you connect to, but I haven't been able to confirm this.
There's also the port-forwarding feature which in some cases might improve p2p performance, but in our testing PIA is great for torrents right out of the box.
Torrent-friendly features:
No activity or IP address logs
Kill-switch
Split Tunneling
Bitcoin & other anonymous payment methods
ALSO READ: How to download torrents with Private Internet Access
Verdict: PIA is a good choice for BitTorrent users
Kodi
Kodi is multimedia management platform that has surged in popularity thanks to a supply of 3rd-party 'addons' that add tons of streaming functionality.
PIA is fully compatible with Kodi and Kodi addons. You can use PIA's SOCKS proxy with Kodi's native proxy feature, to anonymize your IP address while streaming.
Even better, PIA now has a FireTV app (one of the most popular devices for Kodi users). Part of what makes PIA such a great choice, is the adjustable encryption strength.
Most FireTV VPN apps have a default 256-bit encryption. But PIA, lets you choose 128-bit encryption, which will yield much faster speeds (and better video resolution) when using a Firestick's under-powered CPU.
Software
All PIA subscriptions include their custom VPN client software. It's available for multiple platforms, including:
Windows
Mac/OSX
iOS
Android
Linux
FireTV
The UI and capabilities is pretty similar between OS's, but there are some feature differences between platforms.
Split-Tunneling
One of the most notable features is the split-tunneling capability. Split-tunneling allows you to choose which apps will use the VPN and which ones will be routed through your unsecured internet connection.
Several VPN providers have implemented split-tunneling on their Android software (as the OS makes it much easier to do). Only a couple offer split-tunnels on their desktop software. PIA and PureVPN are two that come to mind.
The UI is really simple, you just select which apps you want to split-tunnel and then choose the desired behavior.
You can either:
Route only the selected apps through the VPN
Route all traffic through the VPN except the selected apps.
Windows App
The Windows App has a compact initial interface that lets you quickly launch a connection or choose from one of more than 70 server locations.
There are some subtle animations when launching menus that are really well-done and give the software a more premium feel.
When you launch the settings menu, you can take full control of some more advanced options.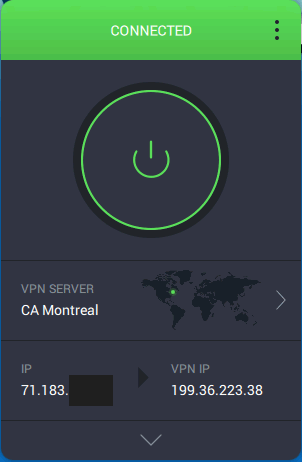 Settings include:
Choice of protocol
Encryption strength
Split-tunneling
Kill-switch
Mace / Ad-blocking
ShadowSOCKS (stealth mode)
MacOS App
Mobile Apps
Android
PIA's official Android app is available in the Google Play store. The UI and feature set is almost identical to the Desktop client. You get the full range of protocols (Wireguard included), the Kill-Switch, and Split-tunnel functionality.
You'll also find the same color scheme, heads-up connection display, and easy server selection with a 'favorite servers' functionality.
There's also a quick-launch dialog for your most-used server locations.
Netflix: The Android app worked fine with Netflix as long as we were in airplane mode (using Wifi)
If you prefer open-source clients, you can alternatively configure PIA with the default VPN capability in Android (using L2TP or PPTP) or you can use the OpenVPN Connect app.
iOS/iPhone
The iPhone app is almost identical to the Android (and desktop) clients, with a couple key exceptions. There's also no port forwarding.
While you get both the OpenVPN and Wireguard protocol, you'll lose the split-tunneling capability. This is limitation is most likely due to restrictions of iOS, in an effort to maximize security.
Support
Private Internet Access offers several different customer support channels.
Support methods:
Well-written support documentation
An active forum
Email
Live Chat
We're particularly please to see the addition of live chat as a support option. PIA resisted chat for years, likely due to the enormity of their subscriber base. And it's not just low-level support, I was able to troubleshoot a technical setup question via chat relatively quickly.
But most users won't need chat for technical support, as PIA has one of the most comprehensive and well-maintained collection of support documentation. There's also an exhaustive list of setup tutorials, teaching you how to correctly configure their service on devices like FireOS, ASUS Routers, DD-WRT, or OpenVPN GUI.
And the real gem is their active support forum. You can get help troubleshooting almost any issue, customized router scripts, and more. There are a number of super-dedicated mods and contributors with a ton of knowledge to share. Just be polite and don't ask about off-limit topics like piracy.
Competitors & Alternatives
The competition is pretty fierce in the VPN industry, and a number of top brands have really raised their game (often while cutting prices). This is a big win for consumers and it's always worth comparing services to see who's offer is most compelling.
There are only about 5 services in the same league as PIA when it comes to capabilities and subscribership.
Private Internet Access Alternatives:
NordVPN
IPVanish
ExpressVPN
Cyberghost
VyprVPN
All of these companies have adopted a 'no logs kept' policy, with the exception of ExpressVPN (who keeps short-term metadata logs).
They're also pretty competitive on features, including Netflix-compatibility. All except IPVanish worked perfectly with USA Netflix in my testing.
In terms of software, Cyberghost, ExpressVPN & VyprVPN all stand out from the crowd. They have the cleanest UI, the most stable connections, and the most in-client features.
But but they're also all more expensive than Private Internet Access for 1-month or 12-month subscriptions.
And when you factor in PIA's proven privacy record, I think they match up favorably with anybody on this list. I personally have been a happy subscriber since 2011.
PIA vs. Cyberghost
Because they're owned by the same parent company, it's worth comparing these services directly. In terms of features, they're pretty similar and the software has almost identical capabilities (despite a very different UI).
Here's how they match up in key areas:
Price: PIA is cheaper on monthly subscriptions, but their long-term pricing is similar.
Netflix: Both work services work well with Netflix USA, but PIA also works with other global Netflix catalogs
Torrents: Both services allow p2p, but Cyberghost restricts it to specific servers and PIA allows torrents on all servers.
Speed: Cyberghost was slightly faster in our recent speed test
Software/UI: I like PIA's UI better. It's a more compact client, and it's a little sleeker looking. All core features are easy to find.
Privacy/Logs: Both services advertise a 'no-logging' policy, but PIA's is proven. That's worth a lot.
🏆 WINNER: Private Internet Access has the clear edge over their sister company. They're a little better (or equally good) in every category but speed (which is still great). Personally, I think the choice between these two services is easy. Go with PIA.
Summary & Verdict
Private Internet Access is one of the best brands in the industry and is stacked with features. In fact, it's hard find anything to complain about. If I have one gripe it's the captcha challenges that seem to pop up on some servers, more so than other services.
On the plus side they have proven logging policy, the ability to unblock streaming services, and really nice software. Plus, the adjustable encryption lets you customize your connection to prioritize speed or security.
Is it a good choice for you?
PIA's feature set covers almost every use-case:
Torrenting
Kodi / IPTV Streaming
Netflix / Hulu / Video on demand
Getting around firewalls
General security
You can even get free (but slow) wifi on GoGo flights by forwarding the right port number. It's just a great all-around service and there's something for everyone.
Oh, and did I mention the 30-day refund policy?