Hide.me isn't among the best-known VPN providers, but there's a lot to here to like and I think they're a worthy option in a crowded marketplace.
For our Hide.me review, I thoroughly tested both the free and paid tiers of their service and came away relatively impressed. Their software has come a long way, and the list of features is very compelling.
Here's some of what I liked:
Protocol Choice: The software supports up to 5 VPN protocols, including OpenVPN, Wireguard® and SoftEther.
Great for streaming: Hide.me is compatible with multiple geo-restricted streaming services. We tested it with Netflix, Hulu and HBOMax and it worked flawlessly.
P2P Support: Torrenting is supported on most server locations
IPv6: Most VPNs still don't work with IPv6. HideMe is IPv6 compliant.
Free Plan: Users can get up to 10GB of free data per month, no payment required.
Hide.me was founded in 2010, and is headquartered in Malaysia. They are considered a non-logging VPN provider (for the paid service).
Price: Free – $12.95/month
Logging Policy: No logs
Simultaneous connections: 10 devices
Jursidiction: Malaysia (no data retention for VPNs)
P2P/Torrents: Allowed
Streaming/Netflix: Yes, tested.
Refund Policy: 30 days
Pricing / Plans & Refund Policy
Hide.me offers both premium (paid) VPN subscriptions as well as a completely free plan with some limitations.
All premium plans have identical features, but the price varies by subscription length. Longer subscriptions get a substantial discount on a per-month cost basis.

The pricing is as follows:
| Subscription | Total Cost | Price/Month |
| --- | --- | --- |
| 1 Month | $12.95 | $12.95 |
| 1 Year | $99.95 | $8.32 |
| 2 Years | $129.95 | $4.99 (best deal) |
Refunds
HideMe's official refund policy allows users to claim a full refund within 30 days of purchase.
Refund requirements:
First time claiming a refund (you only get one)
First purchase (no refunds on renewals)
Haven't violated the Terms Of Service
My Refund Experience: I was able to claim a refund via email support. It took a couple days to process, but didn't require any follow-ups or additional prodding. I'll add that a 30-day refund policy is quite generous when you consider that they already offer a free plan.
Features & Benefits
Solid Security — Hide.me uses thoroughly vetted and secure encryption ciphers.
Streaming/Netflix — Access your favorite streaming websites like Netflix, Hulu & Spotify, even when traveling abroad.
IPv6 Compatible — Most VPNs just block IPv6 because it's easier than supporting it. HideMe is fully compliant and is able to securely route IPv6 connections through the VPN tunnel.
P2P-supported: Torrents & P2P filesharing is allowed on most server locations.
Split-Tunneling: Control which apps get routed through the VPN tunnel
Security
Hide.me follows industry best-practices regarding encryption ciphers and VPN protocols.
They support tunnel encryption up to 256-bit AES and 4096-bit handshake encryption. This is considered unbreakable via brute-force attack. It is the same encryption strength trusted by the US military and government. It is highly secure.
Supported VPN Protocols
Hide.me supports a wide array of VPN protocols. This includes industry standards like L2TP/IPSec and OpenVPN, but they also support SSTP (windows client) and Wireguard® (a promising new protocol).
Impressively, Hide.me now supports 100% of available protocols on their Free plan as well.
All supported protocols:
PPTP: Legacy protocol, now considered obsolete. Only available for manual configurations.
L2TP/IPSec: Fast, secure protocol up to 256-bit AES. Available via software client or manual configuration.
OpenVPN: Flexible, open-source and secure. In-software or manual configuration.
SSTP: Microsoft VPN protocol. Available on Windows, Mac & Linux app
SoftEther: Firewall-resistant protocol similar to OpenVPN (but faster)
Wireguard®: New protocol based on elliptic curve encryption. Faster than legacy protocols in many situations, especially on lesser hardware.
Other security features
HideMe includes multiple failsafe-style security features, including a Kill Switch and Autoconnect on Untrusted Networks. Feature.
There's also something called StealthGuard which lets you specify apps that can never connect to the internet without the VPN.
We discuss these in greater depth under Software & Features.
Our Verdict: Hide.me has excellent security. I'm impressed by their selection of protocols, as well as unique high-security features like Stealth Guard.
Privacy & Logs
Hide.me says they are a non-logging VPN service, joining dozens of other companies with similar claims.
We like to give extra scrutiny to the logging and privacy policy of VPNs we review, because several recent incidents have brought those claims into question.
What data does Hide.me Log?
No VPN is truly logless. All keep some amount of data for troubleshooting purposes. It's just a question of whether this data is tied to a specific user and account.
After a deep read of their privacy policy and a chat with support, here's a summary of the data Hide.me collects:
Amount of data transferred (free accounts)
Internal (non-public) IP address logs deleted every few hours.
They also record your email address as an account identifier when you sign up for the service, but you can easily use an anonymous email address and payment method.
What Hide.me doesn't log:
Your real IP address
Public (VPN) IP address
Server location
Websites you visit
Files downloaded
Jurisdiction & data retention laws
VPN companies are bound by the laws of the country or region where they are based. So any VPN based in a country that treats VPNs like Internet Service Providers and has mandatory data retention cannot every really be 'no log'.
Fortunately, Hide.me is based in Malaysia, where there are no data retention requirements for VPN companies.
Verdict: Hide.me does keep temporary (a few hours) logs of non-identifying connection metadata, but doesn't record your public IP address or session activity.
Leak test results
Unfortunately, there are several known VPN security leaks thanks to poor OS or browser implementations. Quality VPN providers will provide workarounds to ensure their service isn't affected by these leaks.
We test each VPN we review to see whether they can leak identifying data such as DNS queries (website lookups) or even your real IP address.
Leaks tested:
DNS Leak
IPv6 Leak
WebRTC (STUN) leak
Learn: How to identify and fix VPN leaks.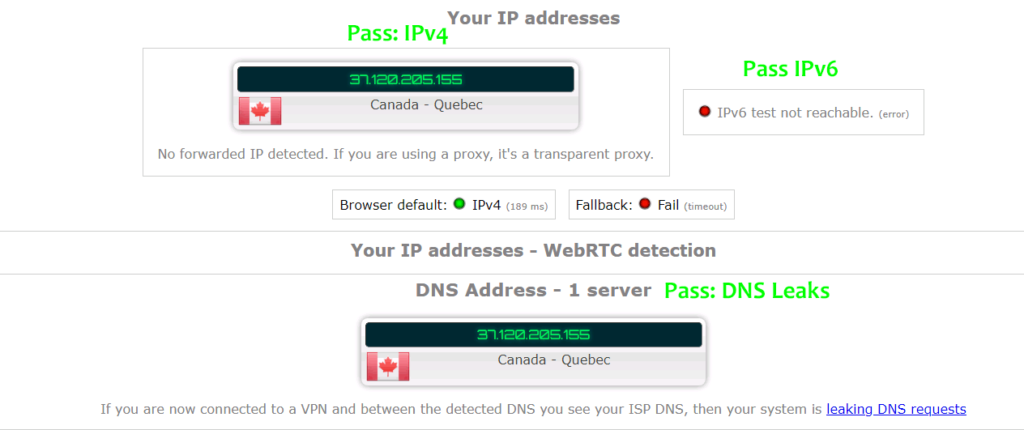 Results:
My test found no IP leaks when testing Hide.me with IPLeak.net.
No IPv4 leaks
No IPv6 leaks
Only 1 DNS server detected, same IP address as VPN (good).
No WebRTC leak
Software, Features & Apps
Hide.me built their own VPN client from the ground up. It is available for all major operating systems including: Windows, Mac/OSX, iOS, Android. There's also a FireTV app that works with Amazon Fire Tablets and FireTV devices.
It gives you access to nearly all the core features such as:
Split Tunneling
SOCKS Proxy
In this section, we'll take a look at standout features of the service, as well as a quick look at the apps for each platform.
Connecting to the VPN
Starting a VPN connection is simple. Just open the software, choose a server location (it will default to the most recent). Then click 'connect'.
Server selection
To choose a server location, click the 'change location' button in the bottom right corner of the software interface.
Servers are sorted alphabetically by country, but can also be ordered by ping time. You can 'favorite' servers for easy access later. Finally, there's a separate section of 'Streaming' servers, which are each optimized for a specific streaming service and geolocation.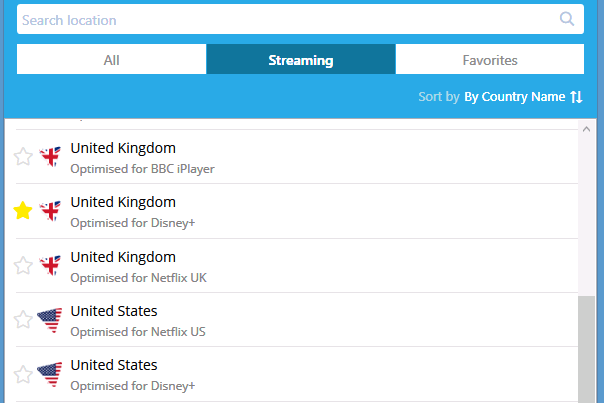 Split Tunneling
Split tunneling is a feature you'll only a few companies offer, because it's hard to pull off. Hide.me's implementation worked well in my testing.
What it is: Split tunneling lets you choose specific apps or IP addresses that will use the VPN tunnel, and other traffic will be routed through your normal (unsecured) connection.
Why use it? If you only want privacy for a specific app like a torrent client or Kodi, it makes sense to just use the VPN for that app, and maximize your speed and convenience for other apps.
You turn in on under Settings > Split Tunnel
It has two modes when enabled:
Route specified apps inside the VPN
Route specified apps outside the VPN
Auto-connect on untrusted networks
You can choose to whitelist 'Trusted' networks and let Hide.me automatically start VPN connections on all other wifi networks. This is useful if you frequently forget to launch the VPN when you connect to a public hotspot (at airports or cafes for example).
Kill Switch & Stealth Guard
Like most VPN providers, Hide.me includes a kill-switch feature in their software. When enabled, the kill-switch blocks all internet traffic if the VPN tunnel fails suddenly.
You can enable this feature in Menu > Settings > Kill Switch.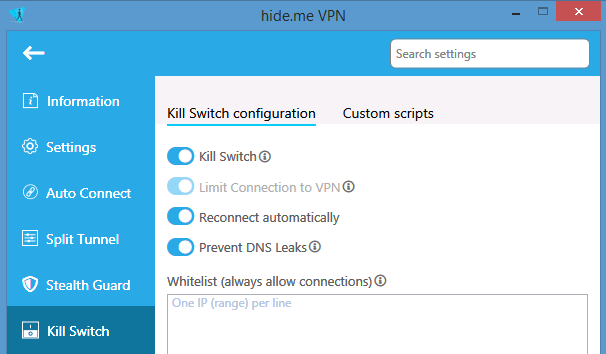 But they also added an enhanced feature called Stealth Guard. Stealth Guard is for those who need enhanced security, and want some (or all) apps to never access the internet unencrypted.
This feature is active even when the Hide.me software isn't running. Any apps you select won't have any internet connectivity unless you connect to the VPN.
Fallback Protocols
You can choose multiple 'fallback' VPN protocols if the first connection attempt fails. This is useful if you travel or use connect to many different networks which might have VPN-blocking firewalls.
It's such a simple idea, and one I wish more VPNs included.
Each of the fallbacks will be attempted in the specified order until you've connected successfully.
Windows App
Windows is the OS I tested most with HideMe. It's the most popular desktop platform in the world, and most VPN providers focus a lot of development on building a solid windows client.
HideMe's client is no exception, and gives you easy access to all of the services core features.
Notable features include:
5 VPN protocols
Fallback protocol
Auto-connect on untrusted networks
Split-Tunnel
Custom DNS
Stealth Guard & Kill Switch
The Windows client has more available VPN protocols than all other platforms. It also includes Stealth Guard and Split Tunneling which aren't available on all apps.
Mac/OSX
HideMe's Mac software is now virtually identical to the Windows version in terms of available features. It now includes the kill-switch, Stealth Guard and split-tunneling capabilities.
You also get the 'auto-connect on untrusted wifi' feature and full support for Netflix and other unblocked streaming services.
In fact, the only real difference is a single VPN protocol, SSTP (which isn't supported by MacOS).
I found the Mac app to be incredibly stable, and the initial handshake for a new VPN connection seemed to be much faster than on Windows. Overall the experience is similar regardless of platform.
Android App
The Android app has the most features of Hide.me's mobile apps, mostly because iOS has some security limitations that affect what apps can do.
You get most (but not all) of the same features as the Windows client.
While you will get split-tunneling, the kill-switch and the same server selection features, Stealth Guard is a notable omission.
There's also no SSTP or SoftEther protocol (but you do still get Wireguard).
Split Tunneling is especially stable on Android, because the OS has built-in support for routing on a per-app basis. Many VPNs offer this feature only on Android because it's so easy to implement.
iOS/iPhone
Hide.me's iOS app is one of the highest-rated VPN apps in the Apple ecosystem, currently rated 4.5 stars.
The app works equally well on iPhone and iPad, and has an optimized version for each form-factor. In our testing, connections were fast and stable.
Included features:
Auto-connect
Server selection with streaming & favorites
Works with Netflix
OpenVPN, IKEv2, Wireguard
Missing Features:
SSTP / SoftEther protocols
Kill-Switch (iOS restriction)
Stealth Guard
Free VPN Plan
Hide.me offers a completely free VPN plan as a freemium strategy to attract customers. Their free version used to be a cripple version of the paid plan, with limited protocols and software features. But all that has changed.
The free plan is now nearly identical to the pro plans, with the following exceptions:
Limited to 10GB of data per month
5 server locations
1 connected device (at a time)
No Netflix / Streaming / SmartDNS
'Free' servers tend to be more crowded (and slower).
Overall, it's a very generous offering. In fact, Windscribe is the only service that has a comparable free tier.
How to sign up:
Simply click here, and sign up using your email address. You need to use a valid email, where they send your account credentials and validation link.
Alternatives & Competitors
Competition in the VPN industry is fierce, which means there's a lot of great options to choose from. Let's see how HideMe compares to other top services in the industry.
Price
Hide.me's pricing is on the expensive side. Month-to-month pricing $12.95/m and annual subscriptions work out to $8.32/month. This is nearly identical to ExpressVPN's pricing.
On the cheaper end, NordVPN, Cyberghost & Private Internet Access all have 1-year subscriptions for less than half the cost of Hide.me.
Features & Functionality
Hide.me includes all of the most-wanted features. They've got Netflix support, are p2p-friendly, have excellent security and protocol choices. Split-tunneling is a nice bonus.
If you can live without split-tunneling, NordVPN and PIA both offer identical features at a lower price. They have faster download speeds too.
Bottom Line: Hide.me has all the features you could want, but it's pricey. If you don't need them all, you can save a lot of money with one of the excellent alternatives mentioned above. I think Private Internet Access is the best of these.
Frequently Asked Questions
Summary & Verdict
Hide.me is going to be a good fit for most users. The only real concerns I found are:
The price
Speeds are nothing special for a high-end service
But if you're willing to shell out around $100/year, you're going to get a lot of features that other services can't match. The streaming/SmartDNS and Split-Tunneling are especially noteworthy.
And of course the Free Plan is about the best in the industry.