In September 2016, IPVanish announced they would include Socks5 proxy service with all VPN subscriptions. This should be welcome news for current IPVanish subscribers, especially those who frequently use p2p/bittorrent networks. The Socks5 protocol is perfect for anonymizing torrent downloads and is compatible with all major desktop clients.
IPVanish's Socks5 server is an ultra-high bandwidth server cluster based in the Netherlands, and keeps zero metadata logs (just like IPVanish's VPN).
This guide will show you how to generate your IPVanish Socks5 login credentials, as well as how to set it up with your favorite torrent client.
Let's get started.
How to get your Socks5 Login/Password
For security reasons, IPVanish uses a different login/password for their Socks5 proxy server than you use to connect to the VPN. In order to get your proxy credentials, you have to login to your IPVanish account panel.
Note: You must be an IPVanish subscriber to use their VPN or proxy service. If you don't have an account, you can signup here.
Step #1 – Sign into your IPVanish Account Panel
Go to IPVanish.com and login to your account.
Step #2 – Go to Socks5 Settings
Click the 'Socks5 Proxy' tab in your account panel, and you will see the following information:
Your proxy username
Your proxy password
Proxy address: ams.socks.ipvanish.com
You will also see the 'Reset Credentials' button. This will allow you to generate a new username/password combo. This usually isn't necessary, but it's helpful if you think your previous credentials may have been stolen, or they aren't working properly for some reason.
You also need one additional piece of information which isn't included in your account panel — the proxy port #…
IPVanish uses port # 1080.
Using IPVanish's Socks5 proxy for torrenting
A Socks5 proxy is the #2 most popular tool for downloading torrents anonymously. VPN's rank #1, mostly because a VPN requires no manual configuration (whereas the proxy requires you to change some settings in your torrent client).
Many users choose to use both a VPN & Socks5 proxy together for maximum security. You benefit from 2 unique IP changes VPN >> proxy. You also get separate IP's for your web browser and torrent client. You can even use IPvanish's VPN and proxy simultaneously, because they now allow 5 simultaneous connections on every account.
You can use a Socks5 proxy with any major desktop torrent client. It also works with Flud or tTorrent (Android torrent clients).
Just follow the steps below for you favorite torrent client. If we don't have your software in this guide, you can easily adapt the steps below to any torrent client that supports Socks5 connections.
uTorrent Setup Guide
Open uTorrent and go to Menu > Options > Preferences > Connection (Tab)
In the preferences Menu go to the 'Connection' tab to change the proxy settings. Depending on your uTorrent version, you'll see something very similar to this. You want to make your settings identical to those shown, except you should insert your own username/password.
You can also disable uPnP and NAT-PMP if you have manual port forwarding set up in your router. Also, if you manually forward a port, make sure to disable 'Randomize port each start' so uTorrent always uses the port you've forwarded.  Most users should just leave these plug-and-play options enabled.
It's important to make sure that all six checkboxes in the 'Proxy Server' section are checked. This ensures that uTorrent will use the proxy for every connection type. You don't want youtube to leak your true IP address to any peers outside the proxy connection.
Encryption (Optional)
uTorrent has a built-in encryption function that allows you to enable protocol encryption. If you're connected to a VPN while torrenting, don't bother with this setting. VPN encryption is much stronger than uTorrent's encryption.
If you're using only the proxy and are worried about your torrents being blocked or throttled by your ISP, you can force uTorrent to only connect to encrypted peers by going to Menu > Options > Preferences > BitTorrent (tab)
Then you can change the 'Protocol Encryption' settings to 'Forced'.
This will only allow you to connect to encryption-enabled peers. As a result, you may have fewer available peers which could be a problem for torrents with a small # of seeds, but usually isn't an issue.
Vuze Setup Guide
IPVanish's Socks5 proxy works great with Vuze. Vuze even has a built-in Proxy testing tool to make sure everything is properly. And there's a SOCKS indicator to show your current proxy connection status whenever you're torrenting.
One note: Vuze doesn't accept incoming connections via proxy, so you will usually have an 'NAT Error' showing no incoming connections while using a proxy. Don't worry, you should still be able to download just fine.
SOCKS Proxy Settings
To access Vuze's proxy settings you need to be in advanced user mode. Go to Menu > Tools > Options > Mode to change the user proficiency to 'Advanced'.
To access the proxy settings, go to: Menu > Tools > Options > Connection> Proxy
Change your settings to match those below, and insert your own credentials where applicable. Besides the checkboxes, here are the settings you need:
Host: ams.socks.ipvanish.com
Port: 1080
Username: Your username, generated from control panel
Password: Your password, generated from control panel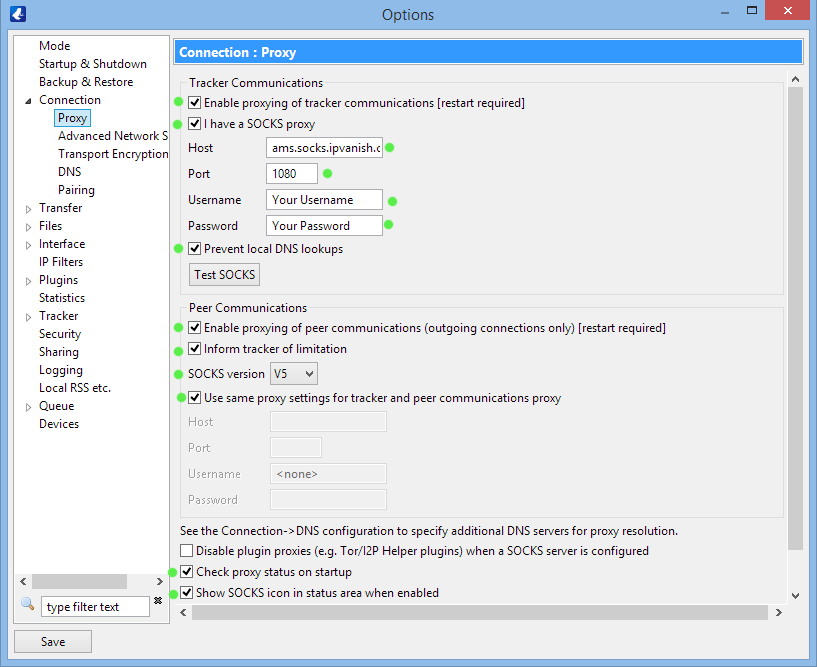 As an added security step, you should disable all connections that aren't supported by a proxy in Vuze. To do this, go to:
Menu > Tools > Options > Connection
Then uncheck every box in the 'Peer Sources' section except for the top box, 'From a Tracker'.
This makes sure that you aren't accidentally leaking your true IP address to peers through DHT or other peer exchange mechanisms. When done, your settings should like this:
IPVanish Proxy FAQ
Here are some of the common questions about using IPVanish's new proxy service while torrenting. If you have additional questions, please ask them in the comments and we'll do our best to answer them all.
Is a proxy better than a VPN for torrents?
That answer depends on your individual preferences. A proxy will usually be faster than a VPN, but it doesn't have strong encryption. If you're being throttled or worried about your ISP monitoring your downloads you're better off choosing the VPN.
If you just want to keep your torrent IP address anonymous and would prefer faster speeds, just the proxy should be fine. You can also use both simultaneously for maximum privacy.
Does the proxy use Encryption?
NO. Socks5 proxies are not encrypted. Your torrent client probably has a built-in encryption option, but this is lightweight encryption (not as strong as a VPN) and could result in slower speeds, because you can't connect to peers that don't have encrypted enabled.
Will a Socks5 proxy make my torrents anonymous?
There is no tool that can guarantee 100% anonymity. IPVanish's Socks proxy will change your torrent IP address (the one visible to all torrent peers) and route all your torrents through the proxy tunnel. This will make it much harder for a 3rd-party to trace your torrents, especially because IPVanish has a zero-log policy.
The proxy isn't working, what should I do?
There are usually 2 reasons the proxy doesn't work:
You have set it up wrong
Your ISP or firewall blocks port #1080
Here's how to fix each issue:
Wrong Setup: Triple-check your settings to make sure they match the settings we've shown in this article. The most common error is people skip the step where you have to generate a username/password combo in your IPVanish account panel. You can't just use your VPN login details.
Port 1080 Blocked: Some ISP's block port 1080. Comcast is one famous example. If you know all your settings are correct and you still can't connect, this could be the issue. A good way to test is to enable your VPN before opening vuze. If the proxy works with the VPN enabled, then port blocking is probably the issue. If it still doesn't work, then you likely have the wrong setup settings somewhere.
You can always ask IPVanish tech support for help if you run into trouble. And remember, their VPN is a great torrent-anonymization tool by itself. Don't feel that you have to use the proxy. It's a nice option for added privacy, but definitely not essential .