Do you want to access Netflix and other video streaming services from anywhere in the world?
Do you want an easy streaming solution that doesn't require updating your SmartDNS IP address every time you change networks?
Are you sick of seeing 'Netflix Proxy Error' or 'Blocked' messages while using a VPN service?
NordVPN's SmartPlayTM is the solution you've been waiting for.
It's like a VPN + SmartDNS in one. You get all the benefits of a VPN (strong encryption and security) with the content-unblocking power and speed of SmartDNS. And it's seamlessly integrated into Nord's software, so there's noting to update, activate, or workaround.
This article will look at how SmartPlayTM compares to traditional unblocking solutions, and why we think it's the best choice available.
Read: NordVPN Reviewed, in-depth (2017 update)
What is SmartPlay?
SmartPlay is technology designed specifically to allow you to unblock geo-restricted streaming content from sites like Netflix, Hulu, HBO and ESPN. It is compatible with over 150 sites worldwide.
SmartPlay vs. SmartDNS
SmartDNS is an older technology to unblock streaming sites. You set the SmartDNS provider's servers as your preferred DNS server in your router or network settings. Then if you visit a supported streaming site, the SmartDNS will proxy your connection to that site and fetch the content on your behalf, effectively hiding your location and unblocking the content library.
The problem with SmartDNS services is you have to update your IP address on file with the provider every time you switch locations or networks (so they know which subscriber is accessing the service.
NordVPN is like SmartDNS built-in to a VPN software.
You don't have to change your preferred DNS servers, you don't have to change any manual settings or update your device's IP address. It just works. Period.
Best Deal: NordVPN is running a special offer for 72% off 2-year plans
How to use SmartPlay
After you download and install NordVPN's software, you can turn on SmartPlayTM in the software settings.
Their team tells us that in the very near future, SmartPlay will be 100% integrated, and you won't need to even toggle it on/off. Simply connect to whichever country's server you want to access content from.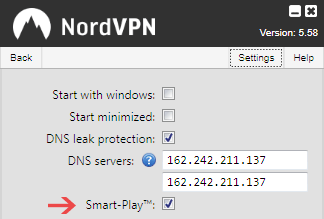 So if you want to watch BBC iPlayer, connect to a UK server.
If you want to watch Hotstar, connect to a server in India
And if you want to watch a blacked-out MLB game, connect to a USA server.
SmartPlay will work it's magic behind the scenes, so you can enjoy your movie, game, or TV show.
What services can SmartPlay unblock?
SmartPlay currently works with over 150 of the world's most popular streaming services, with new ones being added all the time.
SmartPlay can unblock:
Netflix
Hulu
HBOGo
Showtime Anytime
Pandora/Spotify
Amazon Video/ Prime Video
Bein Sports
BBC iPlayer
HotStar
YouTube
Twitch
Crackle
MLB/NBA/NFL Gamepass
NHL Center Ice
And over 100 others…
Currently NordVPN is offering a 30-day, 100% refund policy (I think they're pretty confident you'll like the service)
And of course, you aren't just buying SmartPlay, you get the a full NordVPN subscription with unlimited bandwidth. The plan allows for 6 simultaneous connections so you can connect all your devices at once. It also works with VPN-Enabled routers to secure your whole network.
For a full breakdown, READ: Our NordVPN review
Image Credit: NordVPN