If you've ever felt limited by the minimalist firmware that comes pre-installed by your router manufacturer, DD-WRT is the answer to your prayers.
DD-WRT is an open-source router firmware that can unlock all sorts of additional functionality from your existing router firmware.
To name a few, DD-WRT lets you establish secure VPN connections, overclock your router for faster speeds, setup split-tunneling, optimize bandwidth allocation, increase wifi-range and filter content to protect your children on the internet.
But there's one important catch: DD-WRT is only available for specific router models and hardware. You can't simply install it on any router. Furthermore, you'll need a minimum level of RAM and CPU power to reap all the benefits of DD-WRT, especially VPN connectivity.
These are the best routers for DD-WRT you can buy in 2022-2023.
Best DD-WRT Routers
The ASUS AC1900P is a significant upgrade to their bestselling AC68U, which has been one of our favorite all-around routers for years.
The devices are almost completely identical in form and function, except the newer AC1900P gets nearly double the CPU power, upgraded to a dual-core 1400Mhz CPU vs the dual-core 800Mhz found in the 68U.
The result is a huge boost in speeds if you connect lots of devices to your router, or you want to run a VPN directly on your router. This newer version is easily capable of 40Mbps on OpenVPN, which is faster than many VPN services anyway and more than capable of 4k video streaming.
This is the most recent ASUS router model with DD-WRT support, but it also supports several other firmwares including the stock ASUSWRT firmware, as well as the upgraded ASUSWRT-Merlin. Merlin is is a 1-click upgrade, and adds cool features like split routing, advanced VPN connectivity and custom script support.
| | |
| --- | --- |
| Processor | dual-core 1.4Ghz CPU |
| Memory | 256MB RAM, 128MB Flash |
| Ports | 1x 10/100/1000 WAN, 4x 10/100/1000 LAN |
| USB | 1x USB 2.0, 1x USB 3.0 |
| Antennas | 3x external |
| Wifi | dual-band (2.4ghz, 5ghz) |
2. Netgear Nighthawk R6700 (best mid-range-router)
The Netgear R6700 is a compelling value for a dual-core AC1750 router capable of 30-50mbps while running the DD-WRT VPN client.
It's widely available from online retailers like Amazon, and these days you can often find it brand new for under $100.
With a dual-core 1ghz processor and 256MB of RAM, the R6700 is a beefy enough for most household uses and has enough range to cover approximately 1500 square feet.
The included USB 3.0 port lets you connect an external HD and turn this router into a NAS drive for home cloud storage if you want.
For the price, you'd be hard-pressed to find a better DD-WRT router with good firmware support, stable builds, and widespread community usage.
| | |
| --- | --- |
| Processor | dual-core 1.0Ghz CPU |
| Memory | 256MB RAM, 128MB Flash |
| Ports | 1x 10/100/1000 WAN, 4x 10/100/1000 LAN |
| USB | 1x USB 3.0 |
| Antennas | 3x external |
| Wifi | dual-band (2.4ghz, 5ghz) |
3. Netgear R9000 Nighthawk X10 (best quad-core DD-WRT router)
The Netgear R9000 is absurdly, ridiculously powerful. With a quad-core 1.7Ghz CPU and 1048MB of RAM, this router will handle anything you can throw at it, with power to spare.
This is one of the most powerful router models with stable DD-WRT support, because DD-WRT isn't yet available for many of the latest-gen AX router variants.
Whether you're using it for gaming, kodi/streaming, VPN, or running your own personal cloud, the R9000 will serve you well.
There are few compromises here, and the spec sheet reads like technophile's wishlist for their dream router.
There's even a 10Gbps SFP+ port, which for attaching a hot-swappable drive. This is perfect for building your own high-speed NAS solution.
Now in terms of real-world wireless speeds, SmallNetBuilder reported that the cheaper R7800 from Netgear was equally capable, and definitely a better value. The big differentiator here is the quad-core CPU in the R9000 (dual-core for R7800) and the chunky 1GB of ram.
If you plan on running a VPN on your router, you'll definitely notice the performance boost from the quad-core chip. If not, you can save some money by going with a dual-core model instead.
| | |
| --- | --- |
| Processor | quad-core 1.7Ghz CPU |
| Memory | 1GB RAM, 512MB Flash |
| Ports | 6x 10/100/1000 LAN, 1x LAN SFP+ for NAS |
| USB | 2x USB 3.0 |
| Antennas | 4x external |
| Wifi | dual-band (2.4ghz, 5ghz) |
4. Asus AC3100 (best value)
The AC3100 is a less-known router model that packs a lot of punch for the price. With a dual-core 1.4Ghz CPU and 512MB of RAM, it'll give you more than enough power for your super-user DDWRT setup.
Better still, it's often available for cheaper than the less-powerful AC68U and has all of the same ASUS benefits including stock ASUSWRT-Firmware and 1-click Merlin upgradability.
This router probably won't be available much past 2023 as ASUS continues to favor their newer AX-series routers (which haven't been ported to DD-WRT yet). So snap one up while you can!
| | |
| --- | --- |
| Processor | dual-core 1.4Ghz CPU |
| Memory | 512MB RAM |
| Ports | 4x 10/100/1000 LAN, 1x Gigabit WAN |
| USB | 1x USB 3.0 |
| Antennas | 4x external |
| Wifi | dual-band (2.4ghz, 5ghz) |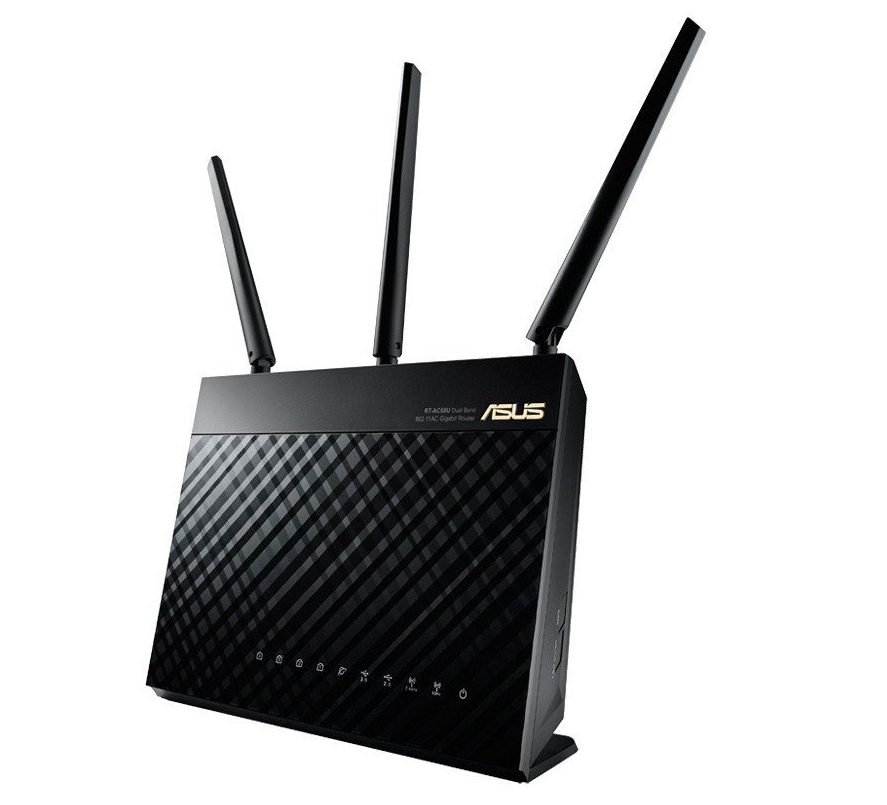 The ASUS AC1900/AC68U is the predecessor to the AC1900P which features a much faster processor than the nearly 10-year-old 68U.
That said, this model has never failed me in the 8+ years I've owned it. It's stable, supported by a wide variety of firmware (DD-WRT, Tomato, Merlin, OpenWRT) and it's still fast enough for use as a basic NAS or VPN router.
In fact, the AC68U has gotten even faster since it launched. The v3 model now has a dual-core 1Ghz chipset, compared to the 800hmz CPU in v1.
Unlike less-popular router models, there are dedicated written and video tutorials showing you how to flash DD-WRT on this exact router, which dramatically reduces the change of bricking your device.
Plus, now that it's a bit dated, prices have dropped dramatically making it an excellent option if you're on a budget, or just want an cheaper router to experiment with or to use as a dedicated VPN r
| | |
| --- | --- |
| Processor | dual-core 1.0Ghz CPU (v3) |
| Memory | 256MB RAM, 256MB Flash (v3) |
| Ports | 4x 10/100/1000 LAN, 1x Gigabit WAN |
| USB | 1x USB 3.0, 1x USB 2.0 |
| Antennas | 3x external |
| Wifi | dual-band (2.4ghz, 5ghz) |
How to choose a DD-WRT Router
There are several factors to consider when choosing a router model for DD-WRT.
Compatibility (most important)
Hardware/Performance
Other Considerations
Compatibility
First and foremost, you must choose a router that has a stable, recent DD-WRT build available. That's because each router runs a completely unique version of the DD-WRT firmware, and it is not available for all router models.
Find out which models are compatible in the official DD-WRT router database.
Hardware/Performance
DD-WRT is a resource-intensive firmware, especially if you're using some of its most impressive (or hardware-demanding) features.
In my experience, the sweet spot of performance and price is:
dual-core CPU 1ghz or faster
256MB of RAM (or higher)
Quad-core CPUs are going to be overkill, and there's hardly any with DD-WRT support anyway.
Other Considerations
Beyond the raw specs of your router, you may still want to consider the quality of the brand itself, as well as the stock firmware (and compatibility with other firmwares) in case you decide DD-WRT isn't for you.
For example, many newer router models offer much of the functionality of DD-WRT (though rarely overclocking) in their own stock firmware. Plus there may be certain features that are only available through the stock firmware, such as remote management or NAS functionality.
DD-WRT Routers to Avoid
There are a number of routers that aren't really suitable for DD-WRT because they're massively underpowered.
I'll also mention several popular router models that are not fully DD-WRT compatible, even though I frequently see them mentioned in 'best DDWRT router' articles from competing websites.
GL.iNet GL-MT300N
This tiny travel router is a great portable VPN router, but it does not support any full stable builds of DD-WRT, despite some bloggers claiming otherwise. The only fully-supported GL.inet devices is the GL-AR150 which is no longer being manufactured.
ASUS AX-series
The newer AX-series ASUS routers (successor to the AC series) is a huge leap forward in performance, but none of them are compatible with DD-WRT. Fortunately, several of the best AX models are compatible with ASUSWRT-Merlin however (similar functionality to DDWRT).
Single-Core CPUs
DD-WRT is powerful, but it's also a resource hog. Even though there are many single-core routers with a stable DD-WRT build, you're much better off spending a little more to get a dual-core chipset.
You'll likely find that a lower-end router will get overwhelmed running DD-WRT with multiple connecting devices, especially if you're streaming 4k or running a VPN.