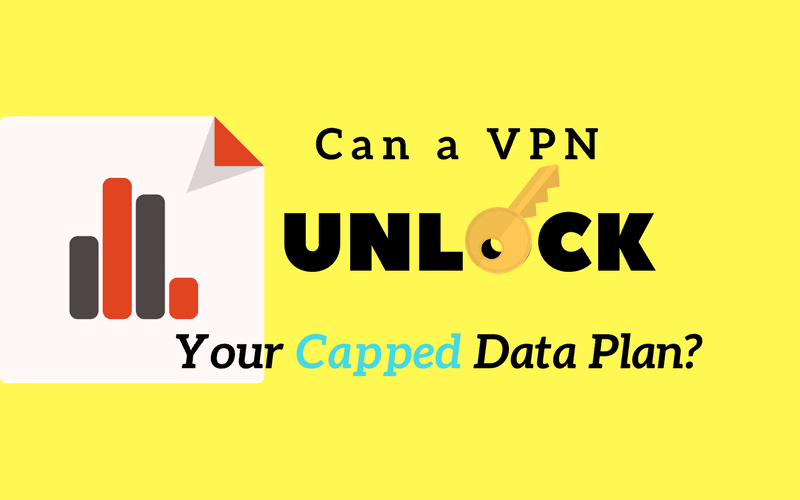 One of the most popular question we get in the comment section of this site and our youtube channel is:
Does a VPN count against your data cap? Can you use a VPN to get around data quotas?
Data usage is one of the most misunderstood concepts when it comes to VPN technology. So the purpose of this article is to clear up common misconceptions and answer the most frequent questions about VPN data usage.
But for those of you that want a quick, simple answer…
Short Answer: A VPN does count toward your data cap. All data must flow through your ISP/mobile provider's servers before reaching the VPN server. Even though the data is encrypted it still uses bandwidth. In some cases, a VPN may help you get around specific caps or throttling, but not always.
Now for those of you who like a more detailed explanation, let's dive in!
Article Sections:
How a VPN Works
A VPN is basically a piece of code installed on two computers. Your computer (the client) and the VPN server (server). It encrypts all data transferred the two endpoints (client and server). The VPN server then sends/receives data on your behalf, fetching websites, videos, and files for you from other places on the web. It then encrypts this data and sends it back to you.
For more info, see this introduction to VPNs by Gizmodo.
Does  VPN Usage data & count against data caps?
Yes. Even though the VPN server isn't run by your broadband or mobile internet provider (ISP), all the data still has to flow through the internet in order to reach the VPN server. Your ISP is your gateway to the internet. So all VPN data goes through their servers first.
Your ISP won't be able to read your VPN traffic (because it uses really strong encryption) but they'll still be able to calculate the size of data being transferred. So if you have a 2GB monthly data cap on your smartphone plan, the VPN traffic will count toward that cap (unless you connect to public wifi).
Does using a VPN use extra data?
Yes. Using a VPN will actually increase your data usage by a small percentage (around 5-15%). This is due to the encryption used to protect data transferred by the VPN. Encryption scrambles the data so that only your computer and the VPN server can read it.
Once a file or piece of data is encrypted, it takes up slightly more space than the unencrypted file would
This is called encryption overhead.
Which VPN Protocols use the least data?
There are several different VPN protocols, the most popular being: OpenVPN, L2TP, and PPTP. Most VPN providers support multiple protocols, so you usually can choose the best one for your needs.
In general, stronger encryption also increases encryption overhead. This means that a VPN protocol that uses stronger encryption will use more data for the same file than weaker encryption would. This also affects VPN speed.
Each VPN protocol also uses a different encryption algorithm, which has a slight impact on overhead.
VPN Protocols Sorted by Data usage (least to most)
PPTP (128-bit)
L2TP/IPsec (128-bit)
OpenVPN (128-bit)
Stealth/obfuscated OpenVPN (128-bit)
L2TP/IPsec (256-bit)
OpenVPN (256-bit)
Stealth/obfuscated OpenVPN (128-bit)
VPN overhead is typically 10-20% of the total data packet size, so PPTP may be closer to the low end of that range whereas 256-bit OpenVPN may be near the top. PPTP and OpenVPN (128-bit) will be pretty close in terms of overhead, so most users should choose OpenVPN because it's way more secure than PPTP.
Other sources: VPN Data usage (Quora)
Can a VPN get around capped data quotas?
So you have a capped data plan (either broadband or mobile) and you want to use more free data than your plan allows.
Will a VPN help?
Usually not, but it depends on the provider and terms.
What are Data Quotas?
Most mobile providers in the USA and abroad put either hard or soft caps on your monthly data limits.
Hard: No more data after you exceed the cap (or you pay $ per MB)
Soft: 'Unlimited' plans may give you unlimited speeds for the first 20GB of data, then much slower speeds for all additional data used.
Do you have unlimited already? Learn how to tether your Smartphone to your router and share unlimited data with all your devices.
Why a VPN probably won't help
No matter whether your data is encrypted (VPN) or not (no VPN), it still goes through your ISP's servers. If you use a VPN on your smartphone, all the data still gets routed through the cell towers on your provider's network.
They may not be able to read your encrypted data, but they can still count how much data you use.
So if you get 10GB of all purpose data, a VPN won't help you exceed the cap. In fact, you'll actually hit the cap quicker than if you didn't use a VPN, because of encryption overhead. That 10GB of data is really only about 9GB of actual data payload with 1GB of encryption padding.
When might a VPN get around a data cap?
If a VPN prioritizes certain types of data (throttling video) then a VPN may actually circumvent a cap. For example, if your ISP limits speeds on youtube and Netflix after a certain amount of GB, you can probably avoid that soft data cap.
If you use a VPN, all data transfer will be encrypted and your ISP won't even know you're watching a video so they can't legally throttle it.
We've also heard reports of people using VPNs on mobile prepaid or capped data plans in Europe and Asia (mostly India) to circumvent data caps. Having not tested this, we can't personally confirm it but it's worth a shot. After all, a good VPN is much cheaper than a monthly smartphone plan.
Using a VPN to increase speed
Though a VPN usually can't get around hard data caps (like 10GB max per month or we charge you extra), it can often be effective at increasing your speeds and video resolution.
This is because many mobile providers actually throttle (slow down) certain types of traffic, especially HD video. This will be a more common practice here in the USA soon, since congress recently rolled back 'Net Neutrality' rules. With fewer rules constraining your ISP/mobile provider, they can now do basically whatever they want. This includes slowing your Netflix streaming to sub-HD quality speeds.
So if your ISP only caps or slows certain data types (torrents, HD video, skype, etc) then a VPN will almost certainly improve speeds.
Why this works: In order to throttle certain traffic, you internet provider needs to be able to identify, sort, and throttle specific traffic types. If all your traffic is encrypted by a VPN, they can't sniff or sort the traffic. This means they can't slow specific uses without slowing everything which would be illegal in most countries.
Summary/Conclusion
A VPN is an amazing security and streaming tool but it's not a magic wand. It probably can't help you get around your ISP's hard data caps because all VPN-encrypted data is still routed through their servers (and counted).
It may help you get around soft caps, or selective throttling (like T-mobile throttles HD video streaming). A VPN can also unblock or speedup certain internet uses like Skype, Netflix, or Torrents.
If you're not sure whether a VPN will work or not, it's definitely worth trying one. The worst that can happen is it won't get around the cap, and you can just cancel for a full refund (most VPNs have 7-30 day refund policies). The truth is, you'll probably like the streaming and privacy benefits of a VPN that you keep it anyway.
Recommended VPN Options: IPVanish, Private Internet Access, and VyprVPN (no torrents) are all highly rated and reviewed VPN servers. They're fast, affordable, and have extra features that help them stand out from the crowd. If you want to unblock geo-restricted streaming services like Netflix, try NordVPN instead. They work with over 60 global video streaming services (and keep no logs whatsoever).