Chromecast is one of my favorite streaming devices, because of its simplicity. There's no clunky menu or interface, just cast directly from your smartphone, computer, or tablet.
But how to you setup a VPN for Chromecast, if you want to access geo-blocked content or unlock other Netflix regions?
I've got bad news and good news
Bad: There's only one Chromecast model that directly supports VPNs
Good: There are several workarounds to add VPN connectivity to your Chromecast device.
Which Chromecast models support VPN?
Currently, the only model capable of directly running VPN apps is the newly released Chromecast Google TV.
It's the first Chromecast model to include a remote, and allow apps to be directly installed. It's even bundled with the Google Play store, so you can easily install pretty much any official Android App, including VPN apps.
Why don't older Chromecast models work with VPN?
The original Chromcast and Chromecast Ultra don't work quite the same. There's no app store, and you can't install apps directly on the device, so there's no way to run a VPN directly on the Chromecast.
But couldn't you just use a VPN on your phone, then cast? Nope. Your stream isn't actually routed through your phone after it starts. The Chromecast streams directly from its own wifi connection.
How to use a VPN With Older Chromecasts
Since you can't install a VPN directly on the device, you'll need to route your Chromecast through a VPN-enabled wifi network. There are two ways to do this (discussed in detail below).
Available Methods:
Connect Chromecast to a VPN-ready wifi router
Share your VPN connection from your Windows or Mac PC
Which VPN for Chromecast?
Though VPNs seem like a commodity, they are not created equal. Especially when it comes to streaming.
It's essential to choose a VPN provider that:
Has fast enough speeds for 1080p (or 4K content)
Has servers in the countries you want to access content
Is compatible with streaming apps you want (Netflix famously blocks most VPNs).
— Best Bets —
Private Internet Access | Cheap, zero-log. 128-bit encrypion option (faster)
ExpressVPN – Expensive, but fastest. Works w/ Netflix. SmartDNS included.
How to use a VPN on Chromecast Google TV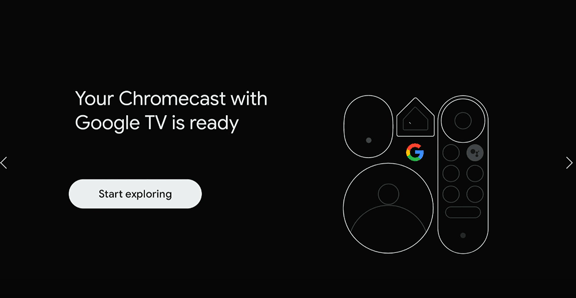 If you've got the latest Chromecast model (the one with a remote), you can have your VPN up and running in minutes.
Go to the App store on your device
Search for the App of your VPN service
Install and Open the app
Enter your login credentials
Choose the fastest protocol (or lower encryption strength)
Connect to a server (streaming-optimized if available).
Alternate Methods (for older models)
Option #1 – Share your VPN via WiFi from your PC
Both MacOS and Windows 10 have easy connection sharing built in. You can even share VPN connections, with multiple devices by following these steps.
Advantages of this method:
No manual configuration needed. You can use VPN apps and all their functionality
No extra hardware needed, just your computer.
Faster speeds (your computer CPU is much faster than a router's).
Option #2 – Use a VPN-enabled router
Did you know that several higher-end ($100+) router models can connect directly to any VPN service that uses OpenVPN? Then, any device connected to that wifi network also uses the VPN.
It's a great way to add VPN functionality to devices that aren't capable of running apps natively.
Which Router to use?
You'll need a router running vpn-capable firmware. ASUS is the most popular brand making routers that work right out of the box. They have several dual-core CPU models (powerful), priced under $150. Shop Asus Routers →
Other manufacturers like Netgear, TP-Link and Buffalo have models that can be flashed with 3rd-party firmware like DDWRT or Tomato to add VPN connectivity.
Recommended: The best VPN Routers
To avoid installing custom firmware (and risk bricking your device), choose ASUS. You can be up and running in less than 10 minutes. The ASUS AC-68U is my favorite model (great value).
Configuring the VPN Connection
The exact setup steps will depend on the router firmware you're using and the specifications of your chosen VPN service. Below you'll find instructions for the most popular VPNs and router firmwares:
FYI: ASUSWRT Merlin is a 3rd-party mod of the stock ASUS firmware. It adds extra functionality like split-tunneling, and can be easily installed with minimal-risk of bricking.
SmartDNS: a worthy alternative
Virtual Private Networks aren't the only available tools. In fact, SmartDNS might be a better option for Chromecasters.
What's SmartDNS? It's a service that can unblock geo-restricted apps like Netflix, Hulu or Spotify simply by changing the DNS servers on your router of computer. It doesn't need encryption or slow your connection one bit.
If you've already got a VPN subscription that works with your preferred streaming apps, there's not a reason to add SmartDNS. It's just something to consider if you're considering buying a VPN for the first time.
Rule of thumb:
Use SmartDNS if you just want to unblock legal apps (in one location)
Use a VPN if you want access to multiple locations, or need privacy/encryption
SmartDNS vs. VPN for Chromecast
| | SmartDNS | VPN |
| --- | --- | --- |
| Devices | Works with (almost) any device | Only some devices |
| Speed | As fast as your internet connection (no speed loss) | Slower because of encryption and server distance |
| Compatibility | Works with most major streaming services | Many streaming apps use VPN-blocking technology |
| Setup | One-time (per device) | Must connect to the VPN every time your stream |
| Usage | Unblocking | Unblocking + Privacy |
Why SmartDNS? The big advantage is simplicity. The setup is incredibly simple.
How to setup SmartDNS for Chromecast
Subscribe to a SmartDNS service like Unlocator (or a VPN that includes SmartDNS like NordVPN or ExpressVPN).
Add the Smart DNS servers to your router (instructions vary by manufacturer)
Authorize your IP-address in your SmartDNS account panel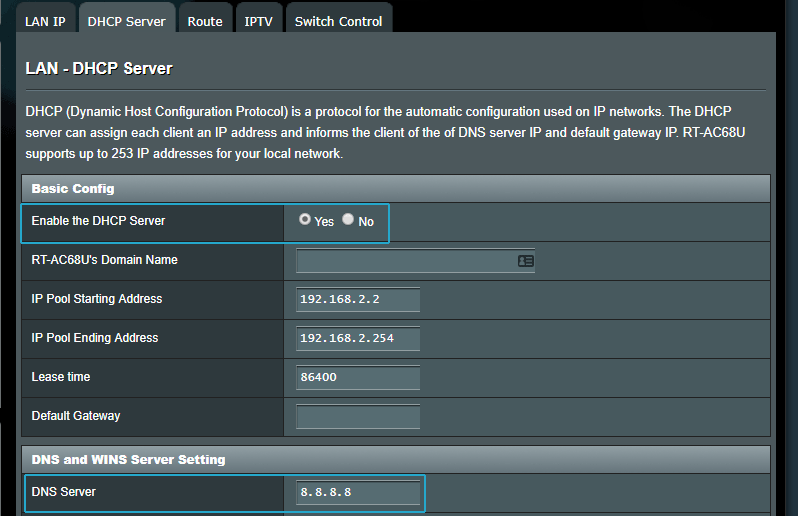 Summary & FAQ
Currently there's only one Chromecast model with native VPN support. If you have a Google TV Chomecast you can install pretty much any Android VPN application. You might even be able to use something like Warp 1.1.1.1.
For older models, you still have options:
Share the VPN connection from your PC (wirelessly)
Use Chromecast with a VPN-enabled router
Use SmartDNS instead
Recommended VPN services:
You may also be interested in…